Ease of Use

Speed

Performance

Pricing

Reliability & Support
Summary
AtlasVPN is a freemium, fast, and easy-to-use VPN service. You can use the VPN on any device with an internet connection, including Windows, Mac, and iOS devices, Android phones, and tablets. Atlas VPN is a freemium VPN that protects your privacy and offers fast, secure internet access to protect your computer from cyber-attacks.
It is an anonymous, reliable, and safe virtual private network that hides your IP address and accesses any website from anywhere in the world and also provides you with a number of privacy options. They provide VPN service with strong encryption and good customer support.
Our AtlasVPN review will help you decide whether this VPN(Virtual Private Network) is the right one for you, or if you should try something else. We will help you navigate the different services they offer so that you can make a decision that's right for you.
AtlasVPN
AtlasVPN is one of the best and fastest freemium VPNs in the world. It is an international VPN service provider with 750+ servers in 30+ countries, including the USA, UK, Singapore, Canada, Japan, Germany, Russia, etc. It offers unlimited servers in the United States, Europe, and Asia, as well as 5 devices per account, 1 GB daily data transfer, and a 30-day money-back guarantee.
With it, you can hide your IP address from websites and surf the internet anonymously. It uses strong 256-bit AES encryption for data transfer and makes sure that your connection is completely safe. AtlasVPN provides more security than competitors with the ability to choose any server location you like and it has excellent features and customer support. 
They provide a wide range of services including web browsing, file sharing, social networking, e-mail, streaming, and gaming. 
Pros
Fast speed using WireGuard

Strong security

Unlimited simultaneous connections

Works great with streaming services

No identifying log

P2P traffic allowed on all servers

Extra privacy with SafeSwap servers

Multiple built-in blockers

Stream media perfectly with optimized servers

Affordable premium plans



Cons
No support for routers

The private policy could be more explicit

No split tunneling

Doesn't work in China
Apps: Devices work with AtlasVPN
Having a single account, you can connect to a number of devices, which is a good choice for a family or a group with a lot of devices.
The Apps available for the following OS:
Windows 10

Android TV

iOS 

macOS 

Amazon Fire TV

Android

Linux Ubuntu
All the apps work similarly in desktop and mobile interfaces, with all the same features.
Atlas VPN features
The features of Atlas VPN are more vast than you imagine.
Secure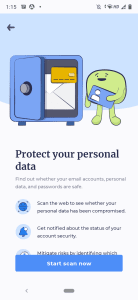 It uses a secure tunnel and encryption to keep information safe from snooping. It encrypts all traffic to make it safe from prying eyes. The security features of the service include 256-bit AES encryption, Perfect Forward Secrecy, and OpenVPN support. 
The privacy features include no logging of traffic, no DNS requests, etc. AtlasVPN protects users from malicious software, identity theft, data loss, and many other threats by hiding users' online activity. It is also easy to use and very affordable. 
Speed
Atlas VPN offers you unlimited bandwidth with all its servers. The server locations are very good and there is a reason why this is one of the fastest-growing VPN services. 
With a user-friendly interface, you can enjoy fast speed and privacy with Atlas VPN.  The average Atlas VPN download speed across all the servers and locations is 247 Mbps. For each region the results are:
North America: 349 Mbps
Europe: 175 Mbps
Asia: 208 Mbps
These are very good speeds compared to other VPNs such as NordVPN, IPVanish, and ExpressVPN. 
SafeSwap
SafeSwap is an advanced feature of AtlasVPN. The SafeSwap feature enables you to swap your IP address for another one of AtlasVPN's servers. For example, if you're behind a network-based firewall that doesn't allow incoming connections, you could use the SafeSwap feature to connect to an IP address that does.
Block Malware and ads
When you connect to Atlas VPN, it checks your connection to see if it is safe or not. If the connection is unsafe, it blocks malware and ads, making it safer for you. It allows you to block all of the malicious files that you don't want in your VPN tunnel. The malicious files include things like keyloggers, malware, and ads.
WireGuard Protocol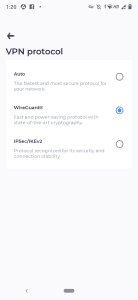 WireGuard is an advanced security protocol that provides strong security, performance, and easy management. The WireGuard protocol works on top of UDP/IPv4 or UDP/IPv6. It has support for end-to-end encryption, automatic generation of security keys, tunnel mode, and per-host key management. 
Tracker Blocker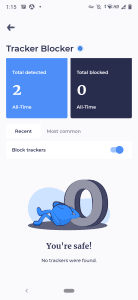 Tracker Blocker is a feature that can block websites from tracking you while using VPN. In AtlasVPN tracker blocker has been implemented to block all kinds of third-party trackers in an instant. It provides users with a safe and reliable VPN service. The tracker blocker in AtlasVPN helps users block and remove all trackers from their web browsers, as well as block and remove all trackers from websites that they visit. 
Split Tunneling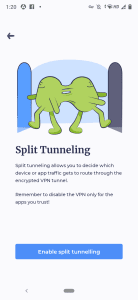 Split tunneling means that we can have more than one server behind a firewall. This allows us to use more servers in case the main server gets blocked by the firewall.  It is also a way to increase the security of your internet connection. It allows the user to open multiple connections to different websites through one IP address.
MultiHop+
MultiHop+ is a feature that helps you avoid censorship and improve speed when accessing online services. When you use MultiHop+, your connection passes through multiple servers before reaching its destination.
Data Breach Monitor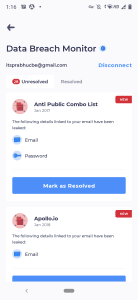 Data Breach Monitor helps you keep an eye on your network and alert you when your network is hacked. It keeps track of all of your logins, passwords, and other sensitive information. This information is stored locally on your device, and never goes anywhere else.
Private DNS
AtlasVPN is a private DNS service. A private DNS server works differently from a normal DNS server.  Private DNS helps you to connect to the Internet more safely because other people cannot see what websites you visit. It allows you to change your public DNS address to point to a private DNS server. This makes it harder for ISPs or hackers to track your web browsing.
Solid no-logs policy
With AtlasVPN, we have a solid no-logs policy. In other words, when you connect to servers, they don't collect any information on what websites you visit. So, even if anyone were to look at your logs, they would not find out anything about your online activities.
Change your location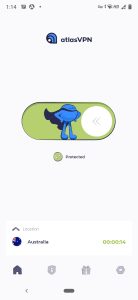 AtlasVPN lets you change your location when you are using it. You can set your country, city, state, or even a specific area. You can choose any of these options: Country, City, State, Region, or Specific Area. It can even hide your IP address to avoid unnecessary tracking.
Superior Web Traffic Encryption
Atlas VPN uses a 256-bit AES encryption technology, which means that no one can see what you are doing on our website or on any of your devices, except for you. It is end-to-end encryption that keeps your traffic totally secure. 
Network Kill Switch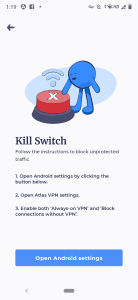 The network kill switch is a feature that blocks Internet access for any device that loses its connection to the VPN server. This feature stops the connection when the VPN service is shut down or the network goes down.
It's very important that you have a network kill switch on your internet router because, without one, your internet could stop working in an emergency.
Seamless Streaming
AtlasVPN has seamless streaming capabilities that allow you to watch live TV channels on any device from anywhere at any time, including the web, mobile apps, and desktops. It allows users to stream videos from Netflix, Hulu, Amazon Prime, YouTube, and many other sites.
Safe and Sound P2P
Safe and sound P2P means that people can connect to the internet anonymously. And that there are no viruses or spyware. It also means that the system is very safe. People can connect without worrying that their accounts will be compromised. It's also important that the connection is safe because it protects the users against malicious websites or malware.
Supersonic web surfing
Supersonic web surfing means the speed of the connection is so high that the browser can load and display pages very quickly as if you are on a high-speed connection. This is done by creating a private tunnel between our computer and a server that is connected to the Internet. 
Unblock websites and apps
 AtlasVPN lets you access any website or app on any device in over 750 countries. This includes Facebook, WhatsApp, Instagram, Google, and YouTube. This means you can use WhatsApp on your phone if you are outside of a country where WhatsApp is blocked.
Websites and apps are blocked by the government for reasons of privacy and security. You can use AtlasVPN and unblock the websites and apps that you want. You can choose from many servers and change the location of your server.
Pricing
AtlasVPN is a freemium server that comes with three plans. Their packages range from 1 month to 3 years which makes them easy to use and affordable. The package offers unlimited data and bandwidth.
1 month: $10.99
1 year: $3.29
3 years: $1.99/month
Currently, they provide coupons for 1-year and 3 years plans. You can grab the offer as soon as possible. 
Also, there is a 30-day money-back guarantee. If suppose you used it and you are not satisfied with the server you can get a refund completely.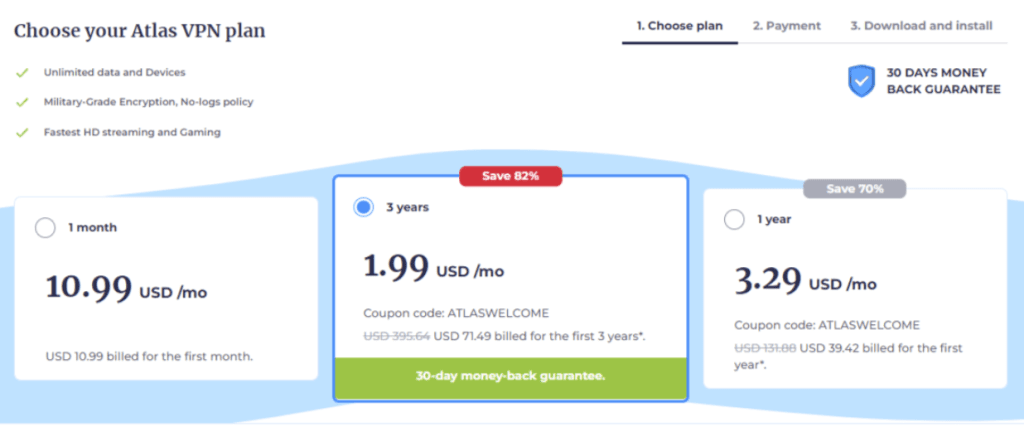 Why AtlasVPN?
Provides you with the best live events worldwide and is great for watching TV Live events

Hides IP address

Optimized servers

Wide range of locations

Privacy enhanced

Compatibility

Free VPN versions
Is Atlas VPN Good for streaming?
Yes, AtlasVPN is very good for streaming, because it is one of the most secure VPN providers on the market. With a free version, you can stream from all over the world without any limits. Some ISPs are blocking streaming sites. And sometimes this blocking is so bad that it stops you from watching videos on Netflix.
But if you use a VPN like Atlas, all of your ISP's restrictions go away. And your ISP will not even know that you're using a VPN. It keeps everything you do private from websites and hackers. 
Final Thoughts
AltasVPN comes with sufficient security, but its privacy policy is not clear. It is well suited for streaming but not for everyone. And also it doesn't work in China.
As of now their apps only work with four OS, so the Linux and router VPN users should look for something else. You can just have a try at this VPN server. If not satisfied within 30 days you can get your money back.