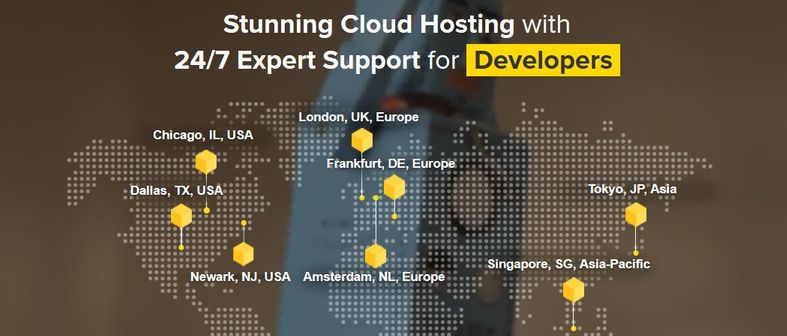 Web hosting is crucial to any entrepreneur looking to make it big in online business. In order to direct maximize online visitors to one's site, it is essential to resort to a professional and dependable web hosting service provider that can offer the best visible results.  I am thrilled to share the FastComet Review and satisfied in saying that FastComet is one of the top web hosting company. From my personal experience being using FastComet for quite a few years back and it does wonders for my website. FastComet is, beyond any doubt, the most effective and reliable web hosting service provider that I have come across ever. 

FastComet is, beyond any doubt, the most effective and reliable web hosting service provider that I have come across ever.
Our Rating: 4.8 (Excellent)
In fact, my client's websites are hosted in FastComet, which proves that this FastComet Hosting Review is based on actual experience with FastComet web hosting services. The following lines show how this web hosting company has proved its worth in the past 12 months that I have used this service. This is a completely unbiased and genuine FastComet review that shows how efficient and trustworthy their services truly are.
About FastComet 
FastComet is known for its non-compromising performance in serving its customers ever since its inception over 9 years ago. The presence of this company is getting stronger every year since it opened up its doors to public cloud hosting services in late 2013. Several multinational companies have partnered up with FastComet for officially hosting their websites, making this service provider highly popular over the years. While there is nothing called perfect web hosting, but FastComet offers special and valuable SSD Cloud Hosting solution services to its customers.
Advantages Of FastComet
At present, this company is serving over 45,000+ customers in 83 countries all over the world, which makes FastComet the fastest growing web hosting service provider ever. And also FastComet has eight servers located around the world. FastComet also offers Managed WordPress Hosting. Take a look at some of the significant advantages of opting for FastComet web hosting services.
Special Features of FastComet

https://www.fastcomet.com/features
#1  Speed Test
According to the server response based on a speed test, I conducted an experiment on a website that FastComet server hosted, the results show impressive speed time. The server response is amazingly fast and efficient. To perform the test, I pinged the website as mentioned earlier via 7 separate locations, and the scoring was an A+ (in March 2021). While the server showed speedy response times.
I'm using basic FastComet shared hosting plan, the speed test result showed me FastComet is one of the Fastest shared hosts I've ever tried.
Google loves sites that load fast, and so do online users. It is well-known that Google generally ranks websites based on their Page speed, which is why hosting is crucial in improving a site's SERP ranking. Quick loading of website pages can be ensured by the use of cache plugins and through image optimization. But the fact is that all websites use W3 total and Smush cache plugins.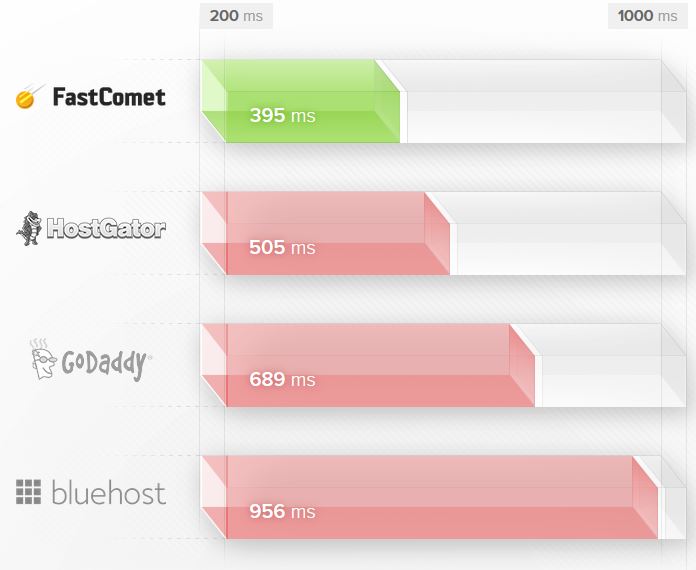 The only way to ensure fast page loading is by using SSD hard drives while hosting servers. I was able to analyze through numerous reports that SSD hard drives actually play an important role in improving the page loading speed of a website by over 300%. There is only a handful of hosting services that offer SSD drives, with FastComet being the one that is using SSD hosting at a little cost.
#2 Uptime Statistics
Having been using FastComet for my clients last 24 months, I have received an uptime of 99.99% until the last day. There was only one case of downtime that lasted as long as 140 seconds (source- uptime robot analysis). I have personally tested over 17 web hosts, and only FastComet has been able to deliver the value that it promises. The reason why FastComet is stronger than its competitors is because of its impressive uptime. The stats clearly show that FastComet provides significant and stunning uptime value that can grandly help business websites.
#3 SEO Improvement
The policy of FastComet, which majority of other web hosting service providers ignore, includes not allowing websites that contain scam, child porn and spam content to be hosted on their servers. Other than that, FastComet also helps improve a site's SEO. But for that, one needs to learn the way shared web hosting functions.
In this, one server with several hundred websites gets hosted on a single IP. In case the server contains a total of 200 sites out of which 100 are based on gambling, porn, viruses, etc., then Google will consider all the websites to be spam because they are hosted via a single IP. This is the reason why FastComet does not allow any of the above-mentioned dubious websites to be hosted through their services, which is good news for a genuine website owner.
#4 Advanced Caching
The majority of the hosting providers incorporate the use of the 3-layer caching mechanism for their hosting services, but FastComet uses 5-layer caching mechanism for an excellent way to incorporate cache on a user's website. These are the 5 layers that FastComet implements in its caching mechanism:
Varnish Cache: This top-notch caching technology can be used to enhance the Time to First Byte or TTFW of a site by at least 10 times, ensuring that the website loads at an impressively fast rate.
OptimumCache and APC: With OptimumCache, one can lower the memory usage and decrease the total number of various disk operations while simultaneously enhancing the response time of one's website. Using APC can cache multiple objects in a page rather than caching the entire page, which helps in loading the images fast and efficiently.
Google Pagespeed: The servers of FastComet come with Google PageSpeed for proper optimization. This tool improves a website's page loading time by 21%, and the technique is developed by Google itself.
Memcached: This memory caching mechanism is incorporated by renowned websites like Wikipedia, Facebook, and Twitter, as it helps improve the website performance significantly.
Cloudflare CDN Caching: FastComet uses CloudFlare CDN for caching the static files on the Edge notes. This helps to store the files closer as well as helps deliver them faster to the visitors at the time of delivery of one's dynamic web content directly through one's web server.
#5 Monitoring And Backup Are Free
FastComet offers free backup via JetBackUp, which uses Cpanel based tools for backup. Users can opt for backup of a full account, email accounts, DNS Zones, database, Cron jobs, and SSL Cert. In the case of any mess, one can also restore through point-in-time recovery snapshot without having to pay any extra charge.
The monitoring approach of FastComet is proactive and helps prevent 99% of common issues related to web hosting. It also ensures that the website displays excellent performance with continued uptime while storing backups as far as 30 days (based on the package selected). One does not even need to opt for other backup plugins while using WordPress through FastComet.
#6 Pricing Is Fixed (including Free Domain Name Forever)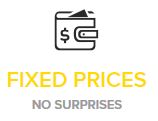 Another significant point of discussion in this FastComet review is the strict policy of FastComet of not charging any additional or hidden fees. All the prices of the various plans offered by this web hosting service provider are fixed as the company believes in providing total customer satisfaction. They do not charge any hidden fees or extra charges for any of their services. Even the renewals of plans are made at the same price at which one purchases the first plan.
FastComet also offers a 45-day money back guarantee to its customers if one is not satisfied with the services provided by the company. The compensation is made in full. One can also cancel one's service without having to pay any additional charge at any time.
#7 Regular Audit
This ensures that the servers keep one's site protected from various malware and virus attacks. This proactive monitoring is one of the most significant plus points of opting for FastComet. They also provide a web application firewall that prevents attacks on the network edge, securing the website in the best possible way.
#8 Amazing Customer Care
You can contact FastComet support team in different ways, those are a live chat, Email, Phone and Ticket support. Within a few minutes, they will reply to you.
These folks undergo exclusive training for 3 months so that they can help out each customer with their individual requirements in the best possible way. Whether one has an SSL installation problem, or require information on any technical aspect, the customer support team of FastComet offer immediate and practical solutions. The customer care team also helps one transfer the website from an old host to FastComet without making any payment.
Initially, I'm facing some problems installing Let's Encrypt SSL and some errors on this blog. After I reach out to FastComet support team, they instantly solved my problem. Here is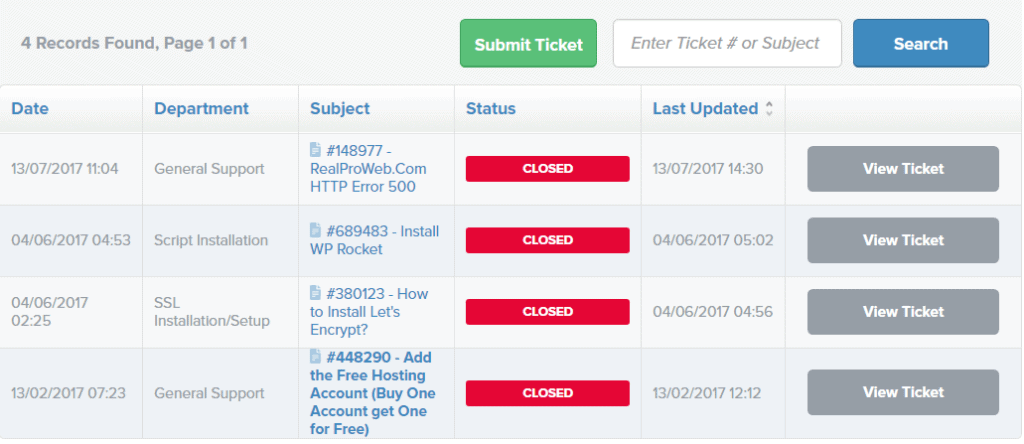 #9 Extra Features
One other great benefit of using FastComet is that they provide installation of all kinds for over 150 open source applications. One may also opt for additional module installation for improving one's blog. Using FastComet for starting a website can help one install various themes on different platforms including WordPress. The automatic upgrade is another feature that FastComet offers, especially in the case of WordPress. The updates are automatically made minus the downtime.
So, it is clear from all these benefits that choosing FastComet for one's website can effectively help one massively improve the website. Not only is FastComet efficient in delivering what it promises, but it also offers its services at incredibly nominal rates, helping one make significant financial savings. One will have no regrets selecting FastComet for their web hosting services because of the benefits mentioned above associated with opting for this web hosting service provider.
Overview of FastComet Hosting Plans + Quick Facts
This web hosting service provider offers cost-effective, yet high performance packed hosting services to all kinds of website platform, including Opencart, Joomla, Social Engine, and WordPress. Each plan category comes with similar features and pricing. This implies that the web hosting plans for Joomla and WordPress, for example, are not very different. Since their pricing is almost similar, I will discuss FastComet's web hosting plans for WordPress.
There are 3 plans provided by FastComet for users of WordPress. These plans include: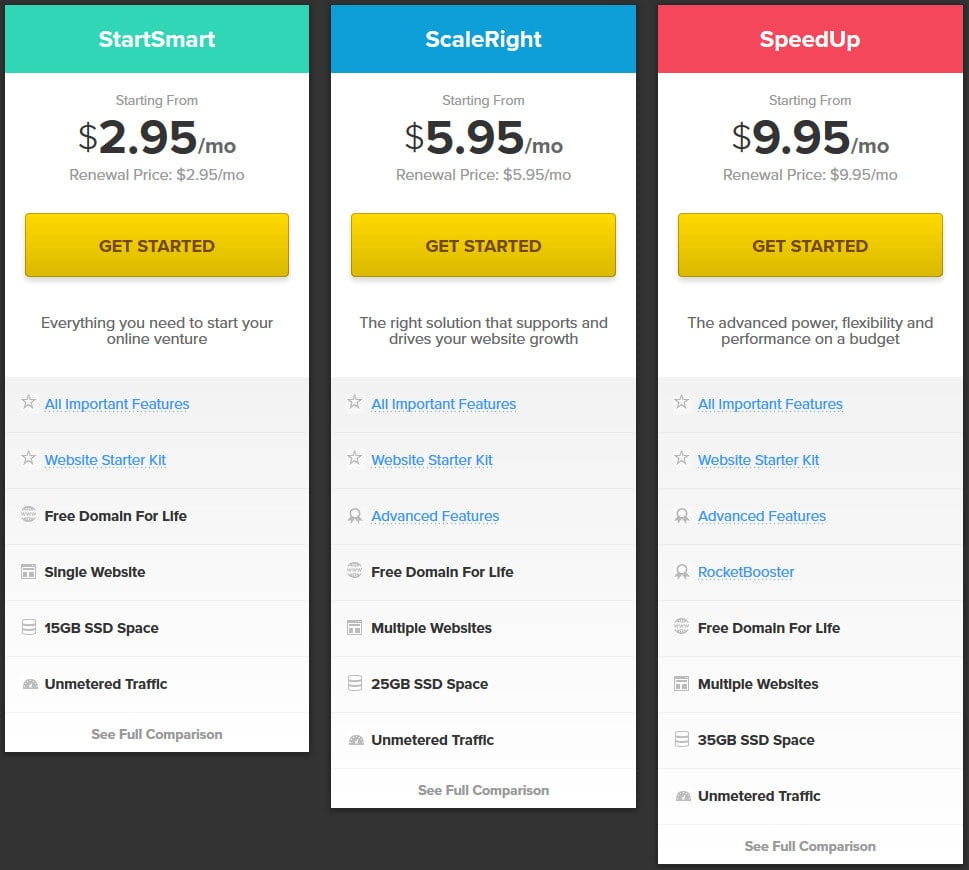 StartSmart– This plan is offered at the lowest price, and its features allow a user to run one small site with monthly visits (unique) below 25,000. It will not take into account returning visitors, and startup bloggers can enjoy maximum benefit from using this plan to run their websites because the perk associated with this plan allows an unlimited number of page views for each month. Moreover, users get to use an SSD device for storing as much as 15GB data. It is priced at $2.95/mo(discounted).
ScaleRight– FastComet offers this plan primarily to cater to growing websites that have monthly visitors (unique) below 50,000. This plan allows users to power up their websites using 3GB RAM along with 4 Core CPU as well as 25GB data storage in SSD hard disk. While using this plan users can use 30% of the CPU on an average daily. The ScaleRight plan comes with a Cron Job interval of 30 minutes. This interval is excellent for a website as a minimum Cron Job interval can result in the exertion of high load on a server, which eventually increases the page loading time on a website. This plan is priced at $5.95/mo(discounted).
SpeedUp- The SpeedUp plan is perfect for e-commerce websites. Its features include unmetered traffic, free global SSL, 6 GB RAM along with 6 Cores CPU and storage of 35GB in SSD storage device. The SpeedUp plan is offered at $9.95/mo(discounted).
Any user can renew any of these plans as mentioned above at the SAME price.
Other additional perks and features offered by FastComet include the following:
Unlimited sub and parked domains
Free registration of a domain for the entire lifetime
Daily Backup
Free SSL (Let's Encrypt)
Free CDN Caching (CloudFlare)
Limitless MySQL database
Limitless email accounts
cPanel latest version
20% discount on SocialEngine, WP Rocket Plugins
20% discount on SiteCake(drag and drop site building tool)
The free registration of a domain is one of FastComet's most intriguing benefits. Apart from the various hosting plans, users can register one domain for free for an entire lifetime. This can help a user save a large amount of money spent on renewing domains every year. However, the user needs to continue using FastComet to enjoy this free service.
In case the user decides to transfer the website to a different web host, the user will have to make a payment of $13.95 every year for that particular domain. The transfer of domain comes free of any hustling and the free registration applies to domains that are .net, .com, .org, .info, .co.uk, .biz, .eu, .ru, .ca, .cn, .de, .nl, .es, .us.
Conclusion
So, it is clear from this FastComet Hosting Review that opting for FastComet can prove beneficial for websites. The website speed advantage offered by FastComet coupled with secure network and web application firewall caters to optimize various open source applications in a way that is unimaginable at such inexpensive pricing.
FastComet additionally offers weekly and daily backups for free that reassures users of keeping their data safe as well as secure. With advantages like free lifetime domain, secure monitoring, fixed prices, amazing uptime, and speed, along with fast and efficient customer care services, one should reach out to FastComet as soon as possible for their web hosting requirements.
FastComet Review 2022- Our Rating of FastComet
Speed

Features

Uptime

Support

Security & Reliability

Price
Summary
FastComet is one of the best web hosting company. It is being used all over the world. It gives 100% satisfaction for the users. Its performance is excellent when compared to other hosting company. Other than web hosting they even provide domain registration for the users. Overall it's worth spending money on this web hosting, and it will be an attractive option for the users of all business. Fixed Renewal price, renew all your services on the same great prices you signed up for.