Are you interested in knowing about the Wix website builder and it is apt for you? Don't panic, read this Wix review post, to know about this builder. This post gives you the Wix review and makes you think how helpful is this website builder. Wix is one of the best drag and drops website builder. This builder is worth selling online products for small business users.
With the help of this builder, you can create a website without a single piece of coding. You will be able to create a professional website with Wix. It is very user-friendly and allows you to set up the programs in a short span. This builder is helpful even for the beginners who have no experience in creating a website.
This page builder is a cloud-based platform, which has 71 million registered users all over the world. This free website builder, requires only an email, in order to create a basic account. For a paid version, it requires some additional details. Wix is really customizable though it has a lot of features and tools.
This website builder is extremely SEO friendly and helps you to build either HTML5 based website or flash based website. Wix comes with a 100 of beautiful templates, that makes your website looks great. This builder is suitable for all type of websites with no doubt.
It has features such as newsletters, reservation tools, live support, contests, and testimonials. An important notable feature of Wix is that it allows selling products directly from your website, then helps to optimize those products appropriately for search engines, and then perfectly measures or track sales.
It comes with numerous tool options, where you can just drag and drop to use on your website. Wix has an amazing customer support options, they are available 24/7. It is easy to make changes in your website using Wix, you can just point and click on a site element. It is stated as the best website builder with easy customizable options and features.
Wix Review: Plans & Pricing
Wix is available for free, with basic features and options. If you require advanced features to use for the website, then there are mainly paid plans in Wix. They are as follows:
General Website
Wix plans
Monthly
Yearly
Free
$0
$0
Connect Domain*
$7.50/month
$5/month
Combo
$14.50/month
$11/month
Unlimited
$17.50/month
$14/month
VIP
$35.00
$29.00
Business and eCommerce
Wix plans
Monthly
Yearly
Business Basic
$25/month
$20/month
Business Unlimited
$30/month
$25/month
Business VIP
$40/month
$35/month
* Plan is not available in all countries.
Each plan comes with different pricing value. Connect Domain plan is used to connect your website domain to Wix site. It comes with a pricing of $5. The next plan is Combo, which is ideal small business websites. The pricing value for this plan is $11. Next comes the unlimited plan with a price of $14, this plan will be useful if you require a large amount of space.
Then comes the eCommerce plan with the pricing value $20, this plan is best for the people to create online stores with unlimited products. And the last plan is VIP, it comes with a pricing value $29. This plan is suitable for large online store business that requires a VIP customer support.
All these plans come for a yearly renewable. The domain plan is included only in certain plans. This builder gives you an option of 14 days money back guarantee if you are not satisfied with the plans you purchase. So you need to worry about the money you pay for it.
Steps to create a Wix website:
Wix presents you option of creating two types of website. They are Wix ADI(Artificial Design Intelligence) and Wix editor. Wix ADI, it builds your website with Artificial Design Intelligence. Whereas by choosing Wix editor, you need to design your website yourself.
Steps to create ADI website
Wix Artificial Design Intelligence (ADI) is the first-ever artificial intelligence that designs a stunning site for you!  From billions of combinations including layouts, images, text, contact forms & more, Wix ADI selects the most stunning just for you; creating a one-of-a-kind free site.
Initially select the 'Start with ADI' option to get started. Then you have to answer certain questions about you, your business and some other activities. Then what happens is that the AI will start searching the information about you or your business as per the data you entered.
If your profile is available, select it, or you can just skip this step to set a default website, and then move to color scheme adjusting.
Now the final step is that you just sit back and watch how ADI creates a website for you. That's it, ADI will create a one-page website with images and content in it. You can replace the images and content as you require. But Wix ADI editor is different from normal Wix editor.
Inbuilt Features
In the Artificial Design Intelligence(ADI) theme layout you will find three options like
Add
Design
Manage Apps
1. Add
In this option, you will be able to manage your pages. You can manage the pages such as
Section to page, Page, and Apps.
Section to page
In the section to the page, you will be able to drag a particular page on your website. Here you add sections to your pages such as welcome, product slider, hours, services, and quotes that are recommended to add.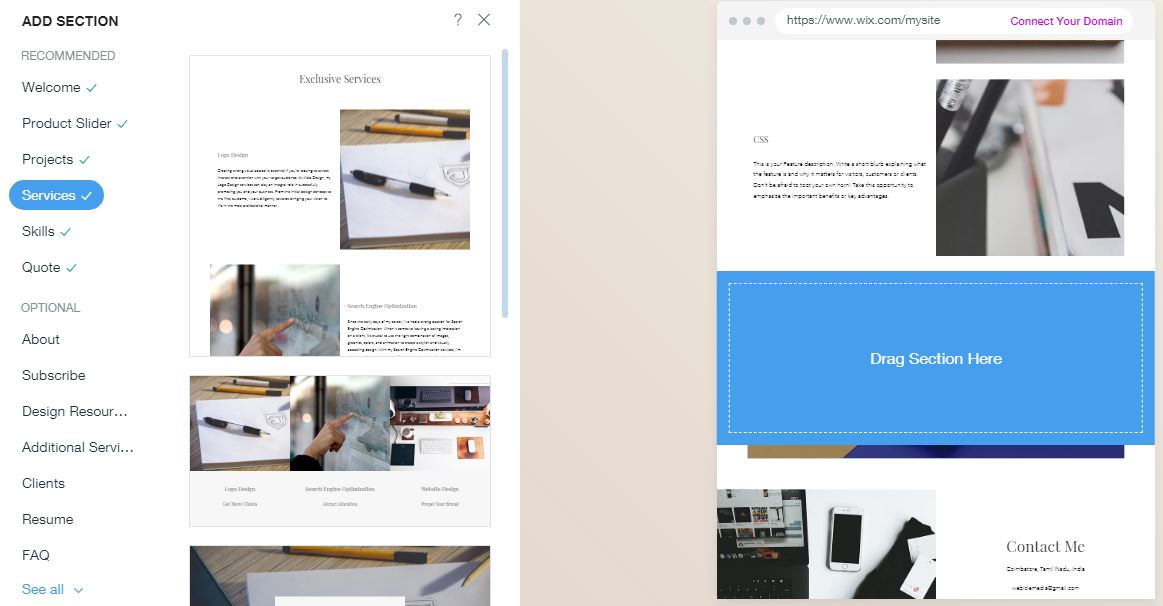 Whereas you have optional sections such as about us, mission & values, subscribe, products, our team, about, testimonials, team members, gallery, photo gallery, Instagram, video player, music player, blog feed, product gallery, featured products, event, events list, FQA, projects, clients, features, opening hours, CV, tour dates, news, past events, and headliner. You can add these features to your page as per your needs.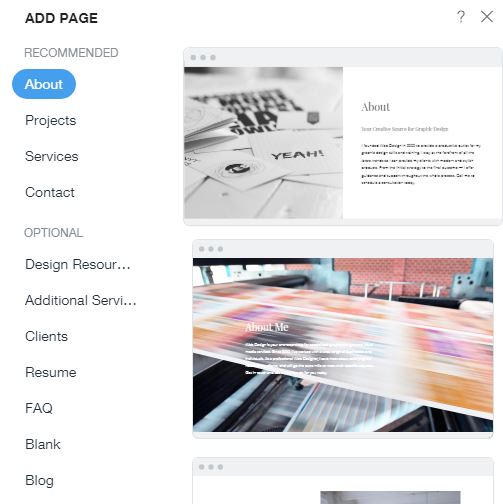 Page
In the page option you have option to add more pages such as, about, service, and contact which is recommended. Whereas the optional details are our staff and blank,blog etc it varies based on the category of business you choose.
Apps
Clicking on to the apps, you will find apps such as Chat, Online stores, Blog, Booking Instagram feed, Music, Video and Events. These apps are to boost up your website. You will be able to add these apps and manage in your website.
2. Design
This option is mainly used to design the layout of your website. Here you will find options such as themes, colors, fonts, animation, and page design. By clicking the themes, you will be able to select the template and use it for your website.
In the colors options, you will be able to edit the color pattern. Next, in the fonts option, you can style the fonts with the inbuilt styling options.  The animation option comes with different types of animation effects for your website such as fade, float, slide, fly, fold, and turn.
In the animation option, you can select the page transition as horizontal, vertical, cross-fade, and out in. Next comes the page design, where you can select a different design that makes you satisfied. Usually, you will find only three-page designs.
3. Manage Apps
In this option, you will find several fields like blog, booking, stores, and all apps. If you click on to the blog field, you will be able to create the post blog for your website.
The bookings field is mainly for the business enterprise where customers can book their schedule based on the services provided. You can create a complete service and make it visible to the customers.
Next comes the store field, where you can enter the products that to be sold including its price, stock, product specification number etc. All the apps are the same as the apps. You can activate the apps that are required for your website and use it.
Note:
In Wix ADI you have a help option so you can make use off it if you have a doubt while creating your website. There are some more features in ADI where it will work only if you upgrade the software. Create features and apps, comes with free as well as premium. You can choose as per your needs.
One notable feature is that you have a desktop, as well as mobile responsive design layout. At the down right side corner, you will find a triangle symbol, which helps you redirect to the icons in case if you are unaware where the icons are actually and how to use them.
Here you will be able to customize the design, color, description etc from the default options. You cannot customize it completely. Before making it live, you can preview your website.
Steps to create Wix editor website
Initially, start by choosing 'Start with editor' option. Then it lets you pick up a template.
Then an editor screen will appear before you, where you can start editing your website.
That's it, once done with the content, you can publish your post.
Wix widgets feature:
Wix editor lets you create an eye-popping website with no effort at all. Its templates are clean and professional, which can be used to build any kind of website.
Wix has some basic tools to create your website to showcase them. Initially choosing a template will be quite difficult because there is a huge number of templates available. The templates are available for an online store, portfolio, photographs, flashy etc. Once you choose the template you can customize the template as you wish like changing its color, font etc.
Wix builder even allows you to integrate with third-party apps. You can just download and use it. With Wix, you can just build a basic website like, set a page for the post, interface for writing posts, a comment section and a user area. But integrating with the apps, you can build your website as you wish.
In Wix, you just have five to eight elements to build your website. They include menus, background, add elements, add apps, uploads, and extra buttons for any additional apps which you have installed. It is actually a button approach, and every change is done in the editor itself.
With Wix you can drag and drop complex blocks as a whole, change alignments, or you can ungroup the items within the block. There is an option called visual tweaks that includes neat animations, and color filters for an image. With visual tweaks option, you can also assign a range of actions to most objects. You can also add the elements with just a couple of clicks.
With a WYSIWYG approach, it doesn't let you with simple empty frames or plain dialog box. It populates some images by default. When you right click the menu, you will find appropriate commands for different controls. There is a floating toolbar to speed up your access to key options and features. You can even position and size items accurately with alignment guides and on-screen displays.
Wix builder has dynamic elements like slideshow with just a drag and drop interface. One notable feature of Wix is that includes Photoshop-esque marker for lining up the different elements on to your page. It easily identifies what you are trying to move and snaps the element in place.
Wix Dashboard
You will find options like Popular Shortcuts and App Market in Wix dashboard. We will list out the tools one by one.
Popular Shortcuts
This is one of the favorite options on the dashboard. In this option, you can easily keep the frequently used items and features with just one click reach. You can just do it, by customizing which shortcuts that is shown in your dashboards and you can also keep track of which one your using often. There are many shortcuts to choose from.
Duplicate Site: This option lets you create a second copy of your website including the content, images etc. It is a good idea to always have a backup of your website
Site History: This option helps you find all the changes that are been done to your website so far.
Transfer Site: With this option, you can collage or you can even transfer a copy of your website to another Wix account.
Connect Domain: This option helps you to create a professional website by connecting a custom domain.
Manage Store: With this option, you will be able to manage your online stores all over the world like collections, coupons, shipping, orders, tax etc.
Rename Site: As the name indicates, this option is to change your website name to a new one, if you think that the old one is not good.
Mailboxes: With this option, you will be able to access a custom email address that is been purchased via Google Apps.
App Market:
In order to keep your website engaged always online, this option is the best choice to add popular apps and services. Here you will be able to access the Wix App Market where you have more than hundreds of apps, all with a variety of uses and purposes. From the app market, you can add the apps to your site. The apps which you have already installed will be visible on the left panel. Listed below are some of the topmost apps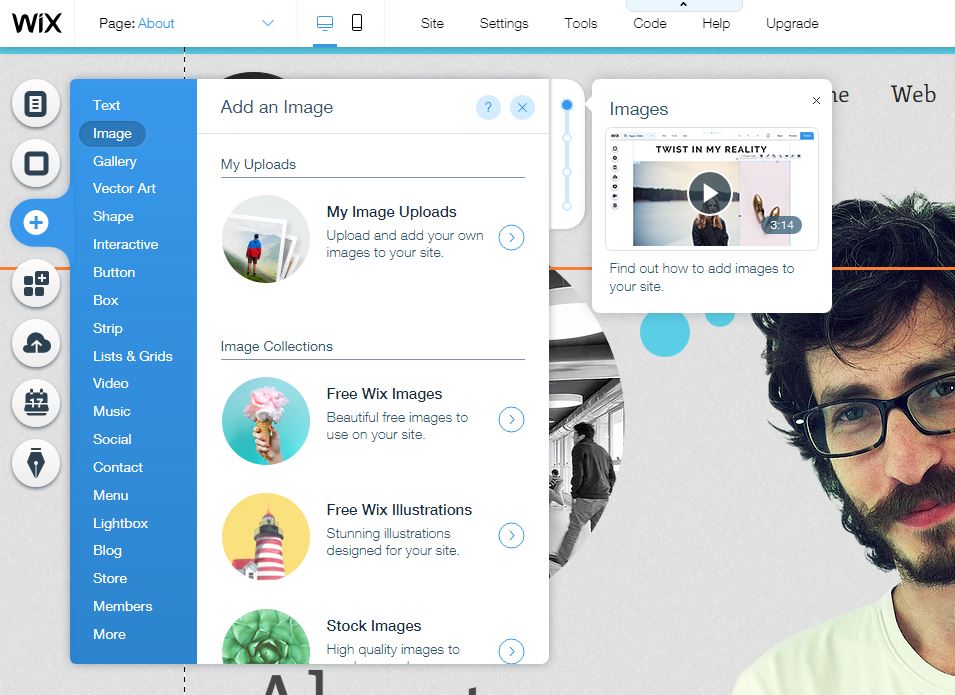 Online Store: This app is important if your selling products through your website. With this app, you will be able to manage, edit, and can maintain all your online store without even opening your Wix editor.
Contacts: With this app, you will be able to easily add, view, edit your site members, subscribers, and all your contacts. You can easily and quickly send a newsletter.
Send Newsletters: Wish to send about your sales and other updates to all your contacts? This is the right area. With Shoutout tool, you can easily send newsletters to everyone in your contact list.
SEO Wizard: This app focuses on your websites SEO. It will guide and explain to about targeting your customers and helps you to improve your websites Google ranking.
Hope this Wix website builder review helped you out for your search. If you have any queries, please feel free to comment to us. You can subscribe to us at Facebook and Twitter.
Wix Review: Easy Website Builder
Ease Of Use

Value For Money

Design Flexiblity

Features

Help and Support

Customer Satisfaction
Conclusion
This amazing website builder is powerful and super easy to use. It's simple enough to let you build a site in minutes but sophisticated enough to keep up with you and your ambitions. No matter what your niche is, you'll find Wix templates, tools and apps to match.