SiteGround is a web hosting provider serving over 1.8 million websites. It was founded in 2004 and ranks #4 among 32  web hosts reviewed by many sites. It offers shared, cloud, enterprise and dedicated server hosting. Here we offer Special SiteGround Coupon & discount deal for WPBlogX visitors.
Its speed is relatively fast standing at top ten inspired with a site loading time of 713ms or 0.713s. When choosing a hosting provider for your site, considering load time is important as visitors tend to close the site if the load time crosses 3s. Siteground also offers fair hosting price with plans starting at $3.95. They also have a 24/7 live chat. It offers unmetered bandwidth and 10gb storage. Siteground offers free email and supports over 500 applications.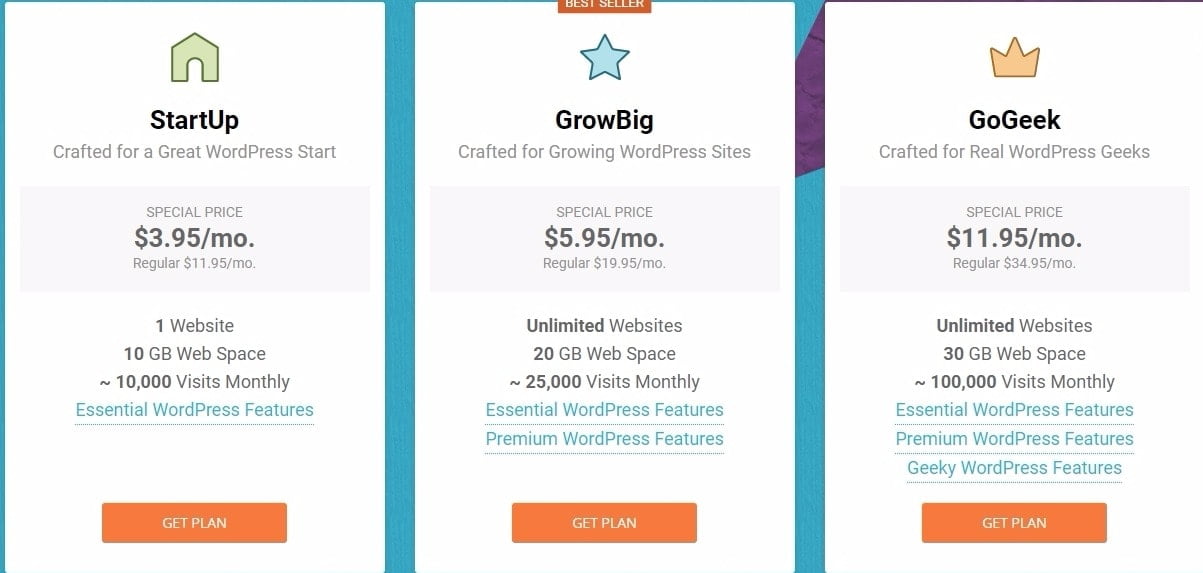 Why choose Siteground?
One important feature is that the user can choose one of the servers from their data centers from around the globe. Siteground is more specialized for WordPress than other hosts. Their hosting plans are similar to Bluehost.  Loading speed and site uptime ( the time period the site is available to all users throughout a year) are only second to Bluehost but fairly good. The striking feature of Siteground is the extremely quick, personal and tech-savvy customer support team.
They also have created a free WordPress migration plugin when you choose to migrate your site ( you can migrate as many as you may) but site migration is not free. But the process is simple for beginners. You can generate a token from within your hosting account to start the process.
Since Google has started issuing warnings to visitors when the site does not have an SSL security certificate, Siteground is a great option. They provide free CDN and Letsencrypt SSL certificates for all plans.
They have a proprietary tool called the AI bot prevention tool that detects attacks before they hit the site.
Siteground has great features for integrating site builders and Content Management Systems like Joomla, Drupal, Weebly and also  WordPress.
SiteGround coupon
:
Just like other hosts, they also offer coupon deals yearly at competitive prices.  Most discount codes allow WordPress users to get 70% off the beginner plans. Business plans get a 45% offer.
Availing the SiteGround offer:
WordPress beginner users can avail the offer by logging into the site:
Click on the get started button. Then enter the required domain name and check for availability. Then click "proceed". You will be redirected to a page where you have to enter your email address, set up a password and contact information. Scroll down further to verify "purchase information".
Then enter payment information and proceed to pay.
The verdict
Their plans are billed annually. If you exceed the limits on each plan, each new site can be added at a $30 cost.  Comparatively, Siteground has higher security features and offers a competitive discount of 70% for WordPress beginner sites.  They offer a 30-day money back uptime guarantee of 99.99%. And a 15-day refund for comparison.