The most essential thing for your WordPress website is by doing regular backups. By backing up, your data will never be lost. It is a kind of guard to your data for your website. There is numerous best WordPress backup plugin available. Each plugin has its own specific features.
But we cannot say every backup plugin is best. There are very few backup plugins that completely backups your data. There are premium plugins as well as free plugins. If you really have a budget constraint you can always go with free WordPress backup plugin.
Below shows  the most important WordPress backup plugin and their pros and cons: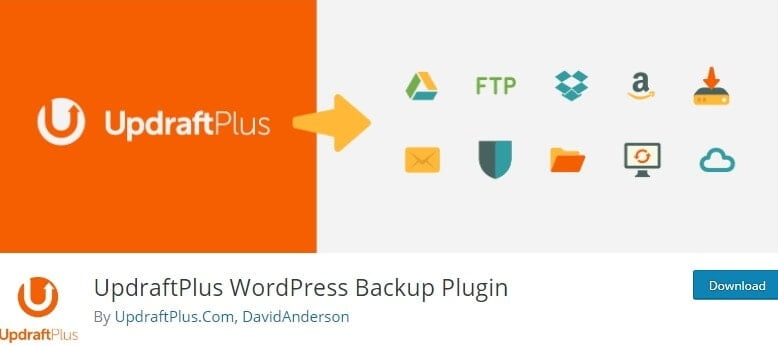 Updraftplus is considered as the most important and popular backup plugin in WordPress and it also has a highest ranking. This plugin is nearly installed by more than million users. The main role of this plugin is too backup both the database and files.
All these backups are stored in the cloud and if you want to restore it, then you have to fetch details from the cloud. There are many cloud services available and you can backup the file in those services such as Amazon S3, FTP, Updraft Vault, Rackspace Cloud, Google Drive, DreamObjects, Dropbox, etc.
The files backup to the server can be your own option. It is used to get rid of any crash on your WordPress website. There is free as well as premium version. The free version comes with good features and if you require additional features then you have to opt for premium.
Pros:
This plugin consumes less memory usage

With the help of scheduled service, the backup is done automatically

It is easy to use

Restoration is done for multiple sources
Cons:
Critical functions like migration and cloning, encryption database, multisite support etc can be accessed only for the premium version

The costs will be around $70 to $145 for a premium version, it's mainly based on your site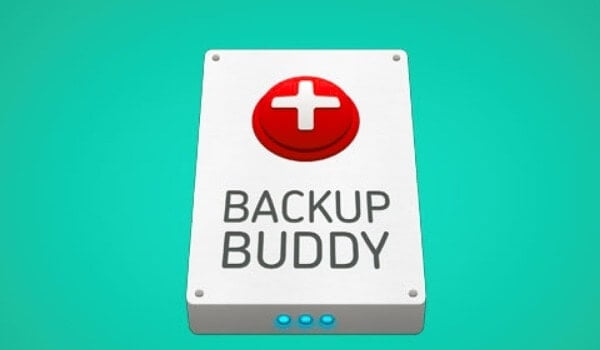 Backupbuddy is one among most important plugins to backup the WordPress website. It a most powerful backup plugin. This BackupBuddy plugin comes with the premium version. It provides several features that make it more flexible backups such as it has migration tool, real-time backups, remote destinations etc.
This plugin takes only a few minutes to backup all the content rather than taking hours time. It is fully automated and uses offsite storage. The most of the plugin job is to perform safe storage, restoration, scheduled backups and complete backups. Backupbuddy automatically scans and repairs the common issues in your database.
Pros:
Performs malware scanning and troubleshooting operations as well

Individual files such as .html, .php files are backed up automatically

The common issues present in your database will be automatically resolved

With the help of this plugin, complete backup of your site is possible

You can restore the files using ImportBuddy and once immediately when the backup is complete an email notification is sent to you
Cons:
You cannot use this plugin for multi-site

If your wp-content folder named is changed or placed somewhere, then this plugin won't work.

This plugin features will be quite difficult to understand for non-technical users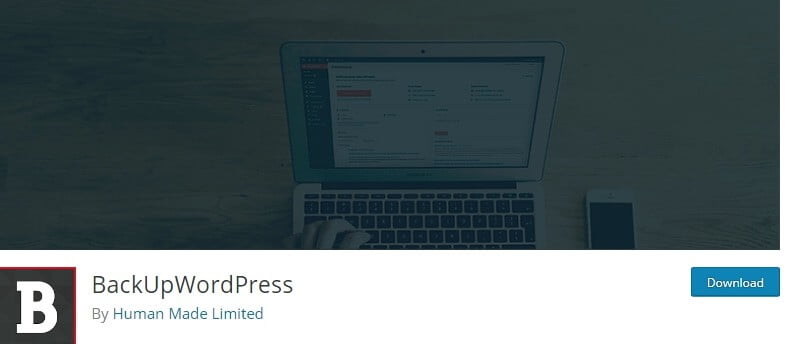 As the name indicates it is a wonderful free WordPress backup system. It has nearly 200,000+ installations. There are numerous features present in this plugin. In case if you are not ready to use the premium version of your WordPress backup, then this plugin will help you for free. Backing up your complete WordPress website including your database and all your files on a schedule.
In BackUpWordPress you can set up multiple schedules for backing up your WordPress content. This plugin has the capability to works with Windows, Linux, UNIX etc. It will backup your entire site, including your database and files, on a schedule that suits your needs.
Pros:
Though it consumes fewer resources, it works effectively on hosting environment

It doesn't require any setup and works fine even if the memory is low

You can use MYSQL dump and zip to back up fast

There are a variety of languages such as French, German, Spanish etc are available in this plugin.
Cons:
This plugin supports only PHP of the latest version.

You have to buy an extra space in case you want to store backups other than your email or hard drive

This plugin can be easily affected or make changes by the hackers.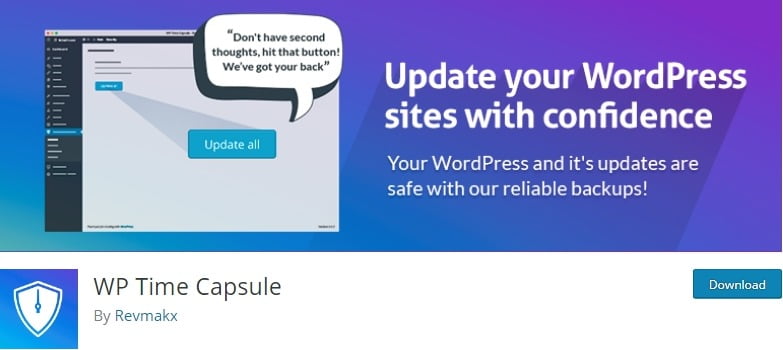 WP Time Capsule plugin allows you to create an incremental backup of your WordPress website. While installing this plugin, it takes a full backup of your website including its files and database.
Later only the updates are backed up. It won't backup the entire website again and again. This tends you use the less of server bandwidth. The database and files stored in clouds such as Dropbox, Amazon S3, and Google Drive. This is the top-rated plugin with more than 10,000+ active installs. There is free as well as premium version. But the premium version has much more additional features.
This plugin saves your time by doing automated backups. It also lets you create, schedule and send backups automatically to Google Drive, Amazon S3, and Dropbox. Once a complete back is done, it just uses the app native versioning system to detect file changes.
Since only the updated files are backed up, this plugin saves storage and memory space. It is easy to setup this plugin, and once the setup is done, you just need to connect with WPTimeCapsule.com account.
Pros:
Once the files are changed it is directly stored in your cloud account

It consumes only less storage space as compared to other backup plugins

It has the capability to restore fast

This plugin backs up incrementally, you won't have any multiple copies

It scans for visual changes after an update
Cons:
Though the features are good in a free version, if you require additional features, then it is just to go for a premium version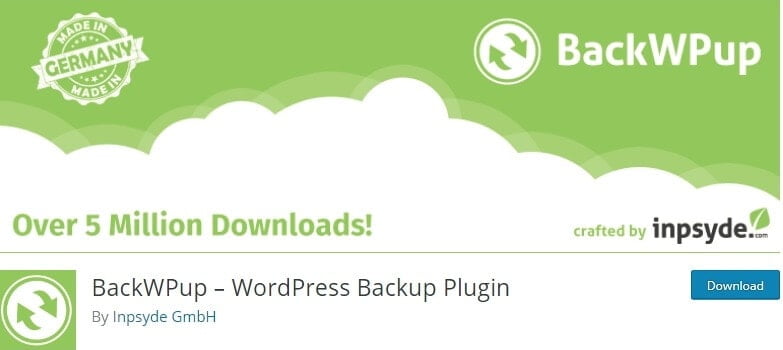 BackWPup is a very common and famous plugin and has many installations. Nearly 600,000+ installations are done. This plugin is treated as the best WordPress backup plugin. Even though it is the best plugin it has a very less rating. Here the automated backups are scheduled and can be placed on any other platform.
This plugin has other backup services like SugarSync, Rackspace Cloud, DropBox. Though it is free there is a premium that offers more features and support. If you want more features then you can opt for BackWPup Pro version. You have an option to repair, check and optimize your database with the help of this plugin.
Pros:
Allows you to support multi-site

It is a complete site backup with email reports

A list of plugins installed will be visible to you to check how this affected your website

For a scheduled backup, a built-in assistant is available
Cons:
In this plugin, there is no option of restoring

When you process several loads, t times it might affect your website

Troubleshooting is very difficult if you make any mistakes

With the free version, there are no such features as compared to the paid one

The backup Google Drive is available in premium version.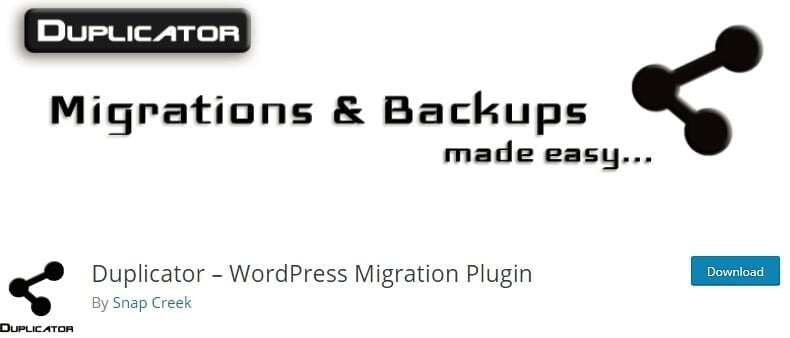 It is a site migration tool. It has a download of around 1+million. This plugin will back up your data as well as it creates a duplicate copy of your complete website. It is extremely a strong backup solution.
In this plugin, there is an opportunity to copy, clone and migrate your complete WordPress website from one place to another, which will give a great result. If you want a complete redundancy in the event that you need a failover option if your primary site goes down. 
This plugin comes with both free as well as premium. The Duplicator Pro offers you more features as compared to free Duplicator.
Pros:
It is a best WordPress backup plugin and easy to use WordPress migration tool

Intimates every function via email notifications

Due to match and withstand the upcoming versions of WordPress, the updates are done regularly
Cons:
To use the duplicator WordPress knowledge is required

Manual backups are done with a free plugin

Only with the paid version auto backups are done

You will not be able to access certain features if its free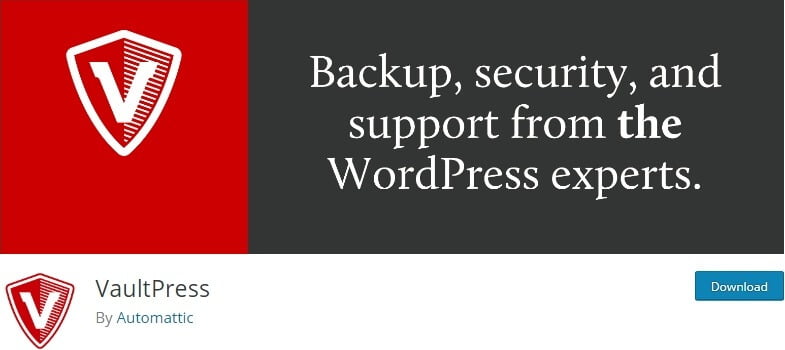 It is one of the complete best backup solutions for WordPress. This plugin takes a constant backup solution for WordPress. It is possible to restore your database from VaultPress backup.  This VaultPress plugin has nearly 100,000+ downloads. 
It is actually a feature of the Jetpack WordPress plugin, and it is a website backup tool that automatically creates a backup copy of your website and stores it on their server. VaultPress is been used for quite long time.  This plugin offers a real-time and daily syncing for your website to use at its ease. 
This plugin will backup your data in a more secure way with utmost perfection. It is available as both free and premium version. Whereas when you go for a premium version, you will get additional features and support.
Pros:
Restoring the backup is very easy

There are real-time features in this plugin

You will receive notifications for every backup

It is capable of making multi-site

VaultPress professionals will take care to backup and restore your website, in case if you are not doing it yourself
Cons:
For the large sites, it requires many hours for a backup

While the other plugins provide extra features, VaultPress is just concerned with backup and security

For malware scanning, the premium version is a must

As well as for automated threat, only the premium version has featured the handle
As the name indicates it is used to backup your database, not your files. If you want your files to backup, you have to look for alternative solution. This plugin has nearly 3 million downloads. 
Certain plugins won't have much exposure though they have many opponents, in that case, WP-DB-Backup is also one of them. This plugin will backup all your core WordPress tables, as well as other tables, depends on your choice in the same database. This plugin is free to download and use.
Pros:
It is probably easy-to-use and free-of-charge plugin

This plugin is easy to configure without getting into any technical side

It has different features such as automatic backups, sorting etc.

It has several backup storage options
Cons:
It is a completely new plugin in comparison with all the plugins

There a weak support online for this plugin

This backup plugin covers the only database and not files. This implies that the  database backup plugin cannot back up the entire site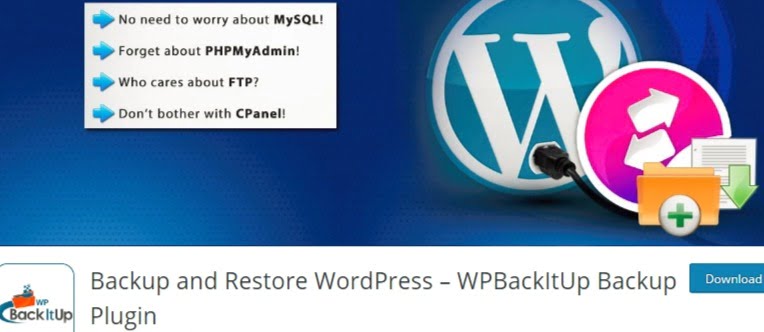 This plugin is one of the simplest ways to safeguard your WordPress website. It nearly had 20,000+ active installations. Having this backup plugin, you can protect your website from spammers, attackers, malware injection and even if you make any mistakes.
Using this plugin, there are options to back up comments, every settings, theme, post, plugins and you can you upload anything easily. This plugin generates a shortened backup of your website even though your website is too long.
This backup is directly downloaded from your dashboard. This plugin is tested broadly, highly rated and reliable backup plugin and no doubt are that this plugin lasts for years.
Pros:
It is user-friendly, just with one click you can backup your entire website

It backs up your entire website very quickly

You can process unlimited backups

This plugin works well in low memory and shared hosting environment

There is a backup cancellation too. You can quit it  anytime you want

You will receive an email notification each and every time a back is done
Cons:
Restore option is available only in a premium version

Clone and priority option is also available only in a premium version

Automated backup is also allowed in premium version only
Conclusion:
WordPress backup plugins are huge in number, but to choose which WordPress backup plugin is best will be a difficult task. In this article, we have listed the 9 best WordPress backup plugin. this article would have helped you to find the right backup plugin.
If you have any queries please feel free to comment us. You can subscribe us on Facebook and Twitter.