Looking for a solution to create a new business Email for your WordPress site? 
You're in a right place and you'll get everything you expected.
Using some generic and unprofessional address like "XYZ@gmail.com" will not help you for marketing and communication purposes. So, better you should have a business Email for communicating and marketing. 
To get noticed by your customers, then you should create the business Email by including your custom domain or brand name. Also, it helps in promoting your brand to all your customers. 
What are the advantages of using business email?
Mainly, there are four advantages of using business email with your custom domain or brand name.  
Using a business email will create trust among your customers.

It will be easy to remember by customers and also easy to manage the email account from your side.

Business email feels to be a professional one.

Finally, sending emails using business emails will promote your brand name directly. 
What are the methods to create a new Business Email for your WordPress Site?
 Here I suggest you two different methods to create a new business email for your WordPress site. They are,
Using BlueHost

Using cPanel
Using BlueHost
Bluehost offers free business email for your domain, all you need is to signup using an email. You can use free business emails using your domain name, even if you don't have your website.
Step 1: First choose a Bluehost plan for your new domain. To do so, first, get into the Bluehost website and click on the "Get Started" button found in the middle of the home page.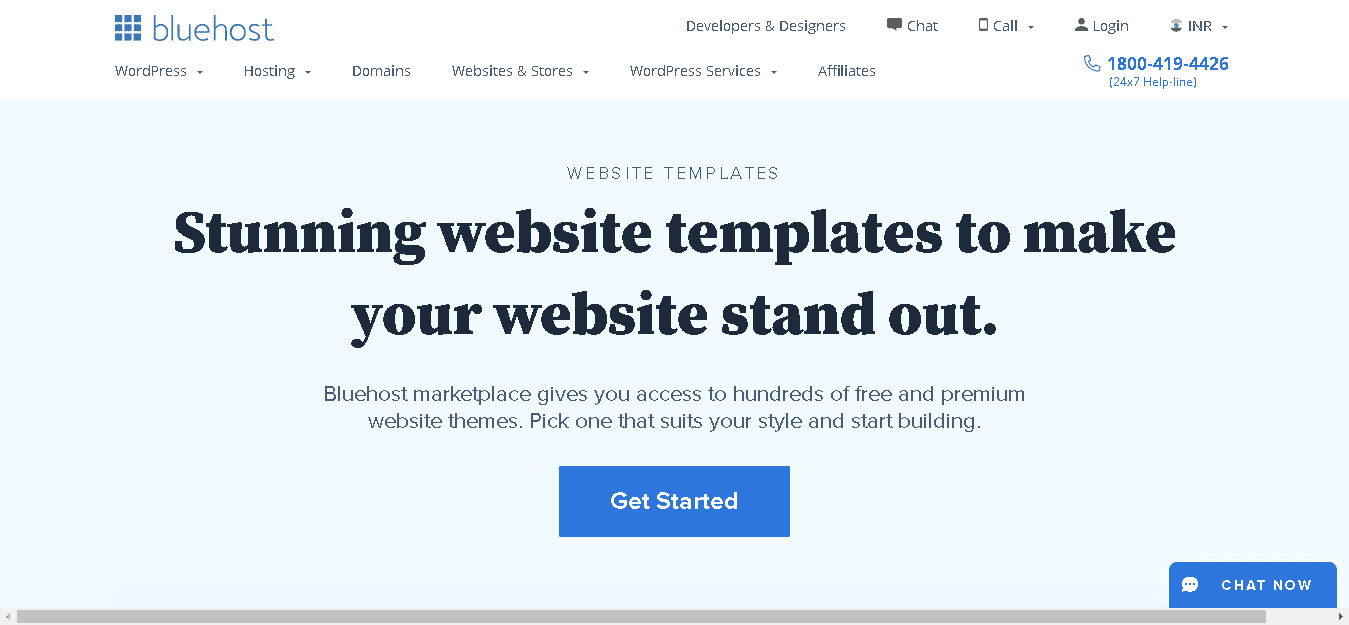 Step 2: Now choose any one plan which will be shown on the next page. Click the "Select" button on any of the plans.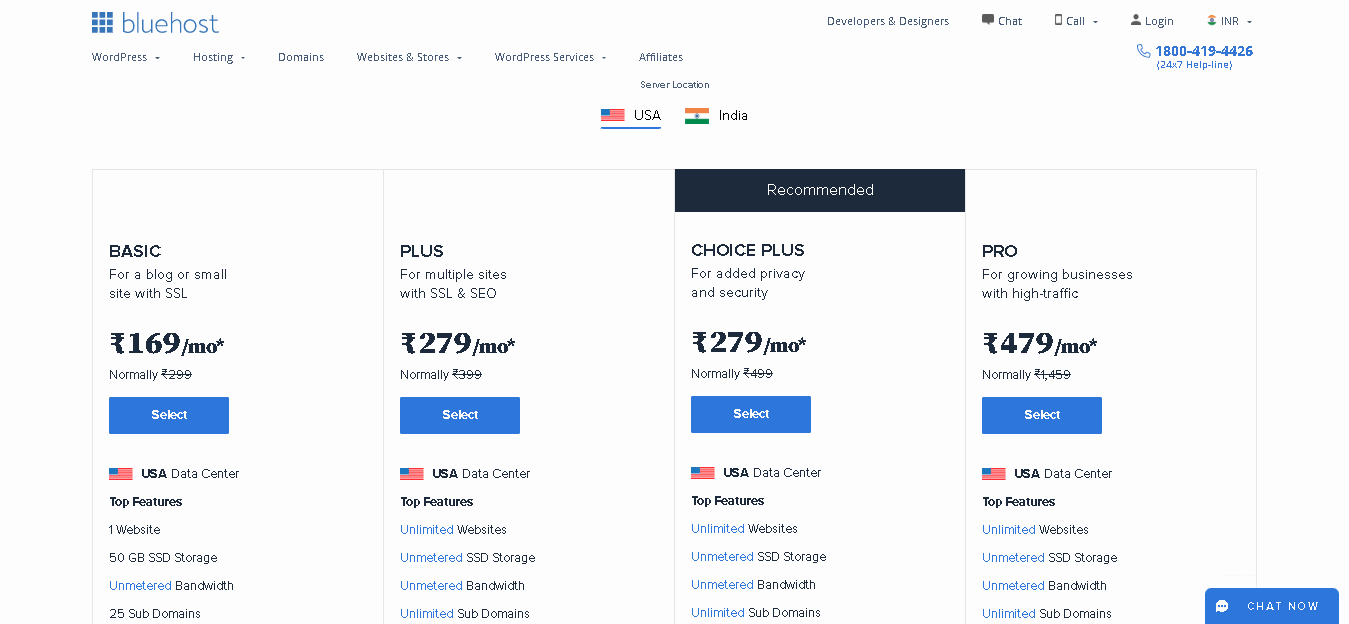 Step 3: Next screen will show you to create or use the existing domain name. This screen will help you in creating your website address. If you're an existing domain then mention the domain name in a right side box. Else, create a new domain in a left-side box.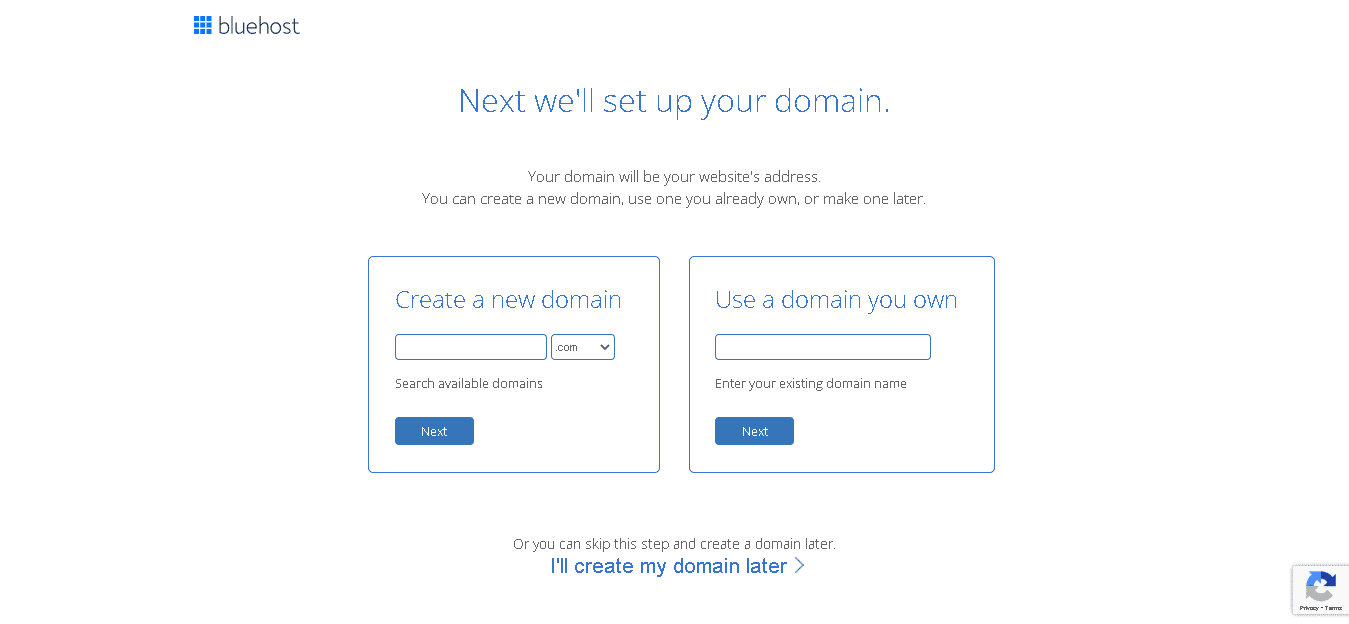 Once, you entered a domain name under the heading "Create a new domain" it will search for availability. If it is new, it will take you to the next screen else it ask you to enter other names.
Step 4: Next screen requires some details to create a new account.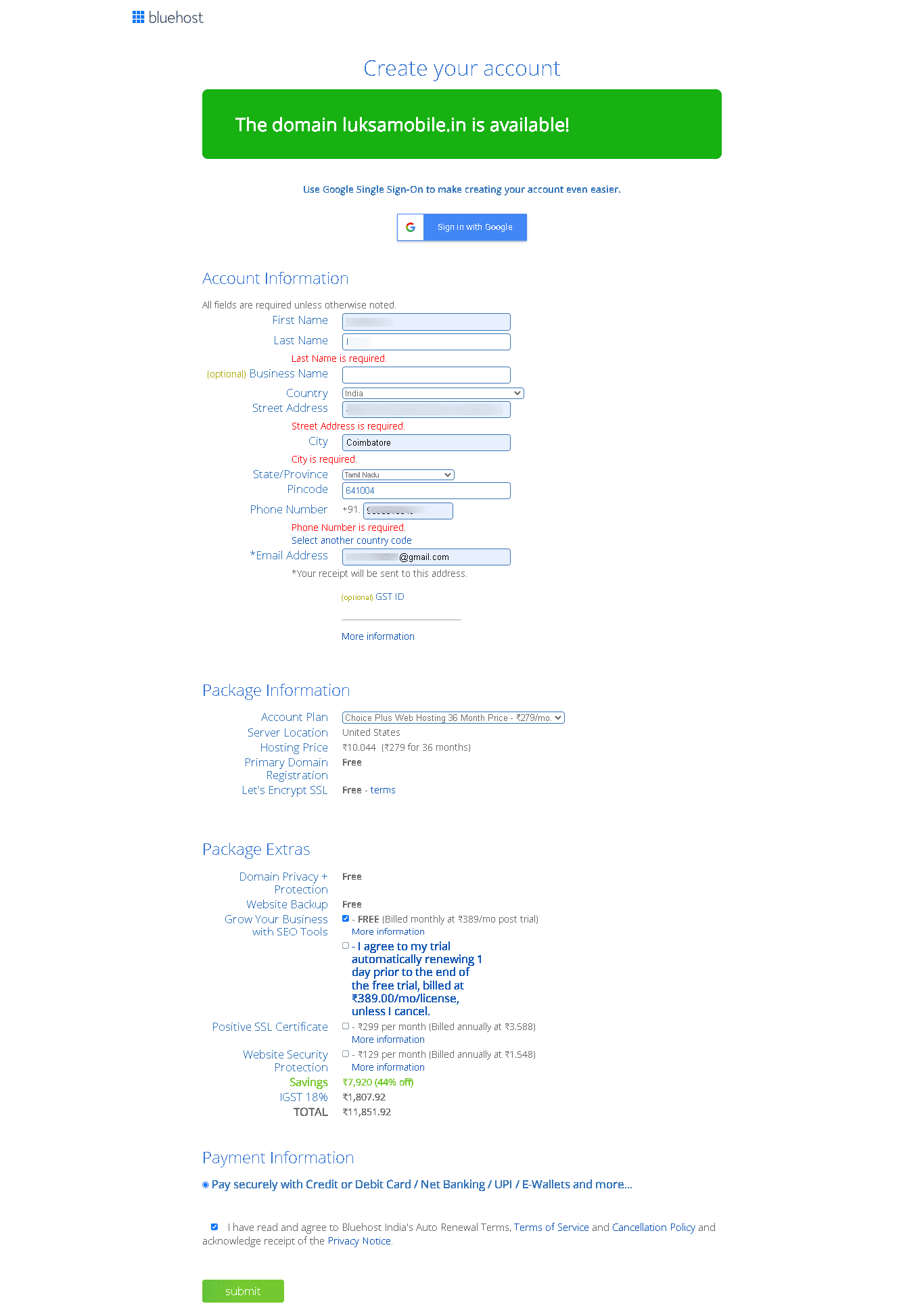 Finally, click the "Submit" button to proceed. It takes you to the payment page and completes the payment process.
Step 5: Once the payment process is completed, you will get the BlueHost dashboard and now click the "Email & Office" option on the left side of the screen. To create a new business email, click the "Manage" button.

Step 6: Now click on the "Create" button to create a new email address.

Followed by the screen, it requires entering the user name which will automatically combine with your email address along with @ symbol. After all the processes, to generate a random password,  click on the "Generate" button.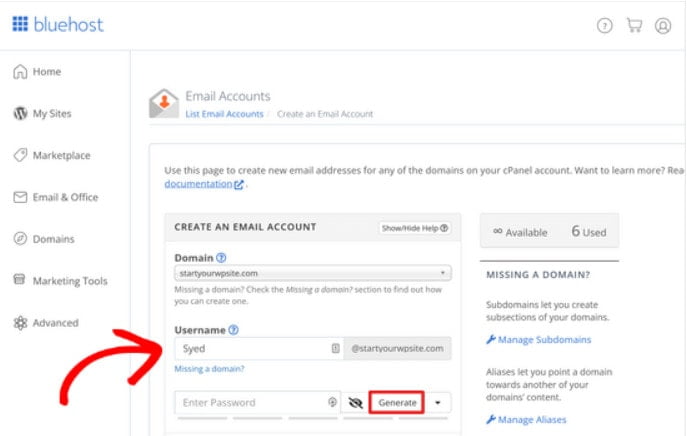 That's all about creating a Business Email using the BlueHost application. 
Using Cpanel
CPanel is a popular control panel that many hosting providers use this panel. This method will be useful for people who have registered domains with CPanel. 
To start your CPanel, first login into the web hosting account and enter into the CPanel. Else, you can directly open CPanel through its official website. 
Once you entered the CPanel, move into the "Email" section and select "Email Accounts".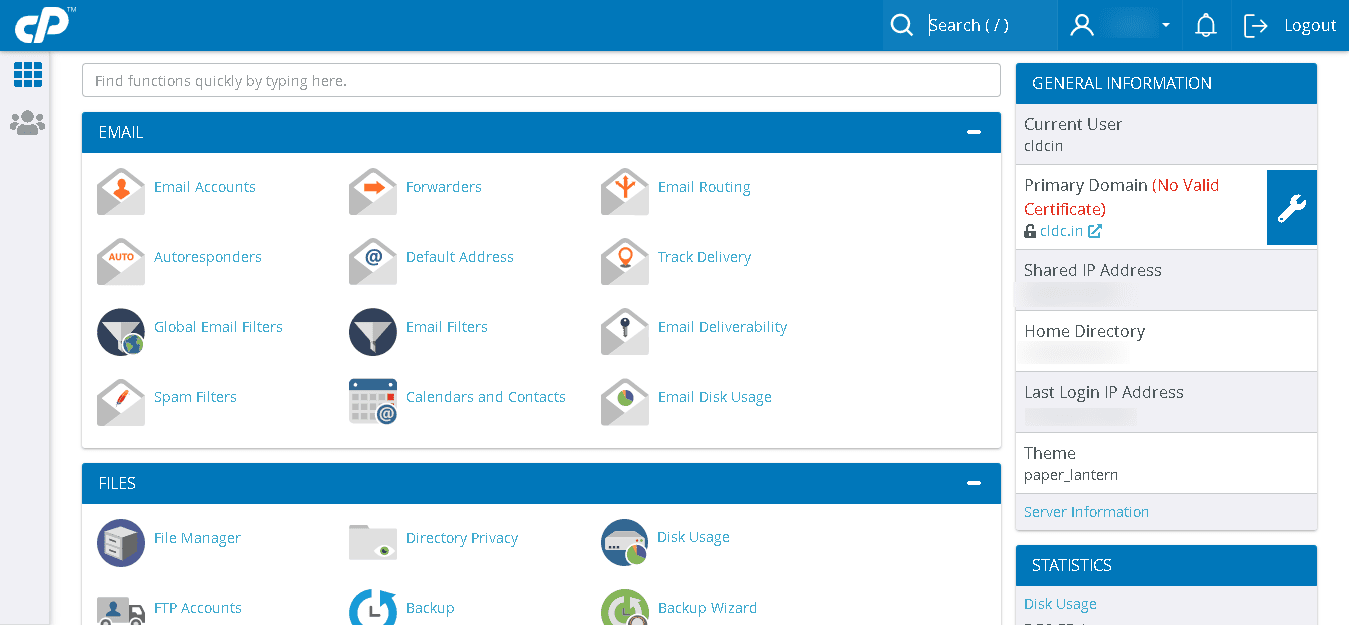 The next page will be the email account page where you could find other configured email accounts. To create a new business mail, just click the button "Create".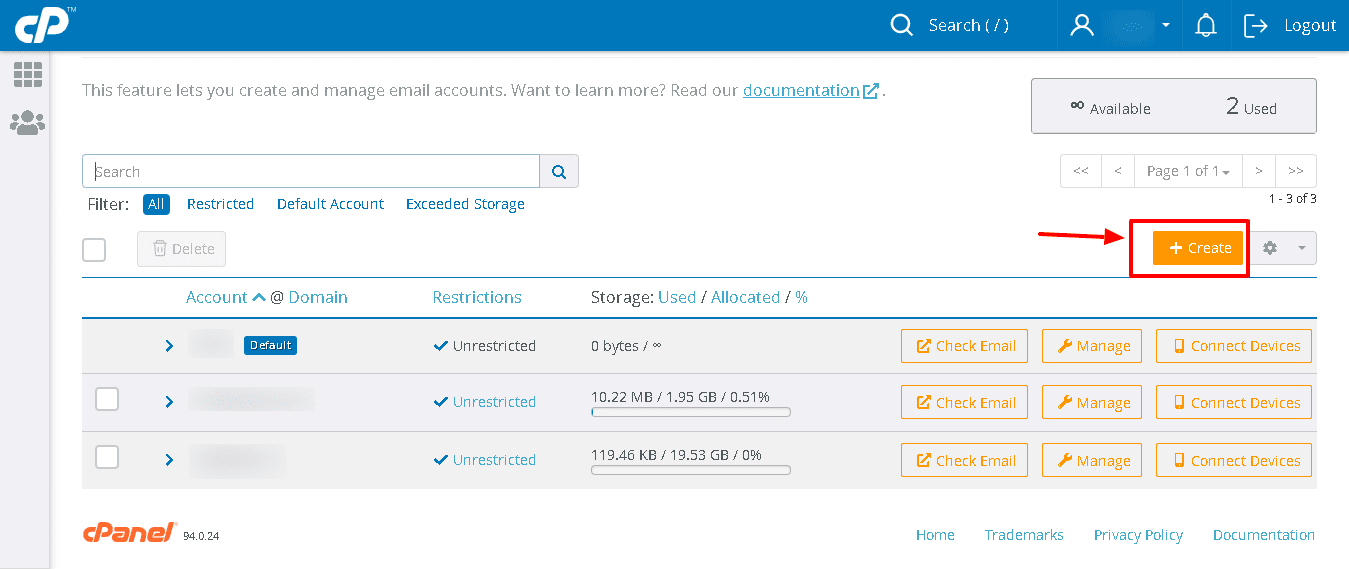 Now the new email account creation page will get opened. Now you can enter the username and password to the account.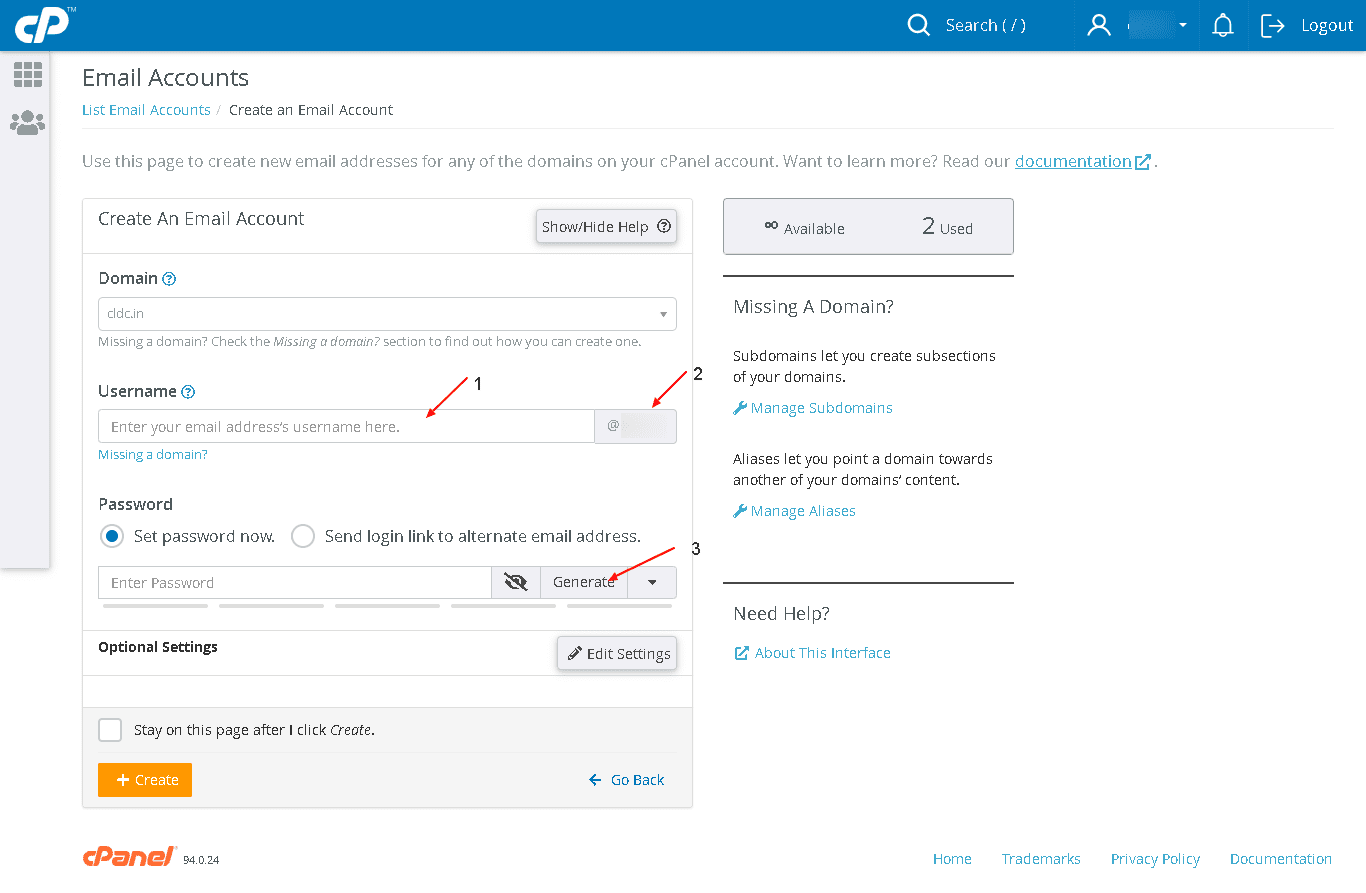 You can also mention the storage space needed for the email account. Finally, click the "Create" button to create a new business email account.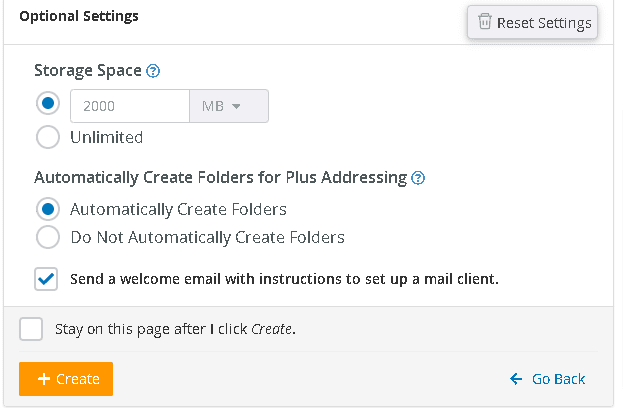 This is all about creating a business email account using CPanel. 
Final Thought
I hope this article satisfies both sets of people, who have CPanel and those who don't. If you have a registered domain then you can go with CPanel to create a new business email, else BlueHost will be the best choice. However, a business email with a brand name as a domain name will create trust among your clients and increases your income professionally.