With the latest trends, we are here with a new article on transportation WordPress themes to drive your website in 2022. In this article, we talk about the best transportation WordPress themes. 
The collection of transportation WordPress themes helps you to drive your business forward in the coming years. Our latest collection covers multiple niches including but not limited to travel, public transport, logistics, delivery, and courier.
What to look at before Choosing the transportation WordPress themes
Is it responsive?

Is it free?

If premium, is it cost-effective?

Is the theme easy to configure 

Has an Amazing look & feel

Is the theme support friendly
Transportation WordPress themes
Transportation WordPress themes are used for the development of websites that involve transport-related services. These themes have a modern interface that allows users to perform online bookings, check passenger details, and book flights or hotels. These themes come with an extensive set of shortcodes that makes it easy to customize the theme.
They feature rich options like multi-currency, booking systems, booking and trip calendars, maps, hotel information, city guides, and much more. They have a clean and professional appearance and can be easily installed and customized by the user. All these themes come with full documentation and unlimited support from our team.
Below is a list of the best Transportation WordPress themes packed with free and premium features. let's see each theme one by one. 
List of best Transportation WordPress Themes
CargoPress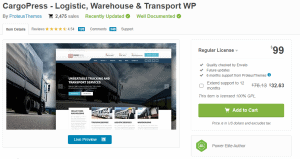 CargoPress is a free, open-source, beautiful, & responsive WordPress theme used for transportation websites. It is specially designed for cargo shipping companies. This theme is designed for cargo shippers and freight forwarders, who need an intuitively designed website to showcase their business. It has custom post types, a built-in theme options panel, a customizable logo, and page templates.
You can use it to create any type of blog you want. CargoPress is a simple and easy-to-use WordPress theme with a clean and stylish design. This template includes lots of customizability options to let you change its look and feel to fit your website needs. This theme has all of the best parts of other themes, but also includes its own set of special features to take things to the next level.
It has several layouts, multiple color schemes, and a custom child theme available for download. It comes with lots of features including customizable pages and templates, easy customization, support for WordPress plugins, and a lot more.
Morz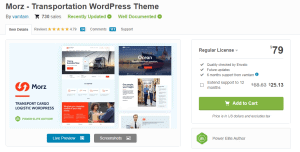 Morz WordPress transportation theme is a beautiful theme for transportation websites or travel agencies. It is easy to use and makes you look professional. It has a home page slider with a bunch of blog posts, a blog sidebar on the right with navigation and categories, and a blog index at the top with pagination. There are also several pages for portfolio, contact us, blog posts, and so on.
You can edit this theme easily because it's easy to change the font, color, and other elements. The theme is very flexible. You can change almost anything to fit your needs. It is very easy to set up and customize and has an intuitive user interface that makes it easy for users to manage and edit their content.
It features a huge number of customizable widgets and shortcodes, a drag&drop page builder, carousel slider, full-width header, custom background images, a child theme framework, and many more features. 
Logistic Transport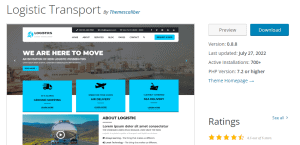 Logistics transport WordPress theme, a fully responsive theme built for the logistics industry. A logistic transport WordPress theme helps to manage all the processes of delivery, from the initial order placement through to the final shipping. The theme includes multiple shipping methods as well as detailed order history reports.
A logistic transport WordPress theme contains all features of transport logistics, including the following, shipping services, air cargo, freight forwarding, international freight forwarding, customs, logistics, courier services, and express delivery. A wide range of features and options ensure that they can be customized to your requirements.
The logistic transport theme allows users to easily add multiple logos, titles, and text to their posts. It also allows users to quickly add a logo or title by dragging and dropping and previewing them in real-time.
GoCargo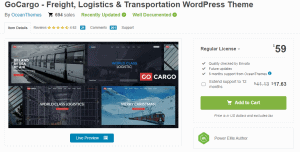 GoCargo is one of the best transportation themes out there. This theme is used to display information about shipping, cargo, and freight. It is really simple to set up and configure. GoCargo allows you to customize every little bit of your website and the features are almost limitless. It shows the real-time loading status of the cargo. There are three options for displaying the loading status of the cargo.
This theme allows users to see how cargo is moving through different points on the journey from start to finish. Users can track each container's current status and location on a map, and follow the progress of the entire container journey. It's also easy for customers to place orders at any point in the supply chain.  It has a number of features like navigation menus, custom widgets, social media buttons, blogs, eCommerce, and more.
Globax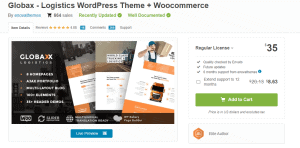 Globax is a WordPress transportation theme that is very popular. This theme is designed especially for the people who are running transport sites or travel-related sites. Globax has an option for transportation that allows you to choose between air, train, and bus transportation. It is also possible to search for a specific route on Google Maps. It is very user-friendly. Globax provides a good user interface and looks more modern than other themes. 
In this theme, you have a lot of colors on your sidebar, like blue, red, purple, green, etc. There are also different sizes, like the header, footer, sidebar, and main content. It has features such as custom landing pages, easy installation, advanced page builder, responsive design, and lots of customization options. It comes with a number of built-in widgets, including a carousel, video, countdown, slider, and more. The theme also supports WooCommerce. 
Geoport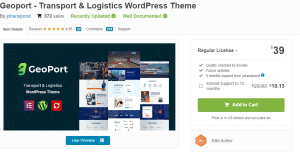 Geoport is a premium WordPress theme with all the features you need to build a great website in no time. It has a responsive layout that adapts to any screen size, SEO optimization, and many more! Geoport theme gives you the ability to add maps of your locations to any page of your site. It's easy to use and very easy to customize. And it supports multiple location types such as Google Maps, Mapbox, OpenStreetMap, Leaflet, and many others. 
GeoPort WordPress theme gives the appearance of having the user interface based on an actual map. With this theme, users can view content, post articles, and share them on social media. The theme comes with a lot of features. You can choose from five color themes, three background themes, and four logo options. You can also add a splash page by selecting one of its templates.
MoversCO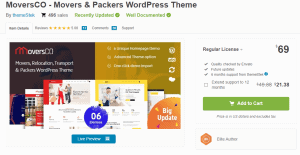 MoversCO WordPress theme provides transportation services for moving companies. This is one of the most powerful WordPress themes. It provides different types of transportation such as Truck, Van, Vanpool, Dump Truck, Rental Trucks, etc. All of them have unique layouts and color schemes. Each one has its own dashboard, which allows users to manage their cars/trucks/vans.
There are also a lot of options and plugins that can be used on this theme. This is one of the most popular and most powerful transportation themes in the WordPress industry.  The theme is developed to help movers by providing them with a convenient platform to manage their business. This is an all-in-one package that includes pre-designed templates and content pages, easy-to-use drag and drop widgets, built-in SEO features, and more.
The theme comes with 3 homepage demos and 6 homepage layouts, all of which are completely customizable. The theme has many features such as 3 different design options, 5 different colors, 5 different slider options, multiple page layouts, a responsive theme, different widgets, SEO Optimization, etc. 
Moovit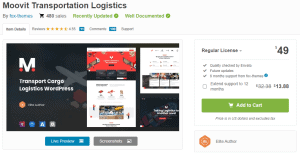 Moovit is a premium WordPress theme designed to help you create an interactive website. It helps your website looks more modern and responsive. The best part is that this theme is very simple to install and you don't need any coding skills. It provides a clean, fast, and easy-to-use website that looks great on desktop and mobile.
You can choose a color for your site title, body text, and background from thousands of colors.  Moovit allows you to display real-time bus information and schedule, as well as the ability to add a map of the route. It has lots of features such as Google Map, TripAdvisor map, TripIt integration, etc.
It also has functions like contact forms, blogs, galleries, photo galleries, and more.  The theme is optimized for speed and security. This theme allows you to create a website with a blog, and a social media area like Facebook, Twitter, and Google Plus.
TransX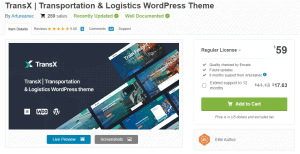 TransX is one of the best transportation WordPress themes on ThemeForest. It has many features, such as the homepage layout, category page, custom background, changing the font of the titles, adding icons to the top menu, adding social media buttons, and a search form. 
The designer has made this theme very simple and easy to use. It's also very easy to customize. You can add widgets, such as Google Maps and a search box. You can also create a news page. The theme allows users to create pages for their websites with one click. A page builder provides drag and drops features.
Conclusion
We have put together some of the most creative and easy-to-use transport WordPress themes that you can use to make a good impression on your visitors. These themes provide you with a great user experience and design. You can choose from various categories such as airport theme, hotel theme, park theme, travel theme, etc.
These themes come packed with features that give you all the necessary information related to your transportation services and services. You can use these themes to build the perfect transportation website today. 
Hope you got an idea about which transportation theme to choose for your website. If you have any queries or suggestions please feel free to comment.