Divi Builder is one among many webpage builder plugins which offer drag-and-drop functionality to create a website. Still, the Divi Builder continues to get upgraded and refined. Because of its frequent updation and refinement, the Divi Builder is one of the famous web builders in the WordPress platform. So in this Divi builder review, we will look into features, pricing, pros, and cons.
Since it has a drag-and-drop builder option that enables users to create complete web design layouts without using any codes. The user doesn't want any experience in designing beautiful websites. 
In this article, we would like to showcase how to create web pages and layouts using the Divi builder along with its features. So, this article will be the reference for many website owners to use this plugin. 
Reason for using Divi Builder
Since 2008, WordPress has been releasing many WordPress updated versions in the name of Gutenberg. Gutenberg has its own drag-and-drop editor along with many other features. You may already know, there are many webpage builders with drag-and-drop facilities. 
Then why should you fall on Divi Builder for web page development? The reason is that most of the web builder plugins are limited with their functionalities and features. Divi is simply limitless because you can create a simple blog to complex web design where Divi brought page building to the next level. 
The visual builder is the main advantage of Divi because it helps users to create layouts on the front end of your website. Divi Builder also allows you to create layouts from the backend. 
Each and every functionality of Divi will be explained through its features, this will be the next section.
Divi Builder Features
Divi Builder is a standalone plugin that works with all WordPress themes. Through this, you can even edit the basic page layout of the home page and other contents on your website. 
This section will have an explanation about the features along with the screen descriptions.
Drag-and-Drop Frontend Editor
We would like to thank the Divi team for giving us the wonderful upgrade from the backend to the front-end live editing option. Since the Divi started, the web page has been developed from the backend view. The backend view will not be the most sufficient one to know the actual appearance of the webpage. So, the Divi team has released a new upgrade that allows users to edit their page from the front-end view. 
This upgrade is also called "What you see is what you get" in short form 'WYSIWYG'. This process reduces time from switching between frontend and backend views. Also, reduces the frustration in getting the right change done while switching between the frontend and backend.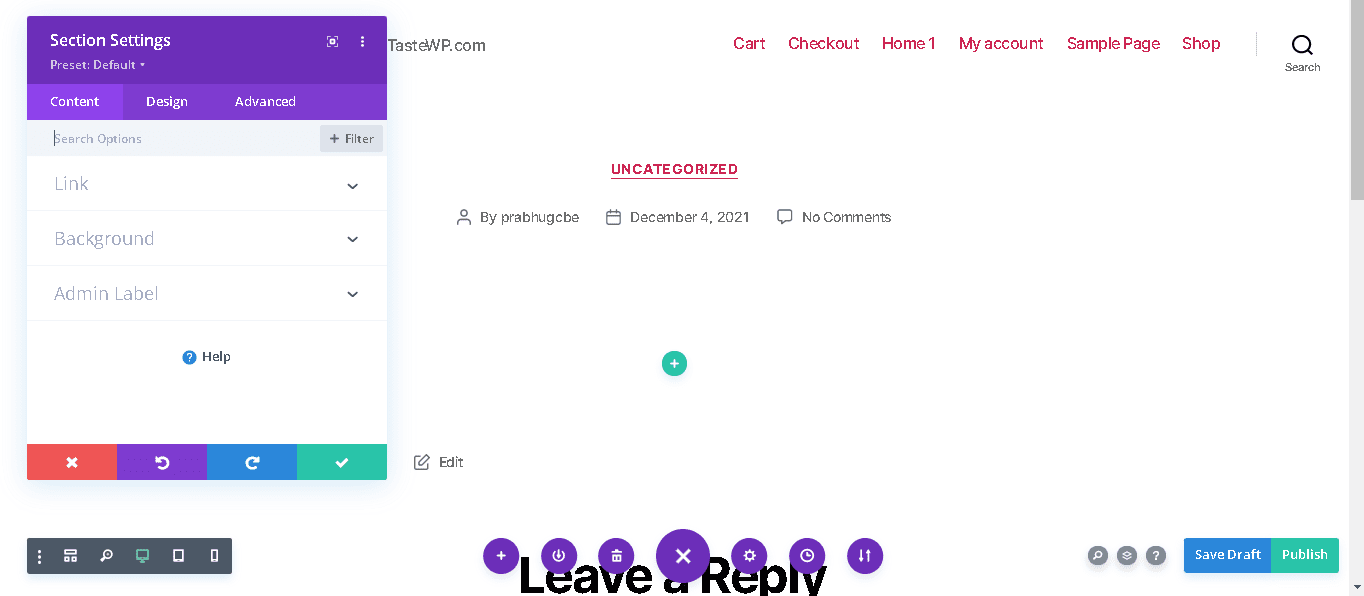 The screen above shows the front-end functionality in Divi Builder. Using the Divi Builder you can easily edit the screen which is to be displayed for frontend users. 
You can also switch back to the backend view of the webpage where it helps in organizing the webpage in a hierarchical way.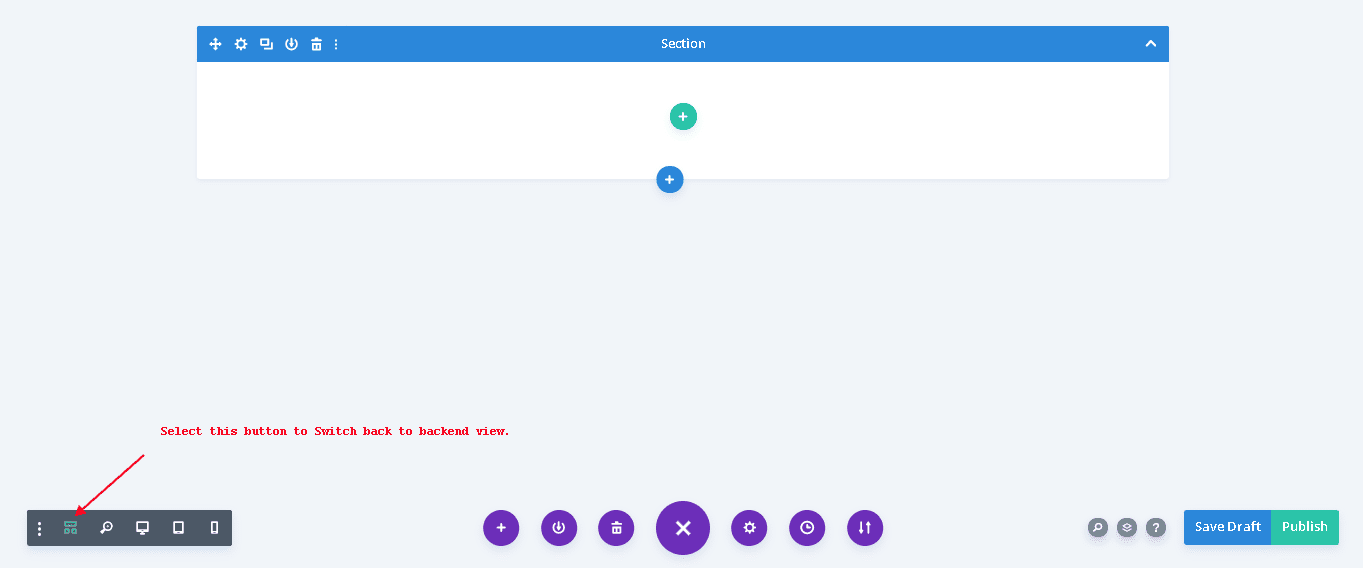 The icon pointed in the above image helps you to switch between frontend and backend views. The backend view helps in organizing the webpage content in a hierarchical way. The backend mode is called "Wireframe Mode".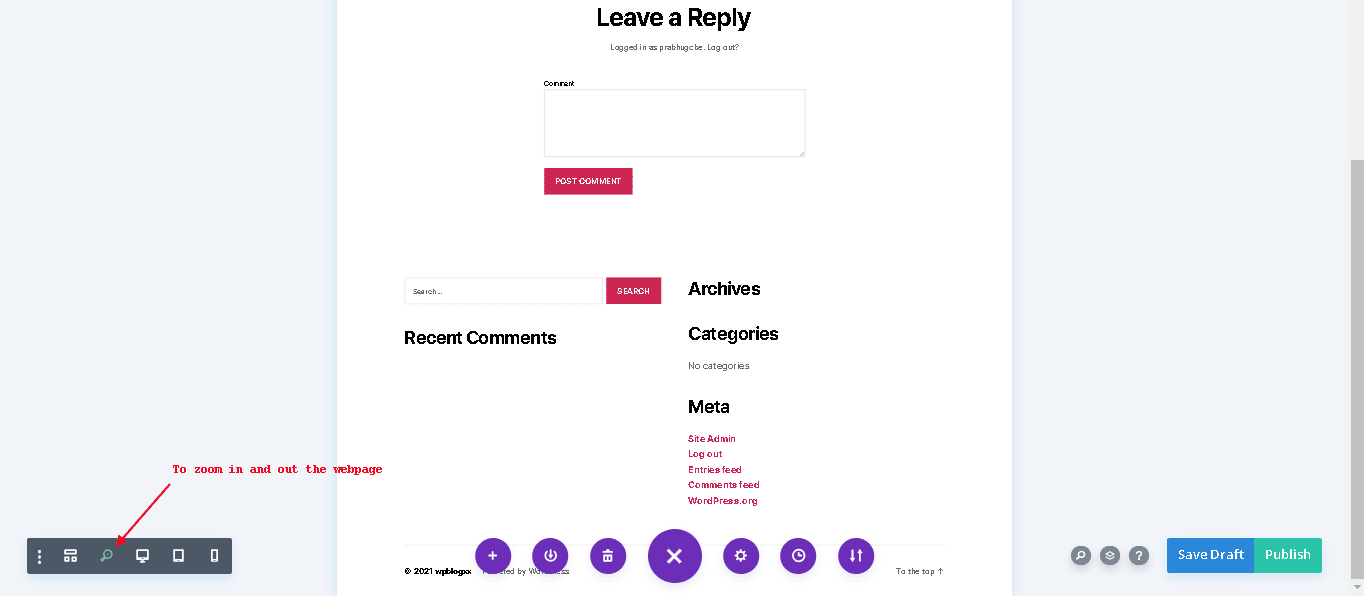 In addition to drag-and-drop, switching between modes, the Divi builder has one more option to zoom in and out of the screen at any time. It gives a clear view of the page and helps to change the alignment.
Library with page layouts and pre-made website
As we already know, Divi helps beginners and non-web designers to create their own websites. New users to Divi don't require coding knowledge to build the website because Divi provides many pre-made websites and page layouts.
So, non-website designers don't have to worry about designing new pages because they can easily edit the pre-made layout and websites to customize their design. 
Rows, columns & more
A web page with a lot of different content will look more beautiful. Different contents are termed images, text, tables, widgets, etc. These contents are called elements but Divi is named as 'Modules'. In the documentation, Divi is mentioned as an element for the user's identification.
There are 40 modules available in Divi where each module has dozens of options it. If you create a new page layout, just click on the green '+' button on the screen.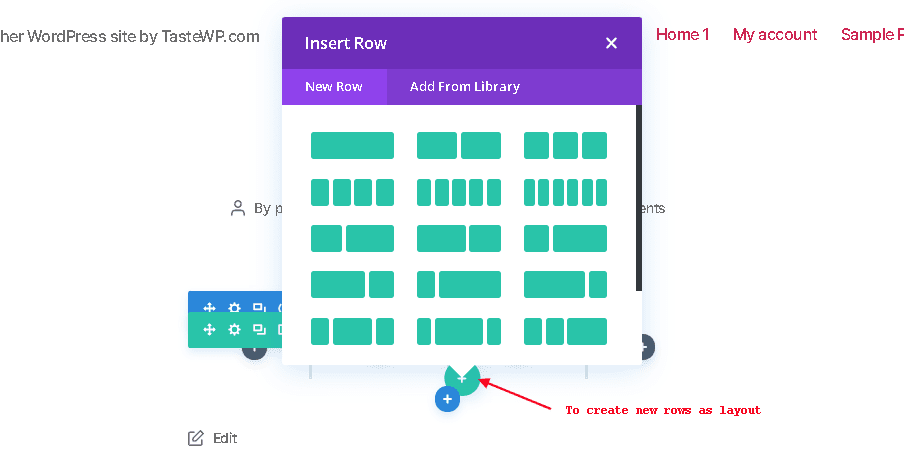 Now you will get the black color '+' button on the screen, here you will get the modules for adding into the layout.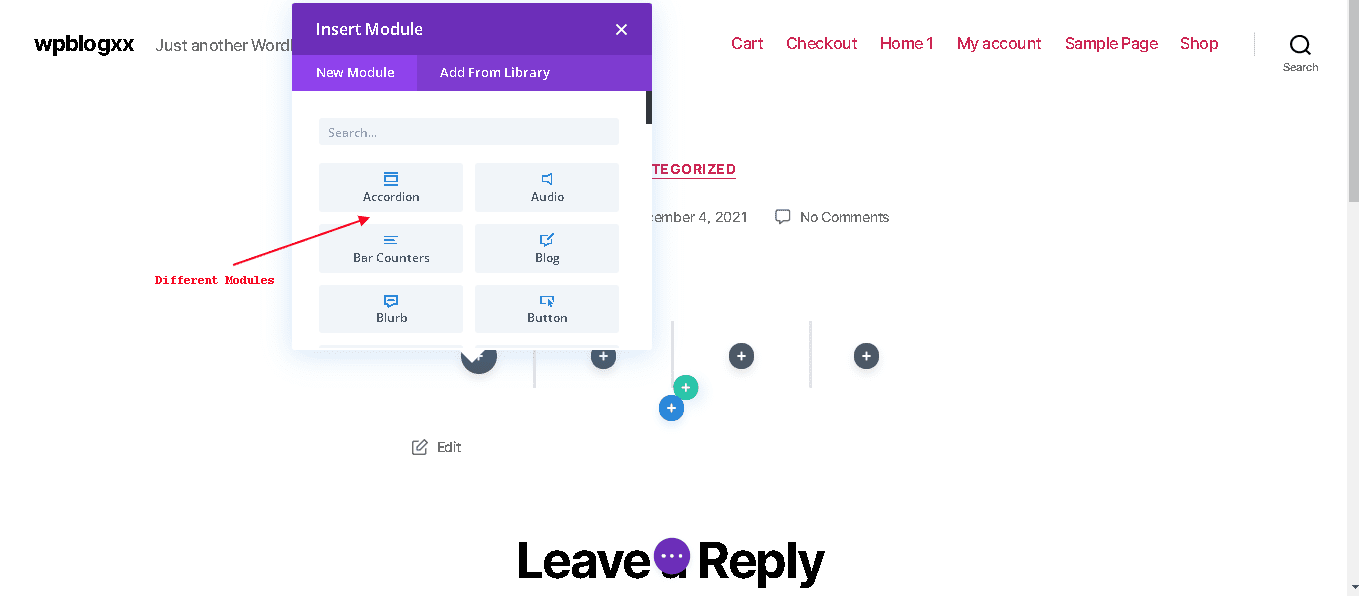 In addition, there are many settings available for modifying, resetting, and applying different row styles created. Also, you could start a split test to know whether the design satisfies the viewers or not.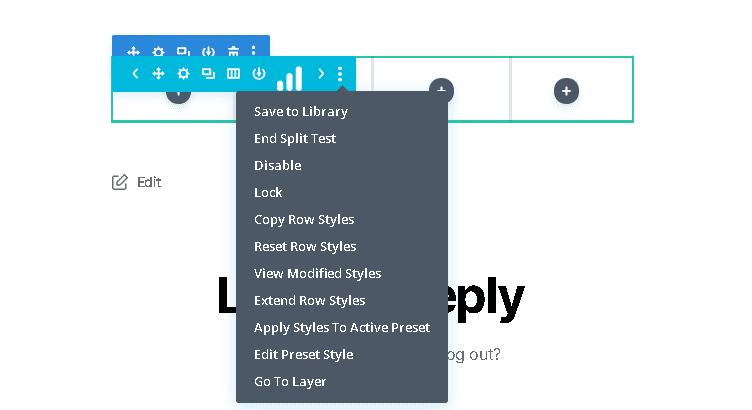 TESTING TOOL
Thanks to Divi for providing freedom for users to test their designs to check how the design is effective for attracting the audience. Divi gives A/B testing options for users to compare two different content and design variations to see which one attracts viewers more.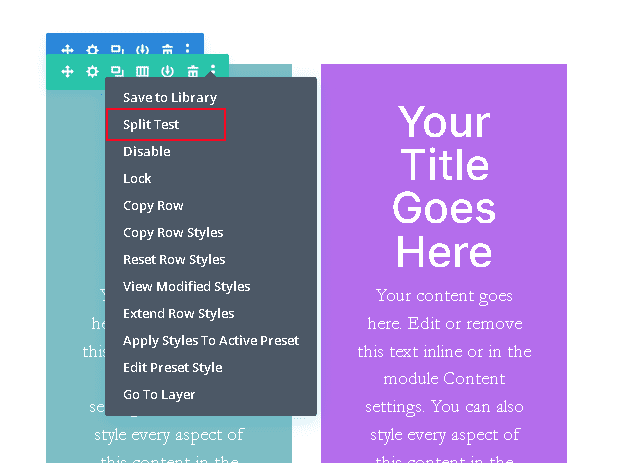 To start a split test, just click on the three dots and click on the option 'Split Test'. Once you have started a split test in a row, it starts to collect the information about the most accepted design.

The below image shows the output model of the A/B split test, once the test is completed. The output will be in the form of clickthrough rate in percentage.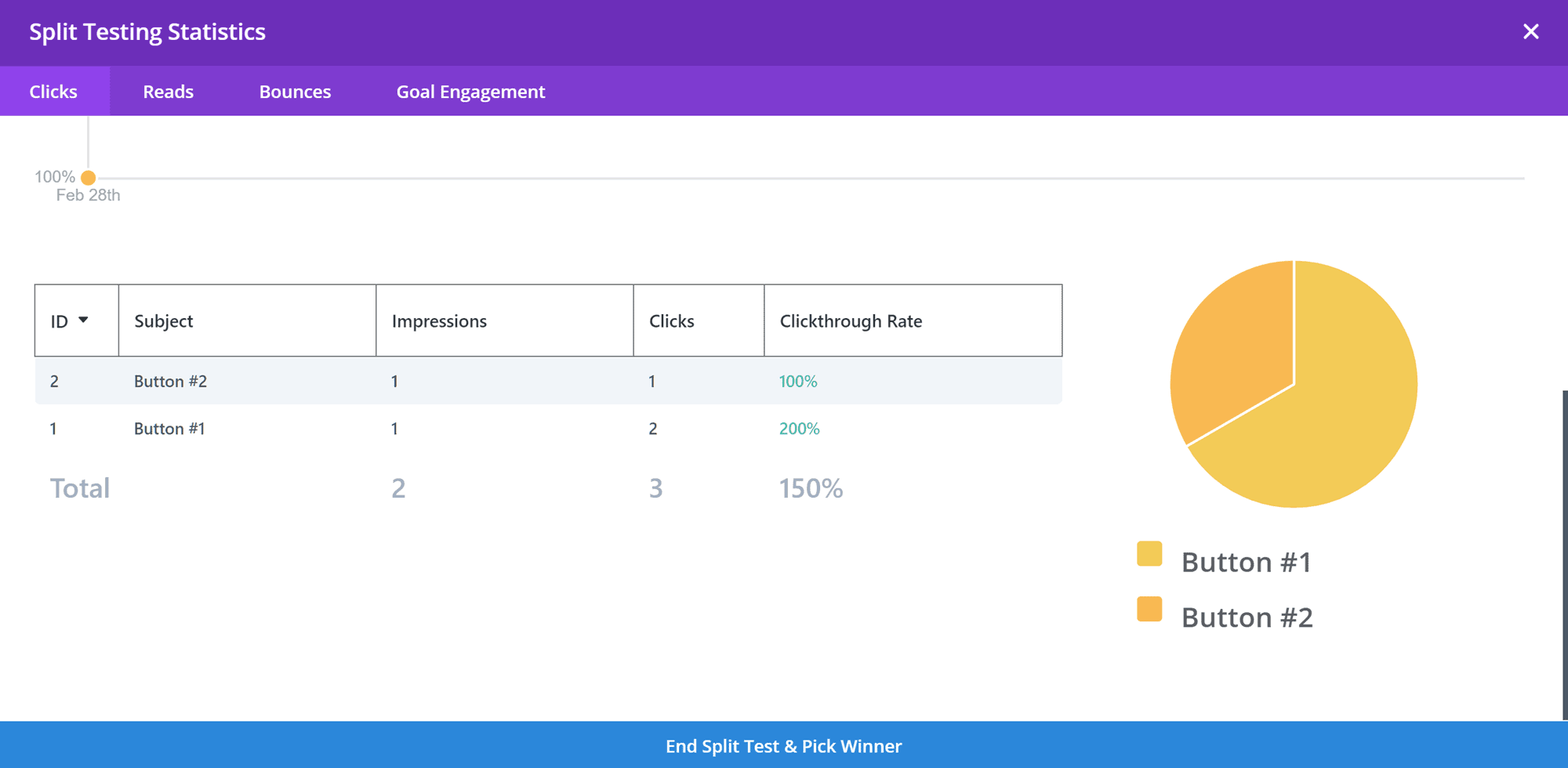 Divi Pricing
Elegant Theme provides many products in the name of 'Divi' where the pricing will be more affordable. Now, Divi builder is available at two different prizes like yearly access and lifetime access.
Yearly Access:

 
Elegant Theme offers Divi Builder for $67 per year. It also allows users to access their services like monarch, extra, Divi, Bloom. The following are the features available for this yearly access.
Product updates

Divi provides premium support

Unlimited website usage

Risk-free guarantee
Lifetime Access:
The elegant theme offers lifetime access for $187. It is a one-time payment. Other than that lifetime access also has the same features as yearly access. 
We recommend you to go with lifetime access if you like to stay with Divi for further development. If you need to just try Divi then go with yearly access. 
Divi Review Final Thought
We are very impressed with the Divi Builder. We have been using this plugin for a short period and found it a useful and convenient builder. Divi differs from other web builder tools by its front-end visual editor, modules, and more layouts. It has many high-quality editable pages and more than 30 modules that can be added to your posts and pages. We would recommend you to use Divi builder, it makes your dream come true. 
Hope you like our post, Divi Review. You can follow us on Facebook and Twitter to get the latest updates.