Elementor is not a new website builder tool because it was first released in 2016. Since then Elementor provides many updates in its features to keep engaging the developers with advanced features. Apart from other tools and templates, Elementor helps in displaying the design as you start assembling. This Elementor Review en-route you in identifying the needs you're waiting for. 
Up to now, Elementor has more than 5 million active installations with a separate fan base. Its main advantage is that the user does not require any coding language like HTML or CSS. Elementor enables all its features in the drag and drop method and it can easily pair with any WordPress theme. 
Elementor has more than 100 predesigned templates and blocks in its repository that you could easily customize to your own. Also, has more than 40 widgets available. 
So, why should you wait for another website builder tool? But wait, first read this Elementor review article and decide to go with Elementor or not.
What is Elementor?
Actually, the Elementor is available in two types: Elementor and Elementor Pro. Elementor lacks many features compared to Elementor Pro including widgets, premium page templates, and blocks, etc. But using only the Elementor, you can understand the functionality of Elementor. 
For simplicity, the Elementor is a drag and drop plugin where you can develop a web page easily. Also, the Elementor is termed a visual page builder plugin. Overall, the Elementor doesn't need any coding knowledge.
As a web page builder, you will get tons of widgets, design options, and layout options until you're using a pro version of Elementor. If you're a free version of Elementor then you may get only the limited features for the experience. 
Working of Elementor
Elementor working looks very simple because it has just two sides on the screen. You will see a visual preview on the right side screen and a sidebar on the left side.
Visual preview – Layout can be created using the drag and drop option available.

Sidebar – It has many widgets, elements for your page, and Elementor settings.



Prerequisite
The performance of the Elementor will look comfortable when you think of prerequisites before installing the Elementor. The following are the prerequisites that should be considered. They are,
WordPress 5.0 or more

The WordPress memory limit of 256 MB or higher

Browsers
If you are looking for hosting the website created by Elementor then below are the prerequisites that should be reviewed before hosting.
PHP 7 or greater

MySQL 5.6 or greater

Servers

X frame options
Pricing
Elementor provides five different pricing lists for Pro users. For the user's comfort, the pricing list is divided based on the pro websites needed by the user. The below is the pricing list. 
Essential/1 pro Website – $44 per year.

Advanced/3 Pro Websites – $79 per year.

Expert/25 Pro Websites – $139 per year.

Studio/100 Pro Websites – $299 per year.

Agency/1000 Pro Websites – $499 per year.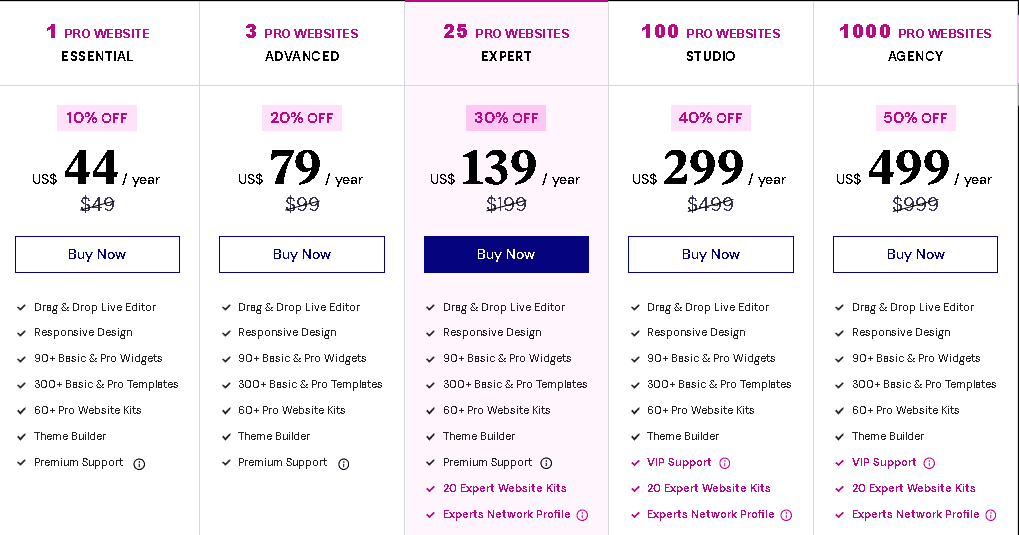 Elementor Installation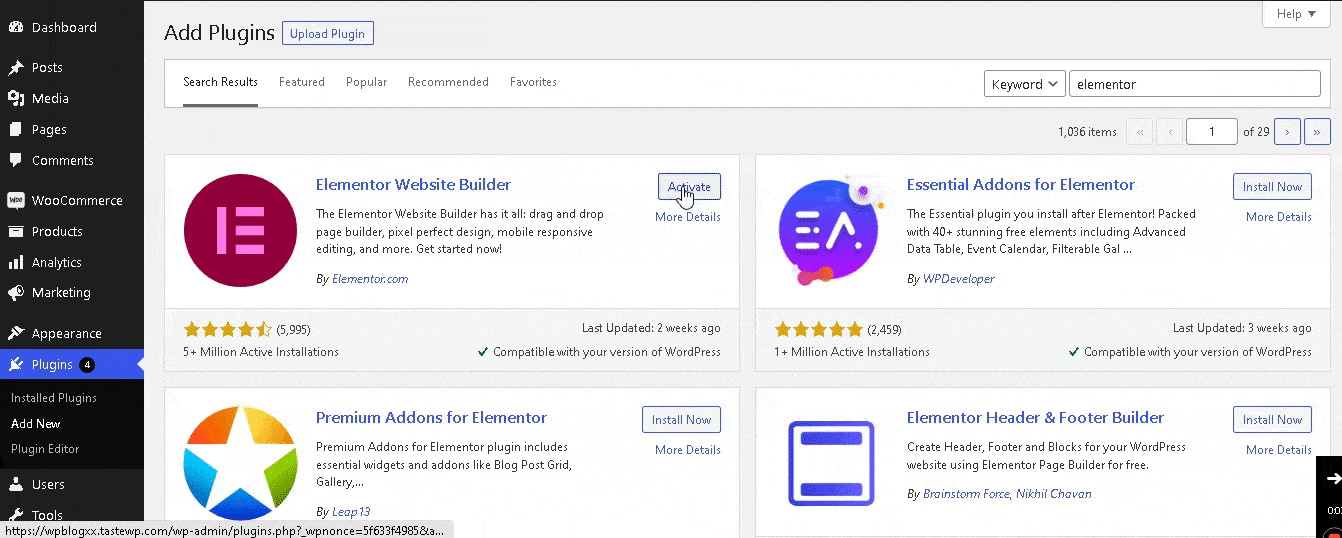 Like all other plugins, the Elementor is also installed and Activated through the plugin screen. So, it is very easy for all to install the Elementor plugin.
Just search in the plugin by entering 'Elementor' in the search bar. Now, you can find the Elementor available in the list as mentioned in the screen. Now click the "Install" and "Activate" buttons to import the tool into your workspace.
To whom the Elementor is for?
Elementor is commonly available for all types of users, they may be beginners or experts, any other professions can use Elementor easily. Since the Elementor is developed for all of them with accessible facilities. 
Still, It is mandatory to know that the Elementor is mainly for whom it is specially designed. 
Web Designers – To turn your design visions into professional websites.

Marketers – Create and publish your marketing content.

Agencies – To create an optimized workflow, advanced client management, and expanded client base.

Small & Medium Business owners – To build the perfect websites for your business. 

Photography – To build favorite photography websites from scratch.
For all types of users, Elementor has provided many templates to develop the website from scratch.
Features
Drag and Drop facilities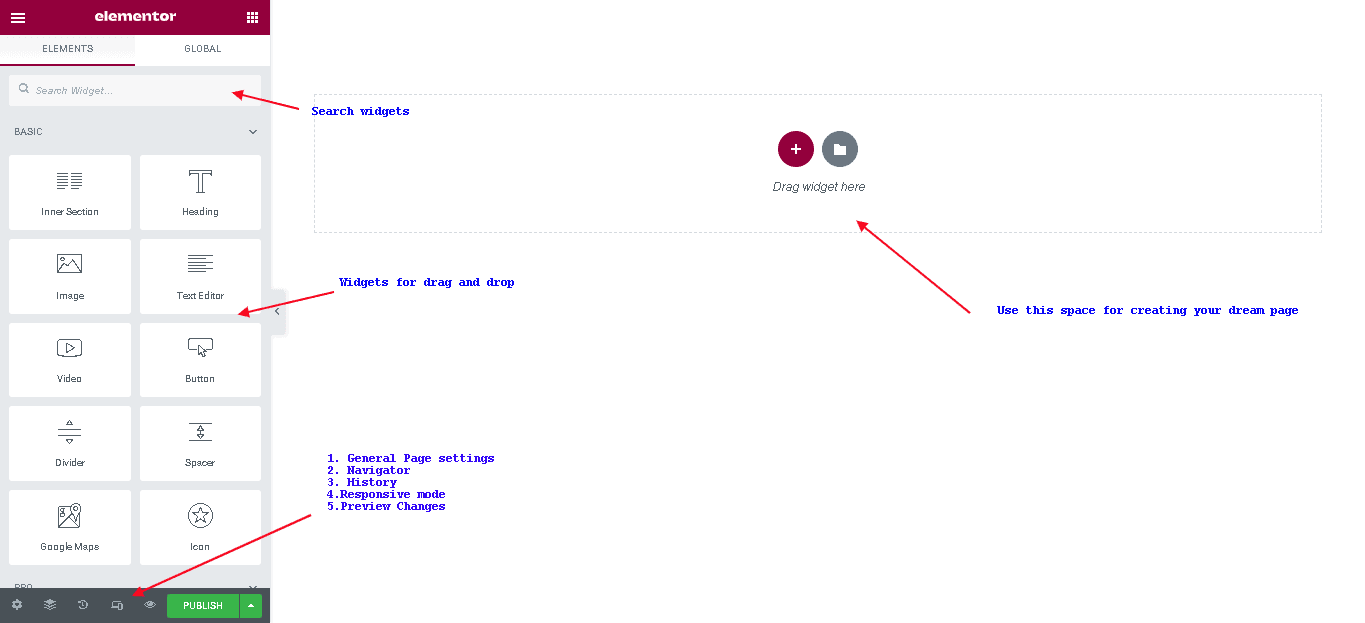 The first and foremost feature of Elementor is Drag-and-Drop because it reduces the impact of using coding and reduces time to develop a website. Using this feature, a user can develop a blog within some countable hours. Also, it brings the developer's ideas and dreams into reality. 
The screen above is the workspace where you can drag and drop the widgets available on the left side of the screen. The Elementor gives the facility to search the widgets needed. In addition, the Elementor provides some useful settings like Navigator, History, Responsive mode, Preview changes, etc. These will be enabled on the left bottom corner of the screen.
Layout Structure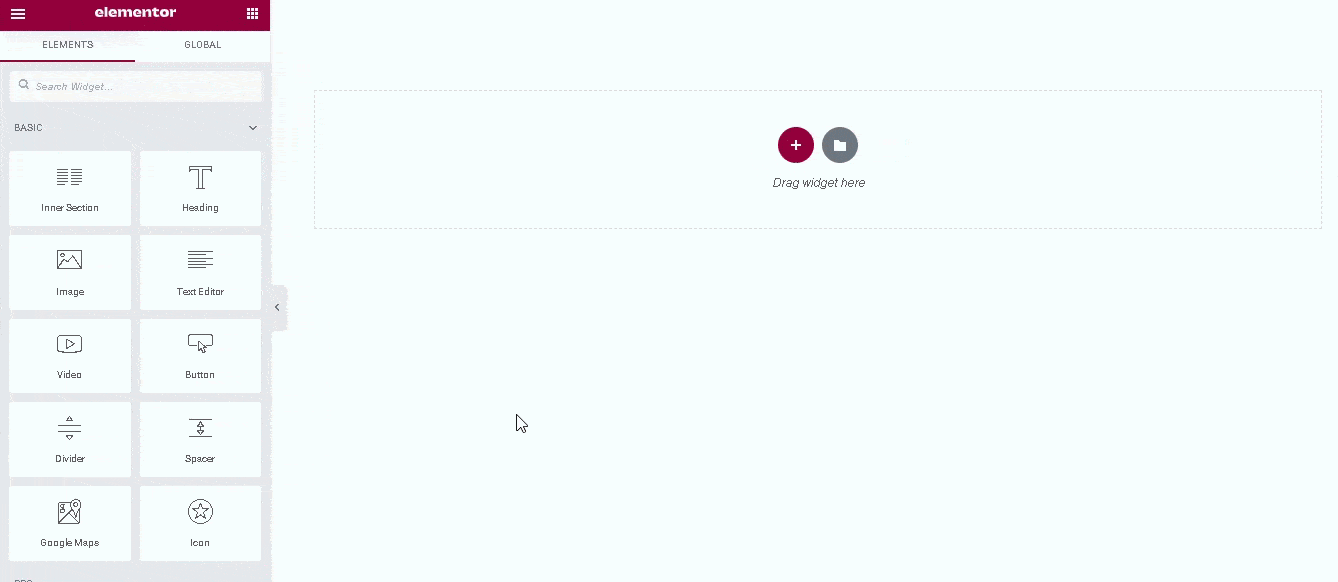 Most of the website builder tools may not provide this much easy way to create layouts for your website. Elementor is more flexible in creating the structure for your website. The above screen describes the way you can create the structure for your website. Just a single click is enough for a new structure.
Landing Page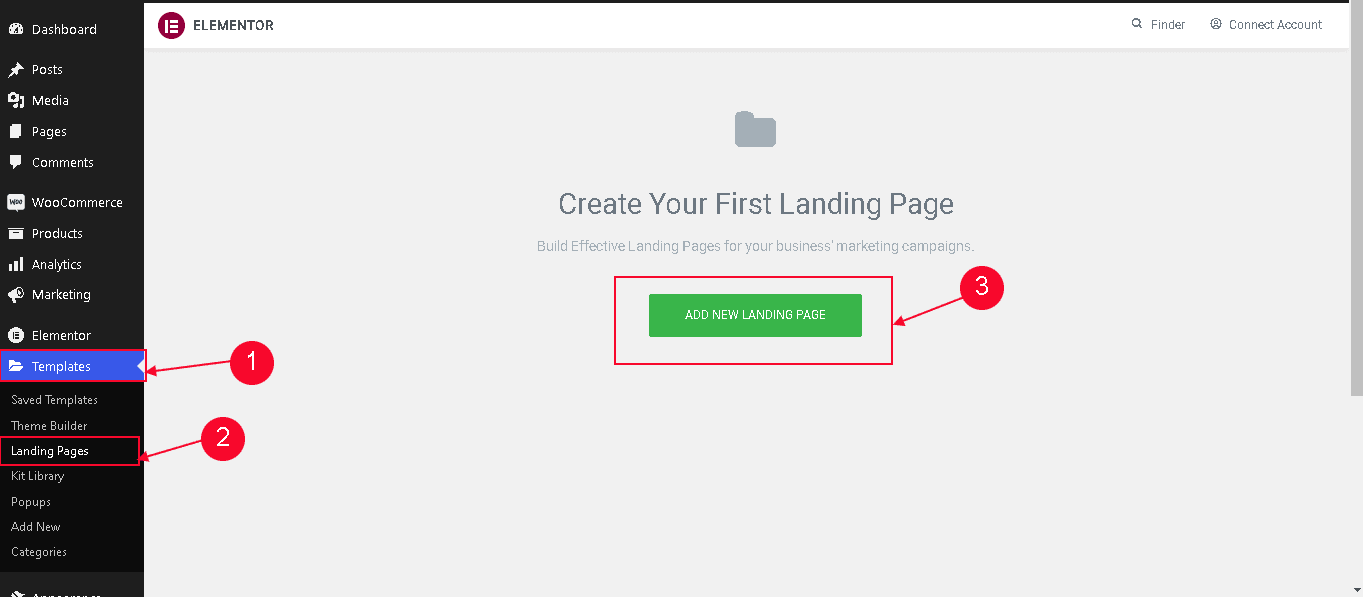 The landing page is also a home page that is mainly used for marketing campaigns. Elementor offers a huge number of landing pages for you. The landing page will surely attract your customer by welcoming them and making them satisfy their needs. 
The landing page is mainly applied for email marketing, generating leads, and reaching your customers through social media. Mainly, the landing page holds the core information of your brand. Through Elementor, you can create a new landing page using the template available. Maximum templates are available for Pro users and we recommend you to be a pro user before using the landing page features.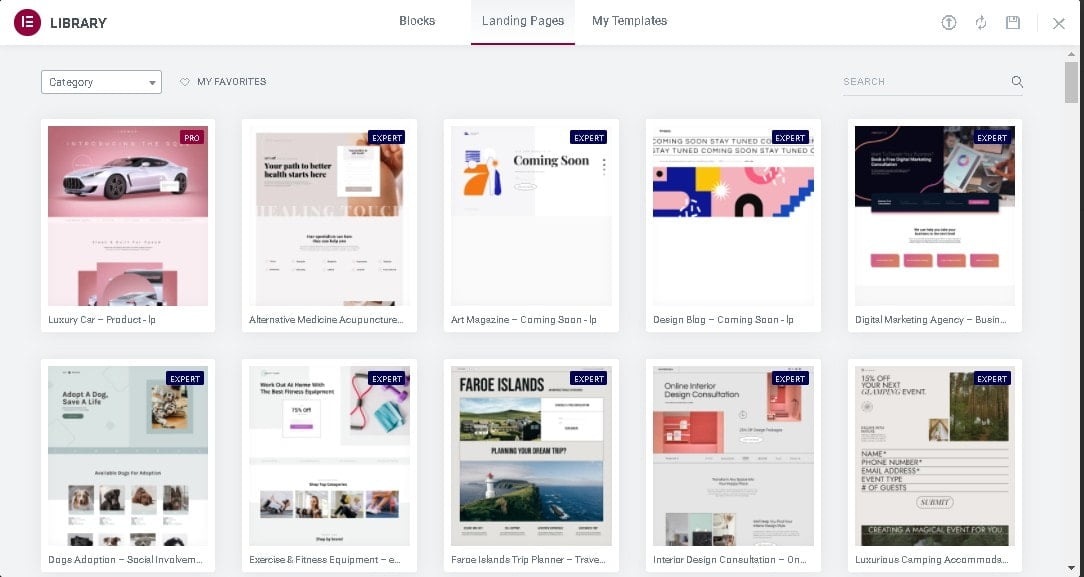 The screen above shows the landing page templates available in the landing page window.
Kit Library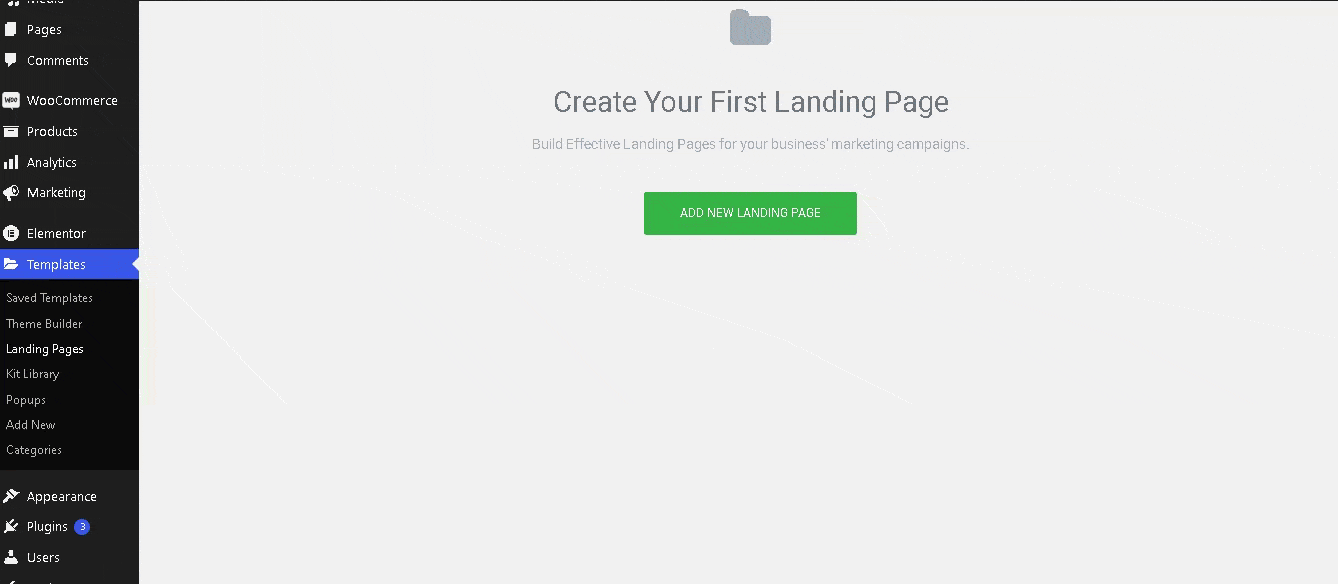 Kit library from the name you can identify that the design will be pre-designed where you can just customize and use it for your website. The kit library has many kits which are categorized based on the industries. The industry categories start from Education to technology and even more. 
This feature looks more comfortable for beginners to start to think about designing and customizing.
Theme Builder
The theme builder feature is available only for Pro users, hence it looks like the basics for full website designing. This feature gives a way to fix the template to develop a new website. 
You can create a header, footer,  single page, error page, etc. The main advantage of this page builder is that it doesn't deviate the developer to go beyond the core idea of the website. Also, it reduces the time in developing the same design repeatedly on all pages.
Elementor Finder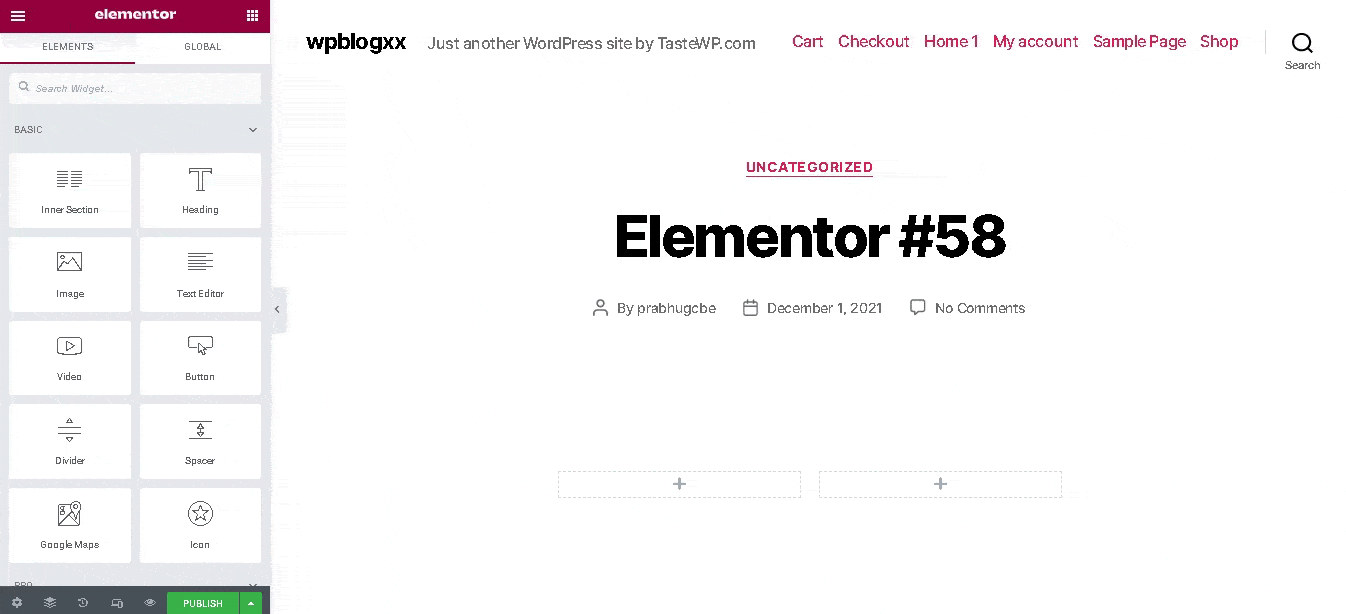 Elementor finder is another feature where it helps you in traversing between the pages easily. You can move to a specific page by just entering the page name or hint. 
To get the Elementor finder, go to the Elementor workspace then click on the three lines option on the top left corner and select the "Finder" option. Now you will get the finder window on your screen and just type the hint you need.
Responsive Design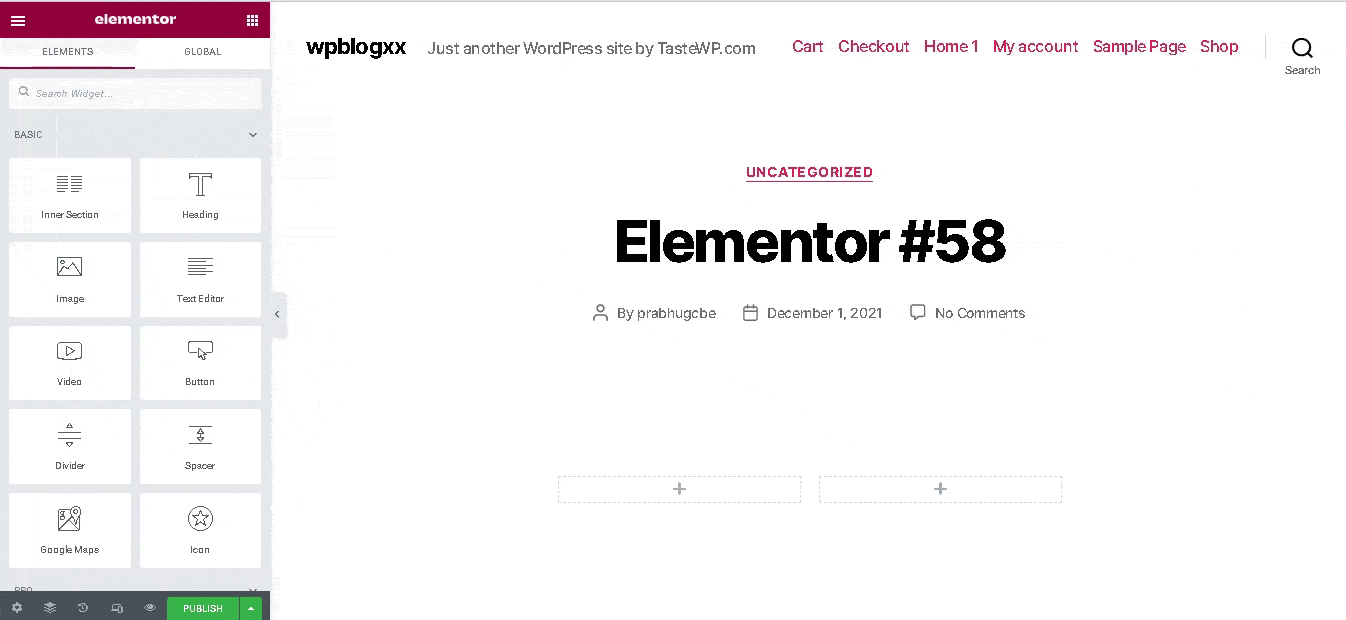 Responsive web design is the main feature available in the Elementor web builder tool where you can see the live preview of your website in different views. There are three basic views available like Web, mobile, and tablet. 
The option is available on the left bottom of the Elementor workspace screen. You can even adjust the layout size for additional customization.
WooCommerce Store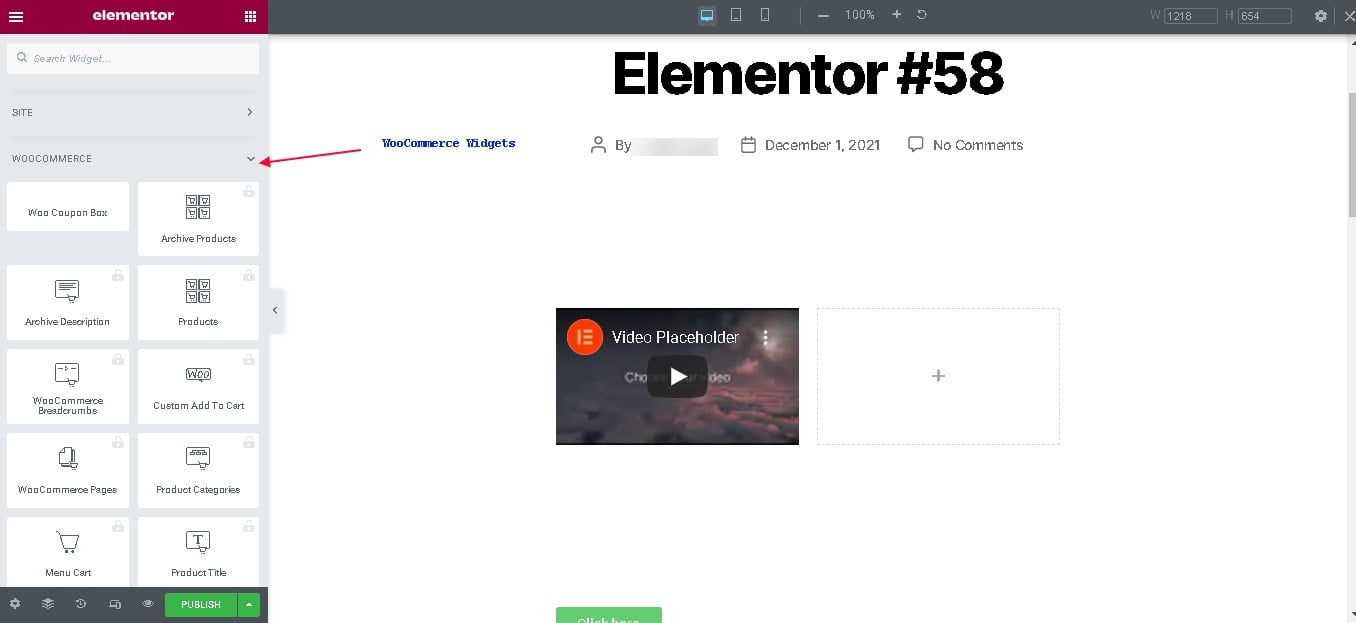 Elementor also has the option to build a website for WooCommerce. There are many widgets available to develop a WooCommerce website. From our point of view, the widgets look less for WooCommerce. It is a good move on to the famous WooCommerce website for configurations. 
Pro's and Con's of Elementor
Pro's
There are a huge number of advantages with the Elementor and we would like to sort out them within some points.
Easy to Use

– It has a good workspace and lots of widgets to develop a website. Everything can be easily managed and even a beginner can develop interactive websites.

Drag and Drop

– It reduces the time for coding and designing. Drag and dropping in a place increase more energy to design a website.

Widgets

– Lots of widgets available for both Pro and free versions. Using the widgets helps to develop a fully furnished website.

Kit Library

– Library with many pre-designed web pages which help a website for easy customization.
Con's
However, there will be some disadvantages in the Elementor and below are those disadvantages.
Templates – Compared to other website builders, Elementor has limited templates for its customers.

Marketing – Elementor still lacks in marketing features when compared to other builders.
Elementor Review Final Thoughts
Hope you might get, why the Elementor is so popular among builders. Elementor has many core features that a website builder offers. In addition, it has many widgets which can be included just by dragging and dropping facilities. If you like to play around using try Elementor free version else use the Pro version for full stretch website development.
Hope you like our post, Elementor review. You can follow us on Facebook and Twitter to get the latest updates.