Every website holder aims to purchase the best web hosting plan to host their website but many of them won't consider the impact made on the environment because of hosting. We assure you that you will consider the environment before hosting your website after reading this article. The emission of carbon dioxide is the cause of environmental changes in the world. The web hosting companies emit more carbon dioxide to the environment which looks increasing in recent days. Hosting your website too will create some amount of carbon dioxide which creates a huge problem in the future. 
Now it's time to be concerned about environmental changes because the reason is that there are 8 million data centers around the world that emit 2% of the carbon emission to the world. It now becomes a serious issue, this would be reduced by moving your hosting towards GreenGeeks. 
Disclosure: Your support helps keep the site running! We earn a referral fee for some of the services we recommend on this page. Learn More
About GreenGeeks
GreenGeeks uses an environmentally-friendly approach, it stands them out from the crowd of hosting providers. The company uses 300% of wind energy as their power which sets them to go green and reduce the carbon footprint. Many customers choose GreenGeeks since they get proud that their company doesn't emit a carbon footprint on the environment. 
Rather than that, GreenGeek is a well-established brand for WordPress hosting with its fast performance, environmental platform, and 24*7 US-based support, one-click WordPress install, enhanced security, managed updates, free migration, free CDN, and also there is a choice to choose for 5 different data centers. As of now, the company has been providing its hosting services to over 30,000 websites. It has 99% uptime and 100% customer satisfaction. It offers a variety of shared hosting plans that is useful for beginners as well as for established companies. Their plans are at affordable prices and depending on the shared hosting plan the price varies. It also has numerous features based on the hosting plans.
The following are the main three points focused on by GreenGeek.
1. GreenGeek will plant a tree in return for each subscription. GreenGeek looks focused on reducing the carbon footprint made by its web hosting process.
2. GreenGeek provides an unlimited database for their users for a basic plan.
3. GreenGeek returns their 3 times energy consumed for web hosting into the grid in the form of renewable energy.
What is Green hosting?
At present, the web hosting companies emit carbon footprint on the environment which looks very dangerous in the future, it should be reduced. Green hosting is a technique that enables web hosting companies to apply many technologies and processes to reduce their carbon footprint. 
GreenGeek is one of the web hosting companies using green computing by purchasing wind energy credits.
Pros and Cons of GreenGeek
Pros
GreenGeek provides a 30-day money-back guarantee to its users.

You would have a wide range of customer support for your issues, it can be through phone, ticket, and chats.

Reliable hosting platforms with 99.9 percent of uptime.

GreenGeek uses the best fast technologies like LiteSpeed, LSCache, PHP7, etc. 

GreenGeek is an eco-friendly web hosting provider and you can be proud that your business won't emit a carbon footprint. 

They provide free nightly backups.

Has built-in performance tools.
Cons
Comparing it with other hosts, Dedicated and VPS hosting options look costlier. 

If you opt for a 30-day money-back guarantee option, then the domain name looks costlier than other hosts.

GreenGeek doesn't provide Windows server hosting services.

The pricing structure looks insufficient to judge the hosting plans. 
How does GreenGeek differ from other hosting providers?
GreenGeek has been in an effort of reducing its carbon footprint by moving them to green computing. Through this effort, the company stands out of the crowd because many hosting providers still emit more carbon footprint on the environment. GreenGeek purchases 300% wind credits to manage the carbon output from their servers. Its data centers are well equipped with energy-efficient hardware and also use the latest servers. Using this hosting you can highlight your website by showing any one of their green badges.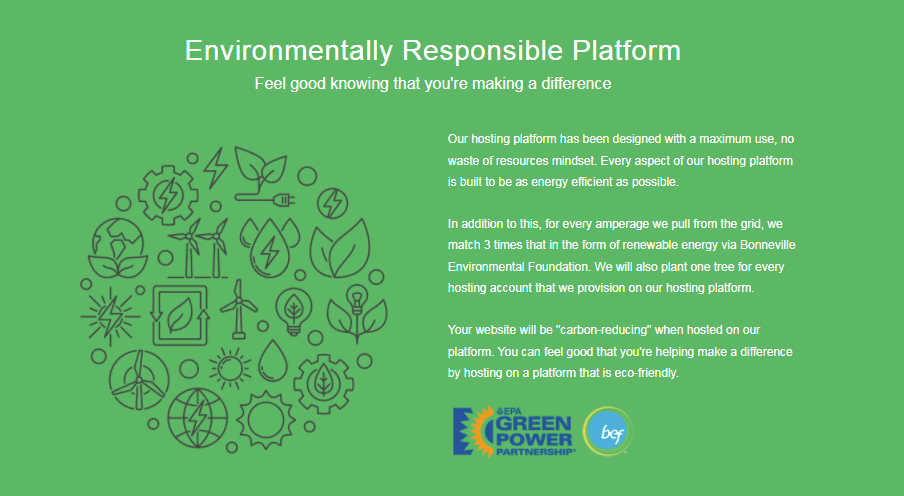 What are the types of GreenGeek hosting?
GreenGeek provides four types of hosting. They are,
WordPress Hosting

VPS hosting

Dedicated Hosting

Reseller Hosting
WordPress Hosting
Among all the hosting plans, shared hosting is the most affordable hosting option for WordPress holders which offers the following 50GB storage, unmetered bandwidth, free SSL, CDN, and allows 50 email accounts. Once you move to the pro version, you will get unlimited storage, email accounts, and faster performance.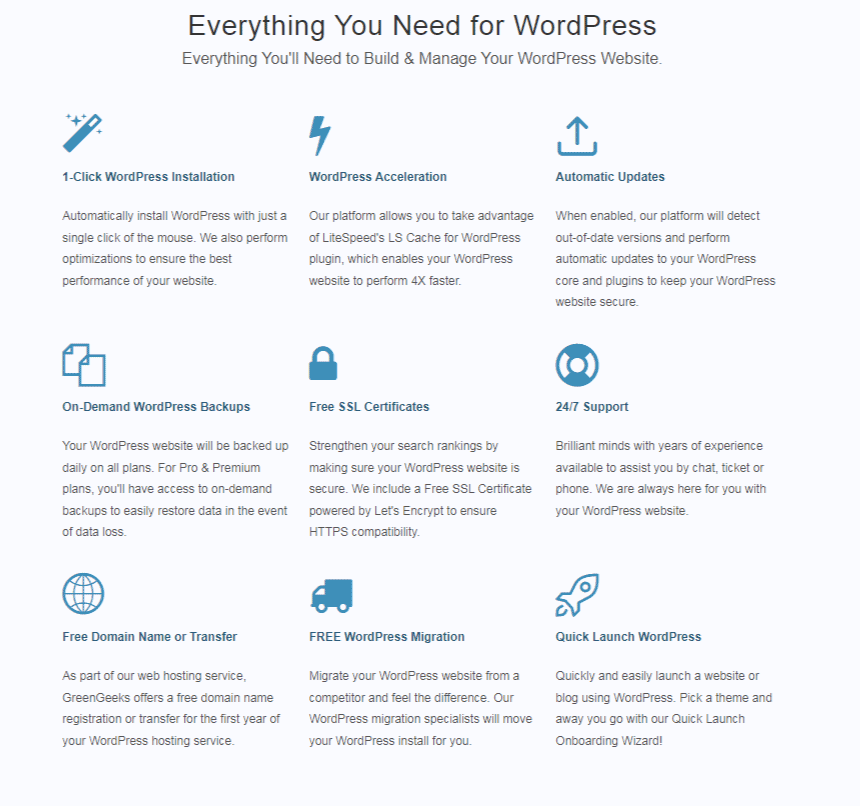 VPS Hosting
VPS hosting provides better control over the server and computing resources which is the root access. Using a VPS hosting plan, you could identify the disk space, bandwidth, and RAM capacity which means everything will be visible for you.  
Dedicated Hosting
If you need a separate server for your website, then dedicated hosting is your plan. Here you will get a full server for your choice. This plan will be the best choice for business owners and website operators to get a separate server with performance, reliability, and security. Here the dedicated servers are with DDoS protection, proactive security monitoring, fast SSD drivers, and 99.9% uptime. 
Reseller Hosting
If you're new to the hosting business, you need green hosting space. GreenGeek provides you a separate space for the hosting business. It looks to be a good plan provided by the company, many newcomers could use GreenGeek for their hosting business.
GreenGeek Plans and Prices
GreenGeek has affordable prices for all plans which could help many to get their opportunities to host their website for a reasonable price. 
How much does GreenGeeks cost?
GreenGeek has plans which start from $2.95 per month, also it provides different costs for different plans.  Below are price details for the hosting plans in GreenGeek. 
WordPress Hosting
Lite – $2.95 per month for one website. Mainly for personal websites.

Pro – $5.95 per month for unlimited websites. Mainly for multiple websites.

Premium – $10.95 per month for unlimited websites. Mainly for online stores and busy websites.
VPS Hosting
2 GB – $39.95 per month for 2 Gb RAM and 4vCPU.

4 GB – $59.95 per month for 4 GB RAM and 4vCPU.

8 GB – $109.95 per month for 8 GB RAM and 6vCPU.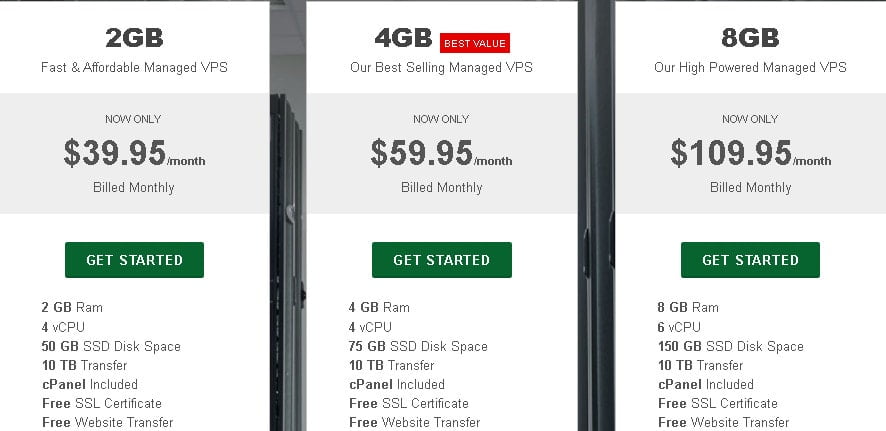 Dedicated Hosting
Entry Server – $169 per month for 2GB DDR and Intel Atom 330 Dual-core processor.

Standard Server – $269 per month for 4GB DDR and Xeon E3 1220 processor.

Elite Server – $319 per month for 8GB DDR and Xeon E3 1230 processor. 

Pro Server – $439 per month for 16GB DDR and Xeon E5 2620 processor.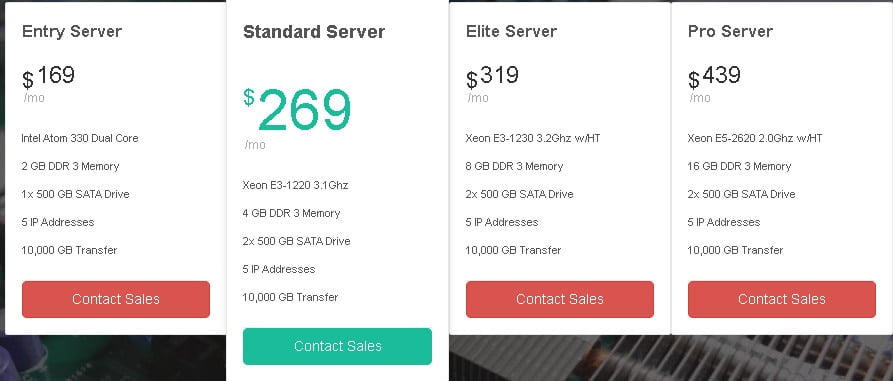 Features of GreenGeeks
Control Panel – cPanel
cPanel is the preferred choice for all website holders because it has many features in it. BreenGeek includes fantastico and softaculous script installers. Using these installers in cPanel, users could easily install third-party apps like WordPress, Drupal, and Joomla. 
30 days money-back Guarantee
GreenGeek is ready to provide money-back if you're not fully satisfied with the service. Note, GreenGeek doesn't guarantee a full money-back policy; they will deduct the cost for the domain name and transfer costs.  
Free migration
If you have a website and are thinking of switching to GreenGeek, then GreenGeek provides free migration services. As a non-technical person, GreenGeek helps in transferring your website from one hosting provider to GreenGeek. Technical support people will take care of your website security and everything while migrating your website to GreenGeek.
Bonuses from GreenGeek
Most website holders move towards GreenGeek because of its environmentally friendly web hosting services. Still, GreenGeek provides many bonuses for their customers who are maintaining the small businesses. Below are the bonuses provided by GreenGeek company.
Domain Name free for a year
For the annual contract of web hosting, GreenGeek doesn't charge for you to register a domain name for your website. Also, for transferring from other hosting providers too. GreenGeek will charge after one year of using the domain name.
Error-free Migration service
A very useful service, GreenGeek offers free services to migrate your website to their servers. GreenGeek doesn't offer additional charges where migration will be done without any downtime to your website. Mainly this company focuses on small businesses and allows them to focus on their business, not on the migration.
Free Website builders
GreenGeek also provides a free website builder that is easy and powerful. You can choose from fully customizable templates available to create your website. Also, GreenGeek has an SEO service where you could easily index your pages to Google. 
Free CDN 
Viewers always interact with the content delivery network (CDN) which helps in a reading news site, shopping online, etc. GreenGeek provides a CDN service powered by Cloudflare. You may know, Cloudflare is best for site optimization and GreenGeek provides it for free. Cloudflare helps in caching content and keeping it near to the visitors to get it delivered. 
GreenGeek uptime performance
As per the industry standard, GreenGeek claims that its services will be 99.9% uptime. GreenGeek is very confident in providing 99.9% uptime but has not mentioned a refund if uptime gets slow. 
Is GreenGeeks fast?
The speed of GreenGeek is better than the industry average which has clocked in around 503 ms. GreenGeek has the best loading time for the whole year and consistency is good.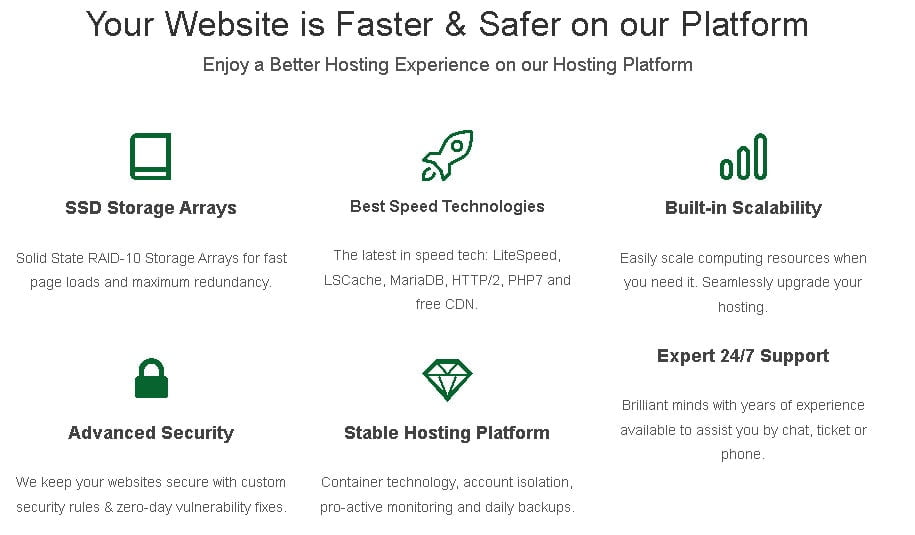 How GreenGeeks secure your site?
GreenGeek has the best security to protect their customer's websites throughout the year. Its server has 24 * 7 monitoring services with a firewall system that protects from hacking attempts and vulnerabilities.
GreenGeek provides free spam Assassin tools to protect customers' email accounts. Also, your information can be protected by using password-protected directories. 
Overall you can proudly say that your company is not emitting any carbon footprint by using GreenGeeks hosting. It's a step to protect the global environment. This hosting is value for money, server performance is ultimate and it's a completely green effort.