WordPress is the one of the best content management system in the world.  Anyone can install the WordPress CMS on the web server easily within few minutes. Most of the top best web hosting providers offer one click(E.g. Fantastico) installation for their customers.  Here I will show you how to install WordPress on Bluehost?
There are two ways to install WordPress on the server. First one is FTP method and the second one is one click WordPress installation method. I will cover one click WordPress Installation method in this article.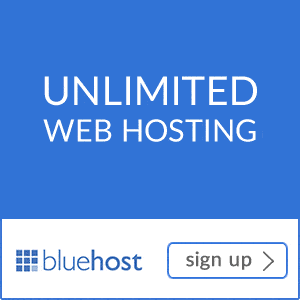 Things You Should Need Before Installing WordPress
Before Install WordPress you should need a domain name and best Web Hosting provider account.
There are thousands of hosting providers out there you can't easily find better host from the crowd. WordPress needs minimum requirement, therefore WordPress CMS recommends few hosting providers.
Officially WordPress highly recommends you Bluehost, SiteGround, and Dreamhost for to host your site. Those above three hosting providers are officially recognized by WordPress. When you host your site on the rich hosting environment your site will improve day by day.
Bluehost Exclusively Offers you Free domain with 50% offer hosting plan (Special Offer for WPBlogX users only).
Here I will show you how to install WordPress on Bluehost and also I will share How to set up an account on Bluehost.
First I will show you how to set up your account on Bluehost than I will share How to install WordPress on Bluehost?
Set Up Your Account On BlueHost
To get started you first go to Bluehost Home Page and click "Start Your WebSite"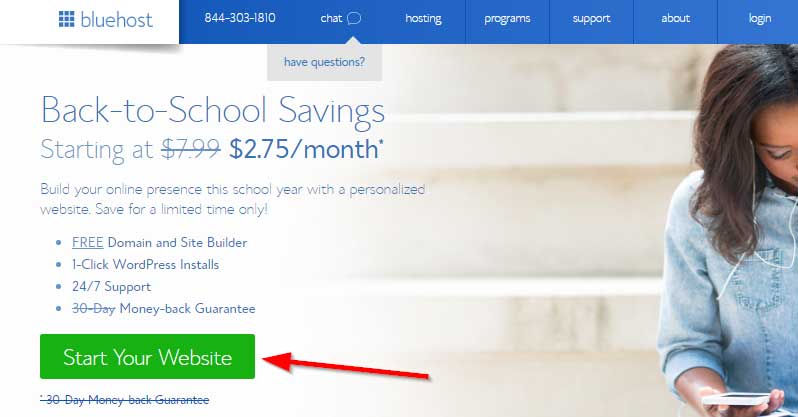 You can select a plan here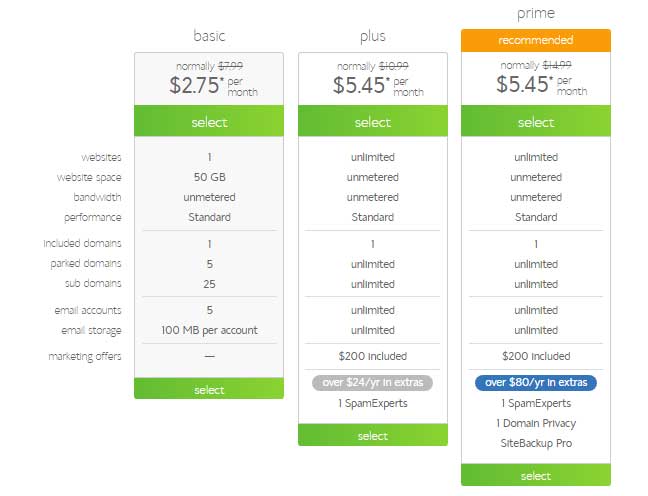 When you Sign Up on Bluehost they ask you the domain name. If you already own a domain name means you can type your domain name on the form it will guide you step by step manner.
If you don't have a domain already. You can get a free domain from Bluehost when you purchase web hosting from them.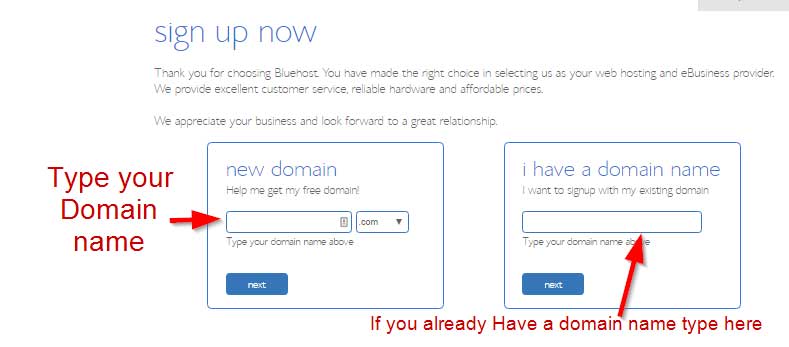 After entering your domain name you can fill the personal information on the Bluehost form.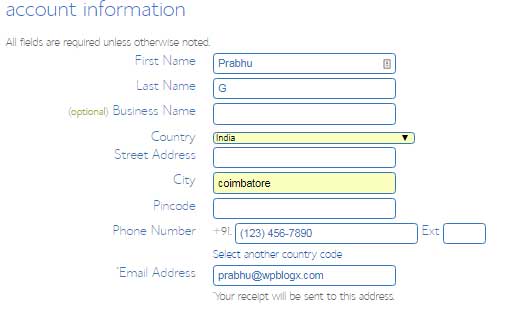 And now you can change your hosting package by using the drop down menu. If you select hosting package for more than 36 months you will get a host for $2.95/Month.

After you have filled the form you should accept the Bluehost terms of conditions. And click the submit button you finished your purchase.
After that Bluehost asks you create or generate a strong password for your Bluehost account. The password should have both small, capital letter and also should include special characters on the password. This will protect your account from hackers.
How to Install WordPress On Bluehost?
Bluehost integrated MOJO Marketplace on their cPanel dashboard. This MOJO offers you 1-click WordPress installation for their users.
First login to your Bluehost account then go to cPanel and scroll down to the Website section.

Now you can see WordPress icon or 1- click install button. After clicking this button they take you to next page that shows over view about WordPress and also you see the install button. And now click the install button.
MOJO Market place ask you where you want to install WordPress. You can select a domain using the drop down menu and click the check domain button.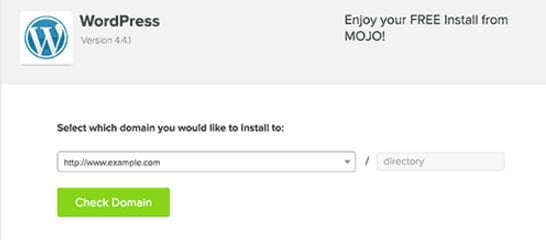 The installer now verifies everything is in order as a final step. You can see MOJO market place already gives a title for your site, automatically takes the username as your email id and it also generates a strong password for your WordPress admin.
You can also click the check box to accept terms of conditions. After this, you can click the 'Install Now' button.
You can see now your site installation start progressing. It takes few minutes to finish this process.  After that, you will see installation success message.

On the same page, you can see View credentials button to see the status of the installation on MOJO market place.

In the notification center, they display the installation status as the success. You can also see your website link with login details. You can store this username and password on the excel sheet or on mail for future use.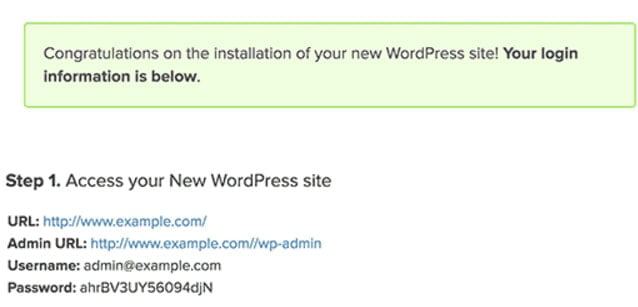 I hope you enjoyed this post, If you have any questions please comment below.