If you want to enter into the World of online you should need a domain and web hosting service. There are hundreds of domain registrars on the internet but choosing the best is a difficult task.
Domain name registrars are the companies they offer you the service to manage your web name securely.
Most of the best professional registrars offer the above features to grab new customers.
Some registrars don't care about the features they promised to do after the purchase. Therefore I help you how to select the best domain name registrar and what you expect from them and also I'm listed top 8 domain name registrars here which is helpful for you.
Features you must check before register domain name from registrars is instant 24/7 support, live chat, phone support, security, reliability, credibility, sustainability, pricing, and renewal price.
What is Domain Name?
You might also like these articles also
You just need a domain name to start a website or blog. Domain name is the web address or URL(Uniform Resource Locator ) which helps you to find a particular organization on the internet.
I show you My site WPBlogX is an example, If you want to know my site you must type URL www.wpblogx.com or wpblogx.com on the browser address bar to see the site on your system. You can also use the IP address to browse any site on the internet.
Remembering IP address is a tough job, therefore, ICANN introduced the Domain name system(DNS). Registering domain name is easy(If available) because there are hundreds of registrars on the internet and it takes a few minutes.
ICANN stands for Internet Corporation for Assigned Names and Numbers and it is a private(Non-government) non-profit corporation.
Some companies only offer domain names and on the other side, most of the companies offer both domain names and web hosting service. If you buy both services from the same provider you don't need to change your DNS settings and also you will get a free domain name with hosting package.
You need not to worry about DNS change, you can change it easily if you ask help from a registrar support team. Sure they will help you.
You can purchase a domain name and web hosting from the same provider or from the different one and this is your choice. I'm listed best web name registrars based on my experience.

I have been using NameCheap for more than a year and they offer many features, services, and high-quality support. NameCheap is one of the best domain registrars in the world.
If you want to use a domain for more than two years you can select NameCheap because they offer COM name for $10.69 with free whois(Exclusive For WPBlogX Visitors) for the first year and 2nd year they charge $2.88 for whois guard.
NameCheap provides you with different ways of support to the customers such as Ticket system, Live Chat and they have a huge knowledge base.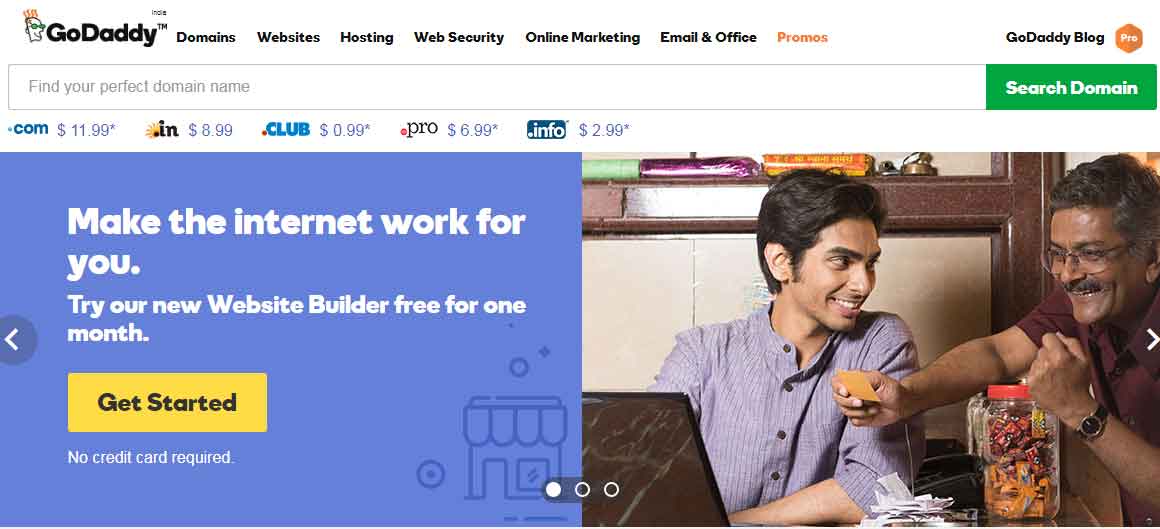 Godaddy is established in 1996 and they have more than 13 million customers in their database.
If you want to register a domain for 1 year only they offer massive discounts for new customers. For example, Godaddy offers domain names for $0.99(Exclusive for WPBlogX Users) only for new customers and renewals at $14.99/year.
For normal customers, Godaddy sells COM names for $10.99 and renewal price are $14.99.
Godaddy offers different services like Shared Hosting, VPS, Dedicated servers, WordPress Hosting($1/mo WPBlogX users Exclusive) Website builder, Emails, Web Security and Online Marketing.
Godaddy has the best customer support staffs they help you using different channels like chat, Toll-free phone, email support, and knowledge base. Godaddy is suitable to all types of users, if you have any doubts you can ask questions through chat support staffs instantly help you with a proper solution.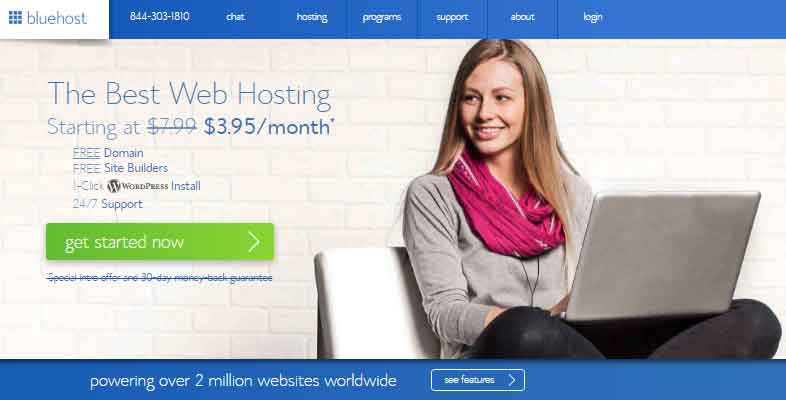 Bluehost is started its operation in 2003 as a small web hosting provider. Founded by Matt Heaton and Danny Ashworth in Provo, Utah.
And now Bluehost powers +2M Websites all over the world and supports thousands of customers. Bluehost has a 750+ dedicated support team to help customers 24×7 a week.
Bluehost is recommended by most of the top bloggers around the world because of the quality service. The most interesting thing about Bluehost is WordPress.org official site recommends Bluehost.
If you want to build your site or blog on the WordPress platform, then I would recommend Bluehost services.
Bluehost offers a free domain name when you buy a hosting service from them. This is the best opportunity for you to get this awesome deal. You can register a domain name on separate registrars like Godaddy. But If you purchase a hosting package from Bluehost you will get a free domain name.
If you have any doubts about Bluehost you can contact the company support team through Live Chat. You will get instant support which helps you solve your problem as soon as possible.
HostGator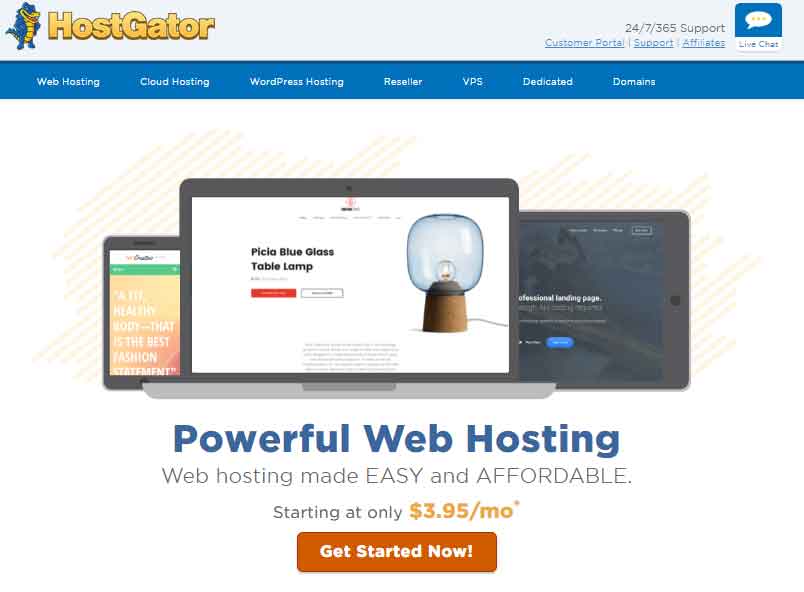 HostGator started its operation from 2002 and now it is the best Web Hosting provider in the World.
HostGator is mostly known for web hosting service. Beyond Hosting service, they also offer domain registration for companies. HostGator hosted more than 9 million websites which makes one of the leading hosting providers in the world.
They offer three different hosting packages for the customer, use this package you will get unlimited websites allowed to host, hundreds of web scripts ready to install and unmetered bandwidth.
If you buy hosting from HostGator they will offer you $100 credit for Google AdWords and $100 credit for Bing. Before getting this amazing $100 credit you need to spend initially $25.
HostGator not only offers shared hosting and it also offers VPS hosting, Cloud Host, WordPress Hosting and Dedicated server. If you are not satisfied with HostGator Service they offer you a 45-day money back guarantee. This is enough time to judge HostGator service.
You will get 24x7x365 days to support from HostGator and they offer you the toll-free number, Live chat and ticket system for their customers to solve their problems instantly. And also they offer you hundreds of video tutorials which solves many problems without contacting customer support agents.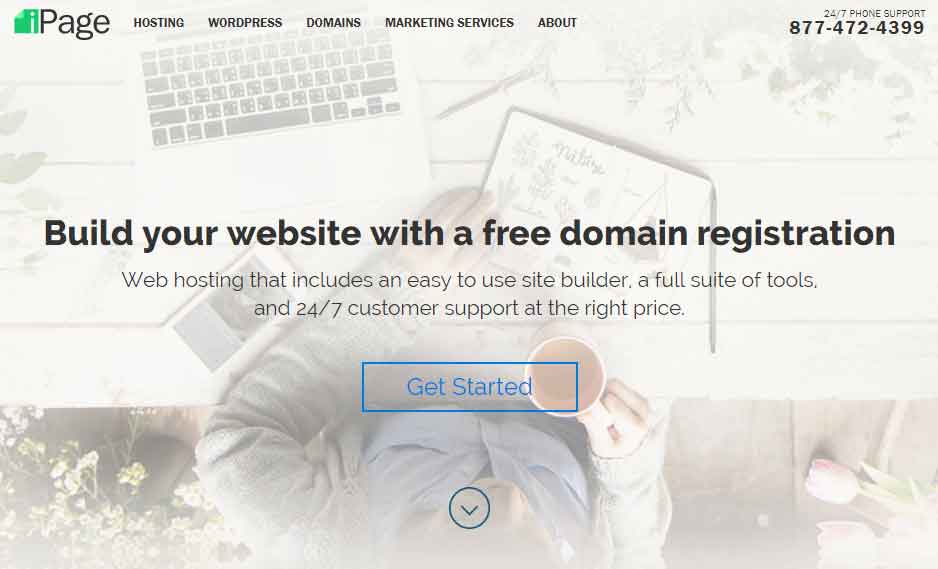 I hope you like iPage because they offer Free domain name with web Hosting account. The iPage is a leader in the hosting field since 1998. They offer hosting packages for a cheap price.
If you starting your online business now then iPage is suitable for you. Because they offer a free domain with hosting package for the cheap price of $1.99/Month(Discounted price Exclusive for WPBlogX visitors). For this price, you will get drag & drop website builder, Free email address, Free domain, Google and Bing $100 Marketing credits.
The company offers shared hosting, VPS hosting, Dedicated hosting, and WordPress hosting. They offer you 30-day refund policy which helps to get your money if you are not satisfied with iPage.
You can get support from the iPage team using a Phone number, Live chat, and support tickets. They help you 24/7/365 days.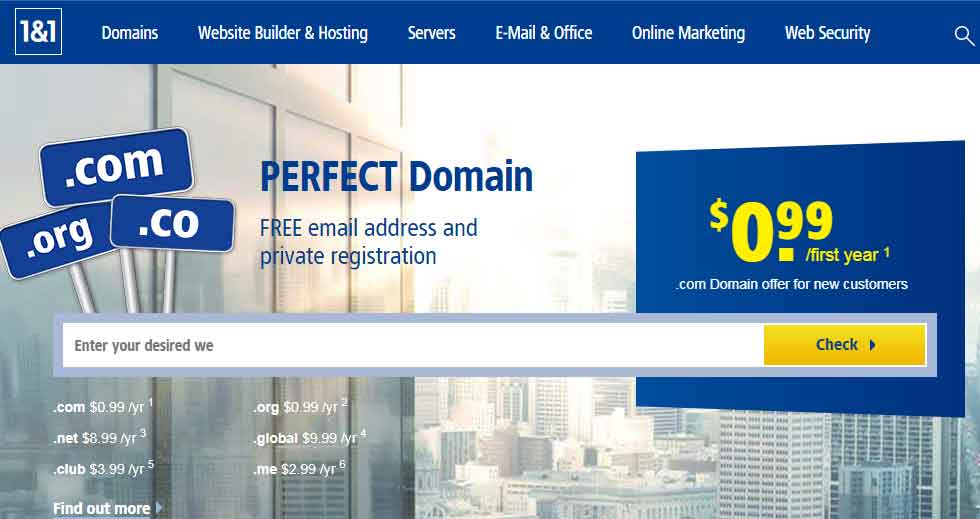 The company founded in 1988 and it is one of the cheap domain registrars in the world. They offer .com, .info, and .net for $0.99 for first year(Exclusive For WPBlogX users). You can get free privacy protection from 1and1.
They have 19 million domains registered on their platform and which makes them one of the top registrar in the world.
They offer few famous services like shared hosting, Dedicated server, VPS hosting, WordPress hosting, Website builder and online marketing services to their customers.
The company offers you 24×7 customer support but they only support you through the phone call. You get quick support when using phone calls. But people from outside may not be good at English, it is really hard to get assistance. If you are not good at English then keep away from their service.

Dreamhost is one of the best domain registrars in the world. They currently offer 350 domain extensions like Com, Org, Net etc. The price of the domain names on Dreamhost is little high compared to other registrars but DreamHost offers privacy protection for free of cost.  Domain names cost 11.95/year and web hosting price 7.95/month with unlimited sites, space, and bandwidth.
Dreamhost offers three different renewal option for its customers "auto", "Manual" and "ask me".  You can also get domain Lock option which protects domains from hacking.
Dreamhost offers Shared Hosting, VPS hosting, Dedicated servers, cloud servers, and WordPress hosting. You can install hundreds of scripts on your server with simple 1-click. Dreamhost claiming 1.5 million websites are hosted on their platform.
Dreamhost servers look pricey but they offer unlimited sites, storage, bandwidth, free domain name and free private registration for this price.
Dreamhost helps you to Protect your data using open source Let's Encrypt SSL/TLS certificate and you can install this security certificate with a click on the DreamHost Dashboard.
Your site is hosted on SSD drives which helps your site loads faster because of this your site ranking will improve. Google gives preference to fastest loading sites on the first-page ranking. You can easily integrate CloudFlare on your site for malware scanning.
If you are not satisfied with DreamHost service you can ask a refund, they offer you the 97-day money back guarantee. Most hosting companies offer 30 or 45-day refund policy. But DreamHost offers more enough time to think about their service.
You can get customer support in different ways like Chat, Email, Phone, and Twitter. DreamHost employees in-house support staff. The company also have a knowledge base which helps you get free online support without contacting DreamHost staffs.
Register.Com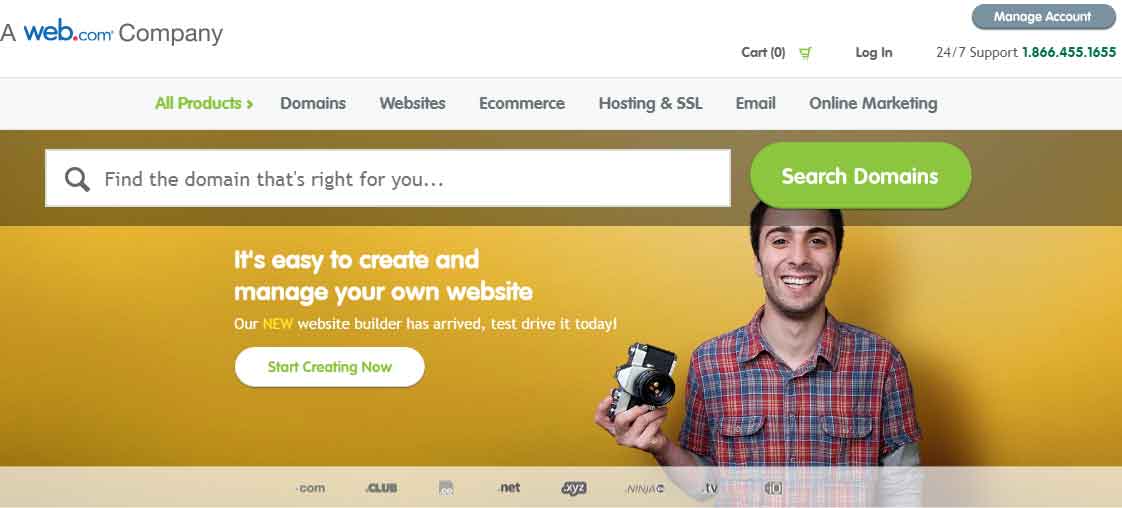 Initially, Register.Com started as a domain name registers and now it offers more than 50 services. They start to offer the service since 1994. And they manage millions of domains now.
At present they offer domain names, Private registration, Web Hosting, SSL Certificates and Emails Etc.
Register.Com currently offer .com, .org and .net for $5 only for the first year but they charge you $38/year at a renewal time. If you need a domain name for one year then Register.Com is the best registrar. I don't recommend Register.Com for long-term domain registration because of a high renewal price.
I have used a trick, first register a domain name and when your domain reaches expiration date and then transfer it to cheap registrars like Godaddy and NameCheap. They offer you great promo codes for transfers and it will save you from high renewal rates.
You can also purchase private registration it helps you to hide your personal details from public and it cost you $11/year on Register.com
I don't recommend hosting service from this company because they start this service recently. Other than hosting you can try all other services from Regsiter.Com is recommended.
You can contact them using Chat, Phone and email they will response you instantly. They have a team help you 24/7/365 days.
Conclusion
I hope you like this best domain registrar list if you want to register domain only then go to NameCheap because they offer you cheap private registration and SSL certificate. I also recommend Godaddy because they offer the best customer support using a different channel.
If you need hosting account then please select BlueHost. Because WordPress.Org recommended BlueHost. They also offer a free domain with a hosting account.
You can select registrar based on the extra services they offer. Above listed domain registrars are selected based on my experience. If I miss any best domain registrar on the above list, please mention the name in the comment section which will be useful for our users.