Features

Easy of Use

Pricing

Reliability & Support
Summary
Liquid Web has the fastest tech support and reliable servers that it rarely affected by the issues. If there is an issue occurs. Liquid Web tech support will be there to fix those issues quickly. The important thing in Liquid Web is 24/7 tech support which doesn't disappoint me. Every issue is taken seriously and solved in an instant manner. It has an excellent record in up-time, migration servers, and customer support. So, I'm happy and I will suggest you explore Liquid Web.
What is Liquid Web & its hosting?
Liquid Web is a well-established hosting provider with attractive plans but is it really worth it? To get the answer to this question, read this article to the end. 
Liquid Web was founded in 1997 and now it provides web hosting services for more than 30,000 clients around the world. It has clients in over 150 countries around the world.  Liquid web is well specialized in providing different hosting plans like managed cloud hosting, VPS hosting, and dedicated server hosting. 
Liquid Web is fast in its support and its response time. It has many data centers in Lansing, Michigan, Chicago, Dallas, Amsterdam, and Phoenix. 
Pros and Cons of Liquid Web
It is mandatory for looking at the Pros and cons of Liquid Web because it gives you a clear vision of the liquid Web. 
Pros:
Unlike other Hosting providers, Liquid Web does not charge for the visitor count for your website. All the WordPress hosting plans in Liquid Web support

unlimited email accounts

. 

Liquid Web provides a 100% Uptime Guarantee.

All plans have GlobalSign SSL certificates which provide higher security.

All servers are installed with Solid-state drivers.

Liquid Web does not cost for site migration services.
Cons:
Unfortunately, Liquid Web charges a high entry-level price for web hosting.

Liquid Web doesn't offer free

ad credits.

There is no shared hosting available in Liquid Web.

Also, there is no money-back guarantee while canceling the hosting services.
What makes Liquid Web to be different from other hostings?
Other web hosting providers like GoDaddy, Bluehost, etc. offer shared hosting but LiquidWeb doesn't offer shared hosting. Instead, Liquid Web focuses on high-end hosting solutions with different hosting packages like VPS, cloud, and dedicated hosting plans. 
Another benefit is that Liquid Web doesn't cost for supporting the needs of their customers. Instead, the Liquid Web staffs invest more time in fixing and setting the complex hosting for their customers. 
Unlike other web-hosting providers, Liquid web provides higher tech support because they charge for higher cost for hosting. They term their support as 'Heroic' where they provide 100% uptime and you will get support from the technicians within 59 seconds. 
Liquid Web Hosting Plans & Pricing
Liquid Web has advanced hosting plans and looking for more than shared hosting. The following are the Hosting plans & prices.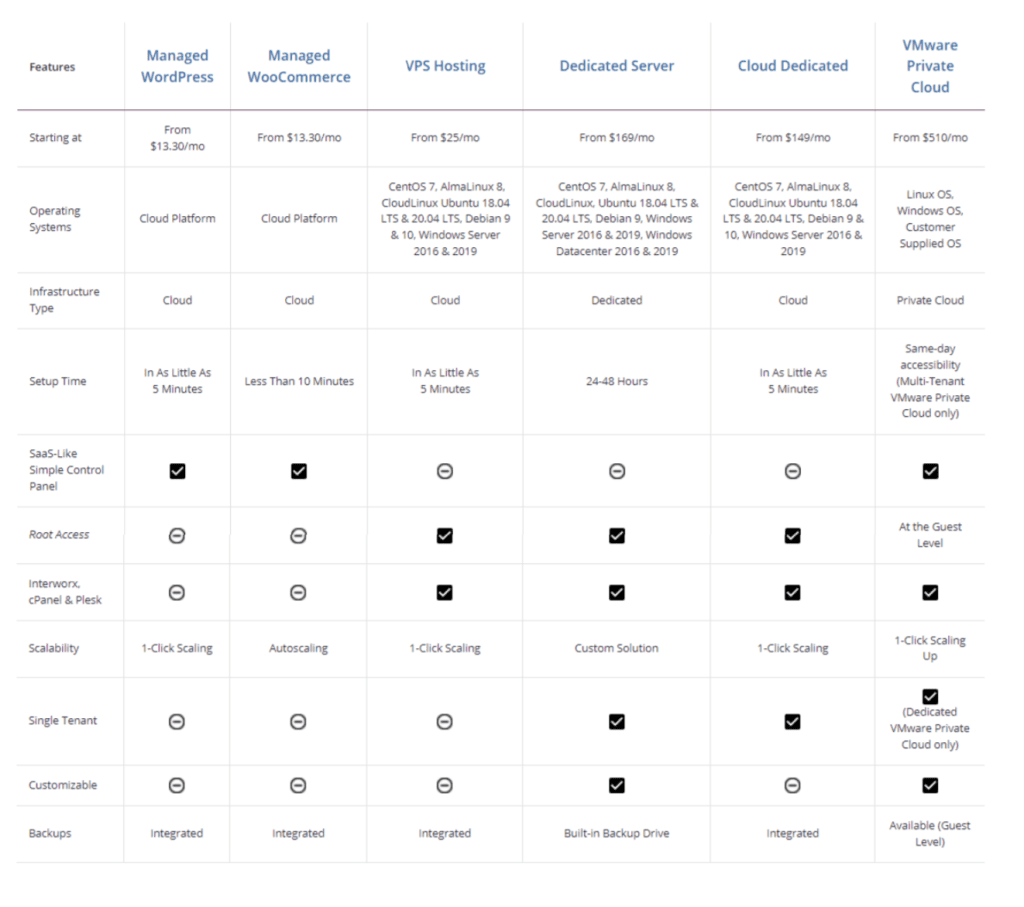 Dedicated Servers
The dedicated server is a concept of using the entirety of a server specifically for your site alone. You have full control of the server for configuration. Also, there may be restrictions on software to use because of limited plans. Dedicated servers allow you to select the best option that is needed for your website. Dedicated servers also provide offers in terms of security and performance. 
Pricing:
Intel Xeon 1230v6: Starts at $169 per month

New Intel Xeon Gold 6226R – Single: Starts at $224.25 per month

New Intel Xeon Gold 6226R – Dual: Starts at $374.25 per month. 
Virtual Private Servers
Virtual Private Servers are shortly termed as VPS which is similar to the shared plans. There will be many websites hosted in a single physical server but it maintains strict rules between the hosting on a VPS server. The big difference in VPS compared to a shared plan is the increase in performance. In a shared plan, the server will be shared but a VPS server will be used by a single site. The pricing starts from $15 per month up to $95 per month based on the CPU capacity. 
Pricing:
2 GB RAM: Starts at $15 per month

4 GB RAM: Starts at $25 per month

8 GB RAM: Starts at $35 per month. 

16 GB RAM: Starts at $95 per month.
Cloud Hosting
Cloud hosting from the name you could identify, your site will be hosted on a distributed server network. There are many cloud hosting plans available, and reliability will be increased due to redundancy and failover. So, your site will be working in case of the network fails. The pricing starts from $149 per month to $219 per month.
Does Liquid Web offer a free trial?
Yes, Liquid Web offers a free trial of 14 days for managed WordPress Hosting. Liquid Web provides unmatched security, speed, and services in these trial periods. Also, it doesn't offer credit card details.
Liquid Web's Key Features
Uptime Guarantee
LiquidWeb is mainly for 100% uptime and it is popular for the uptime, it promises. If the promise is not maintained then you will receive a credit of 10x the amount of time the site was down. For dedicated servers, they provide a 30 minutes hardware replacement guarantee. 
Excellent Customer Services
Liquid Web promises 24*7 heroic support with well-trained support staff and support available with the phone, live chat, and support tickets. Liquid Web gives response time for all inquiries. For phone calls and live chat, the response will be provided within a minute and for support tickets, the response will be within 30 minutes. 
WooCommerce Packages
Liquid Web also has separate packages for WooCommerce designed to optimize the online store. The main purpose of this WooCommerce package is to boost the performance of the online store. So, small business owners can adopt Liquid Web to minimize the risk of profit declines.
Free site transfer
If you have a WordPress site already, then it is easy to move to Liquid Web servers without any cost for transferring. It will be useful for you in transferring to Liquid Web which gives automatic daily backups, full server access, full clock support, Automatic SSL, etc.
CLI Enabled
All LiquidWeb hosting plans are CLI enabled which enables the user to access all plugins and WordPress sites without using a graphical browser interface. Like most web hosts, Liquid Web also enables the content management system for you. So, you can customize the site with many plugins available in the library.
VPS Secure Environment
Liquid Web hosting has been moved to the VPS server because shared hosting is very low in performance compared with VPS. So, Liquid Web decided to provide managed WordPress hosting using VPS servers.  
How does LiquidWeb keep your data securely?
Firewall Protection
Always worrying about hackers, you have Liquid Web to avoid hacking activities because Liquid Web activates a CSF firewall on all servers by default. In addition to this firewall, Liquid Web comes up with SSL site encryption for all plans which protects your site from hackers.
Nightly backups
Long with the encrypted website, your website will be checked out without any data leakage or loss. Liquid Web schedules the free backup process by nighttime, which helps in recovering your site in case of data loss.
Website security
Liquid Web doesn't compromise in security-related activities, Liquid Web takes full responsibility for providing the security for both data and servers in data center locations. All the data center locations are under secured 24*7 for the whole year. Server rooms will be controlled only by the authorized control staff. Also, the entire data center is secured by armed security guards along with surveillance cameras.
How often will your data be backed up in LiquidWeb?
Liquid Web is named for data protection from data loss. So, it maintains two different types of data backup types. They are,
On-server backups
On-server backups are possible in Liquid Web with or without using the control panel. This is applicable for all servers like cloud dedicated, VPS, and dedicated servers. Fully managed servers alone use Cpanel or plex for their backups in Linux and Windows environments. Using a control panel, the setting up of on-server backups provides flexibility and has many restore points. Just should have sufficient storage for backup and data. 
How is Liquid Web's customer support?
Customer support is the area where Liquid Web stands out from the crowd because they provide services in the name of "Heroic Support". Both customers like individuals and paying customers can contact the customer support through phone or live chat. Ticket support is available for the paying customers where they could reach the support executive through email. Since Liquid Web has more than 100 RedHat certified experts, your support will always be satisfactory. 
Under Heroic support, your request will be responded to within some minutes, and Liquid Web promises 59 seconds of response for phone and live chat support. For help desk support, the response will reach you within 30 minutes. Also, the support is available using the FAQs and 'How to help articles which help you in hosting solutions and solving some common problems.
Are there any good alternatives for Liquid Web?
Yes, there are some good alternatives around Liquid Web. They are,
Summary
As mentioned above, Liquid Web set back only on the pricing they charge for their services but you will get for what you pay. This web host provides excellent customer support in the name of 'Heroic support' and provides full WordPress managed to host on VPS servers. In addition, you have good security features along with scheduled backups. 
Finally, if you're ready to spend on premium managed WordPress hosting then this hosting will be the best choice.