Pixpa is a drag and drop website builder that has numerous templates and allows you to easily create new websites, blogs, pages, and even online stores. Pixpa offers great customer support that will help build your brand's reputation. The overall functionality of the Pixpa may be equal to other website creation platforms but it has some unique features in it. 
Pixpa provides a well-defined website creation platform where a beginner could easily apply their creativity in developing their own website. 
Pixpa has good customer support that is available 24×7 to resolve your issues anytime.
What are the Pros and Cons of Pixpa?
Pros
Customer support
Pixpa provides maximum support for their customers and web builders through call support, email, and live chats. On all Pixpa pages, you will find a chatbox that shows you that you can connect to the help center whenever you need help. One advantage is that Pixpa does not insist that you know tips on how to build your site. But you can get rid of your requests in the help center.
Once you click on the question mark, you'll get a wealth of information on building your website. The help center opens in a popup window. You can even open 25 popup windows at once.
Client and E-commerce Galleries
Pixpa gives a unique way to reach customers through their client gallery option. You can create albums for your clients which could be shared with your customers. Since each album has a unique link it helps in tracking your customers easily. 
In advance, the clients could purchase your albums through the gallery. The images in the gallery are easily accessible on a tablet, desktop, and mobile. Also, the client can select images as a favorite list and it will be easy to follow up with your customers.
Blog
The blog creation is very easy through Pixpa because it has a built-in blog platform. You can create a blog inside your website or a full-featured blog to share your ideas. The blogs are available in different themes and are easily applicable. Coding knowledge is not needed.
Online Store
Pixpa is not only for photography professionals, it also gives you a way to create online stores. It holds many themes to create online stores to sell physical products. You can even sell digital content, images, etc. It provides payment gateways to receive payments from customers, Pixpa doesn't charge commission. 
Live chat
Pixpa Maximum offers its support through live chat. So, I would request you to always prefer live chat to reach out to the company. Pixpa asks you to post your question and a representative will get back to you within 10 minutes.
Cons of Pixpa
Drag and drop
Pixpa's drag and drop editor looks quite normal in its functionality, as you just need to follow the manual process while adding the images in your gallery. Also, each template is filled with many images, blogs, etc. So you should remove unwanted images, blogs, etc. which look tedious.
Publish
Pixpa doesn't provide a publishing facility for the trial version. That means the trial version is only for experiments. So, if you need to publish your work then you should go with premium versions.
Customer Support
The customer support gets lags in mail support and Pixpa gives immediate support only through live chat. Pixpa offers support to its customers through two different channels like email and contact form. You also have the option to send messages directly or use live chat. You can also get in touch via social media, such as FaceBook messenger.
The response from the support representative looks very good and is technically flawless. But in some cases, the answers are not returned to your question, which can cause some frustration.
Who Should Use Pixpa?
You should know, Pixpa is not for all. It is mainly designed for photographers and visual creators to design their own interactive websites. If you like to create a website for other purposes then Pixpa is not for you. 
Pixpa is mainly for showcasing your photos and selling those. The features of Pixpa clearly show that it is only for photographers and creatives.
Features of Pixpa Website Builder
Success and sharing
Pixpa has a website management feature that helps you increase the value of your website and grow your brand. Pixpa provides the ability to add metadata for your website that will improve the website's search engine optimization (SEO).
In addition, Pixpa gives you the ability to share your blog or website with your friends on any social media platform.
Proofing System
Pixpa allows its web builders to add a proofing album to their website, which allows the website owner to connect directly with their customers. The proofing page is nothing but a feedback or purchase page that creates a direct connection between the customer and the owner.
The proofing page is protected from the right-click option. If you want to buy an image, you should only buy it. You cannot download it.
Image Gallery
The image gallery on your website can be easily shared with your friends as a mobile app, so they can save it on their phones. This is a good way to share your gallery and also the best way to reach them.
You can easily create many mobile gallery apps and share them with your friends which is the best marketing strategy. This would help people to know more about you through the mobile app.
E-commerce
Pixpa has an e-commerce template for e-commerce website developers which can be easily integrated with your website if you want to set up an e-store.
The e-store dashboard has all the features that all shopping websites have. The store dashboard contains shopping carts, orders, customer details, etc. Most importantly, Pixpa does not charge any commission on your sales.
Social Sharing
Pixpa allows you to share your thoughts in the form of a blog or website in your social media feed. This way, you can reach out to your customers or well-wishers directly through social media connectivity. 
In addition to all these features, Pixpa offers the following other services. These are,
Stocking options

Website management

Website setup

AWS cloud hosting services
Pixpa Pricing 
Is Pixpa available for free?
Pixpa doesn't offer any free plan for their customers but they provide a 15 days trial version without credit card details. A 30-day money-back guarantee is provided for the subscribers. 
If you need to know about the Pixpa then you can go with the trial version and it will be more useful in exploring but
You can't publish your work in the trial period.

Money refund is not applicable for monthly subscriptions.
Premium Plans
Pixpa provides three premium plans like Personal, Expert, and Business. The following are the charges for the premium plans. They are,
Personal – $7/mo

Expert – $10/mo

Business – $16/mo
The following are the differences in the premium plans are:

Websites – All three premium plans provide customizable themes, optimized websites, connect your domain, SSL Security, SEO features, customer support but plans get varied for content and website gallery images. In the personal plan, only 15-page content is allowed and 200 images are allowed to be stored in the gallery. But remaining plans provided unlimited space for both gallery and pages.
Website extension – you won't get marketing pop-ups, payment forms, Announcements & Mobile information bar in your personal plan but you can expect payment forms in the Expert plan and everything in the Business plan. 
Website setup service – You can get expert service to set up your website for free with expert and business plans but set up service is not available for personal plans.
Blog – The blog-related services like unlimited blog publish, sidebar widgets, blog posts, and categories are available for all the premium plans. 
Online Store – The personal and expert plans don't provide customer accounts, inventory management, and cart auto-recovery but the business plan provides. Rather than these, you can sell images, products online, no commission on sales, the option to collect payments directly and have discount coupons too. 
Client Galleries – You can avail all the functionalities related to the client galleries on all your plans. 
Storage – Pixpa provides unlimited storage for website images on all the plans but varies for original files. For the personal plan, pixpa gives 1Gb storage, Expert plan gives 10 GB and Business plan gives 50 GB storage for original files.
Pixpa Website Configuration and Onboarding
I would like to give you a demonstration of the Pixpa tool. This demonstration will give you an overview of the Pixpa tool.
Dashboard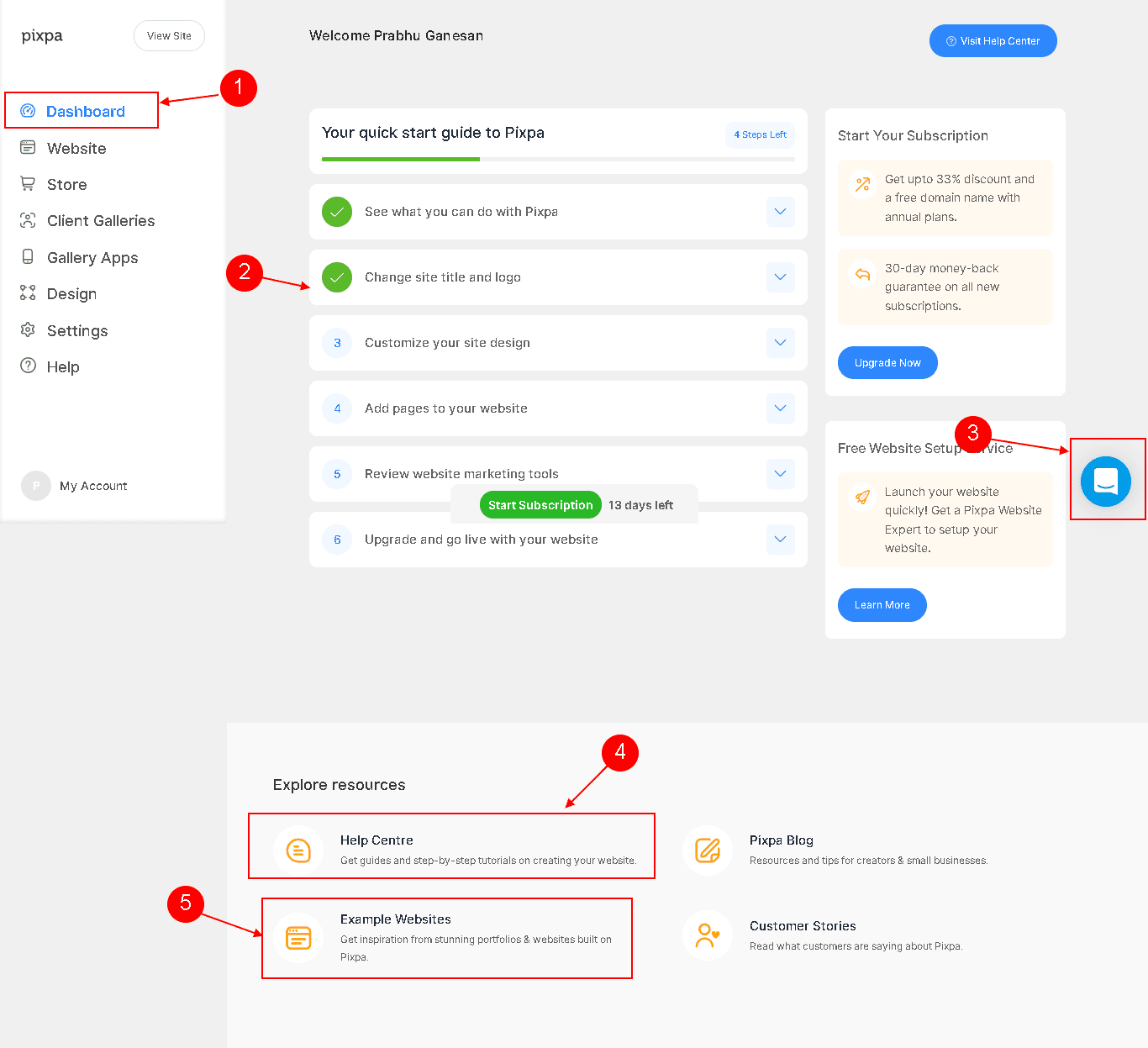 The dashboard is an essential one in all applications because it acts as a root node of a tree in a data structure. Initially, the Pixpa tools give you step-by-step options to develop your own website through the start guide option in the dashboard. 
The dashboard looks very simple and effective because through which you can navigate to other pages. The help center icon will be placed at the right bottom of the screen where you can get help anytime. 
Example websites are also available which may help you in developing the websites. Also, customer stories will guide you in getting the information about the developed websites. 
Website Option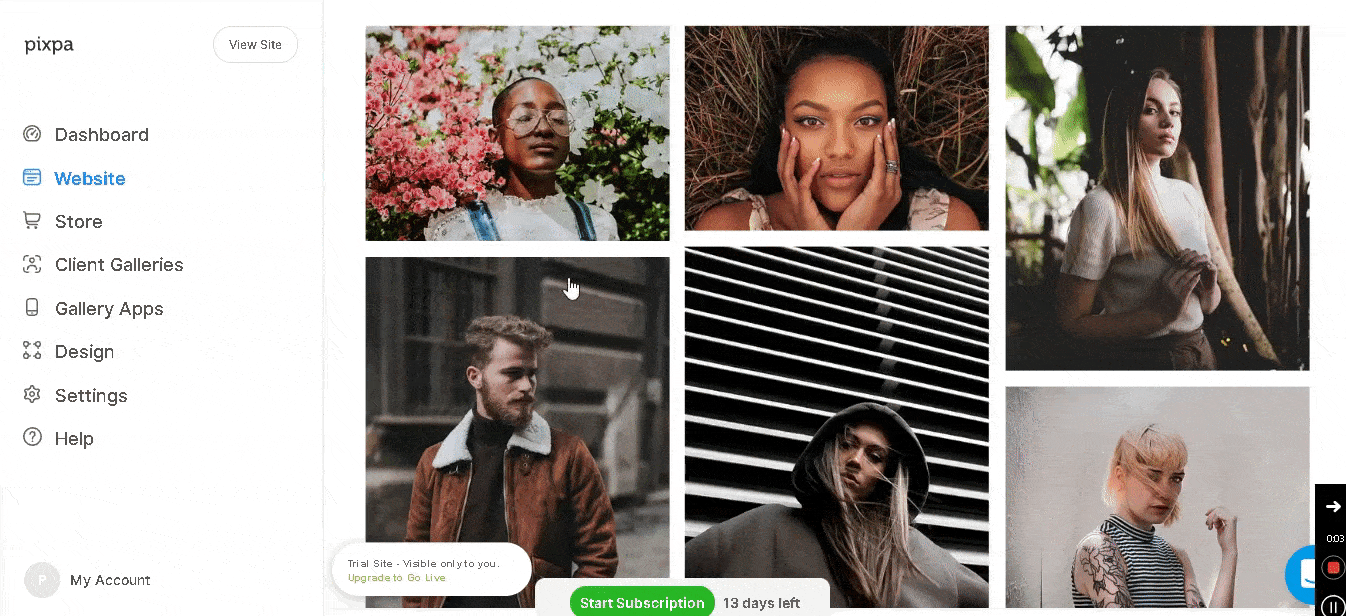 Website option where you can build a website as per your requirement. Initially, Pixpa provides five basic pages like home, work, about, blog, and Get in touch. If you need, then you can add new web pages. Additional settings are available in the "Options" and "Tools" tabs.
The options page will help you in designing the web page. Tools option allows adding SEO tools, social links, etc.
Store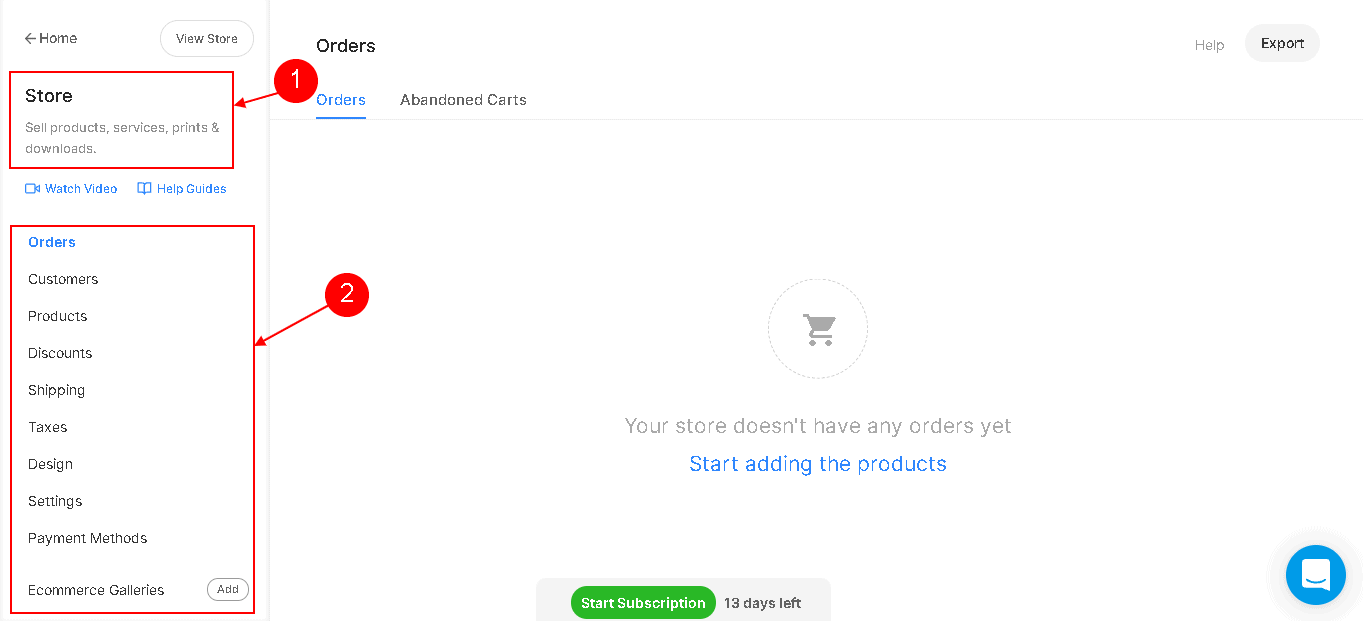 The store option is to create an eCommerce website where it has the entire functionality of an eCommerce store. It has the option to view customers and add products, discounts, shipping rate details, taxes, and payment methods.
Client Galleries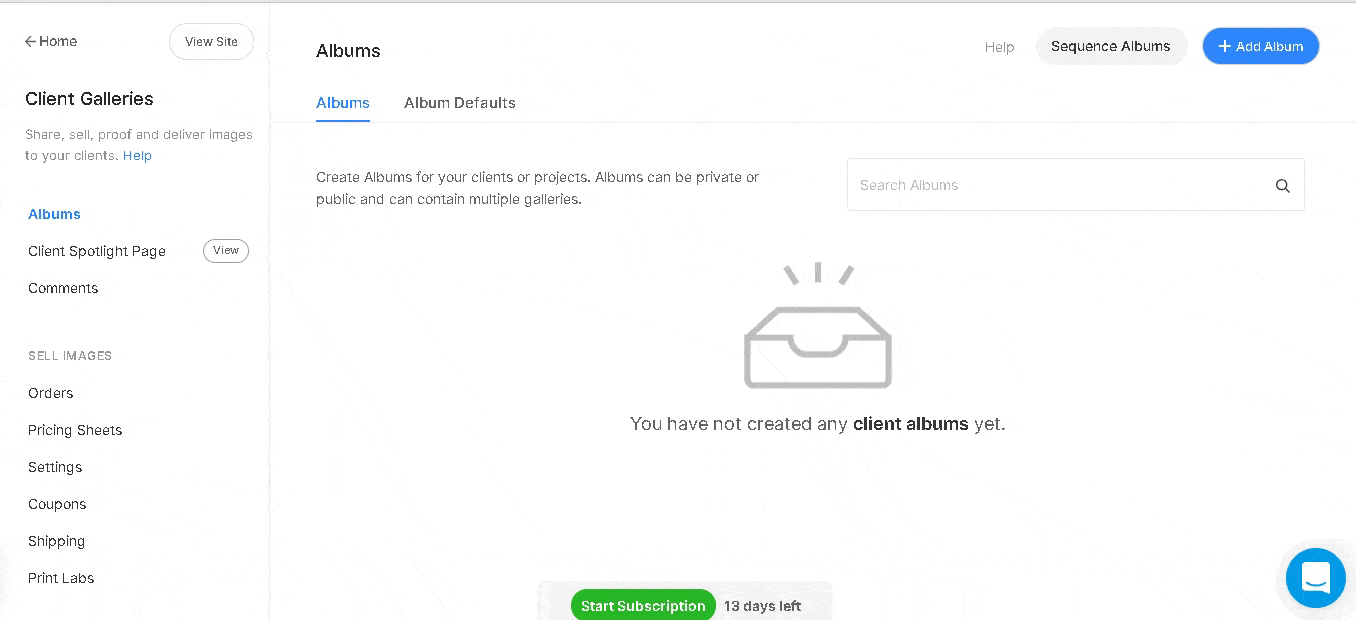 Client galleries are to create new galleries for the customers which can be shared public or private. In advance, you can sell these created galleries to your circle for their web development.
Gallery App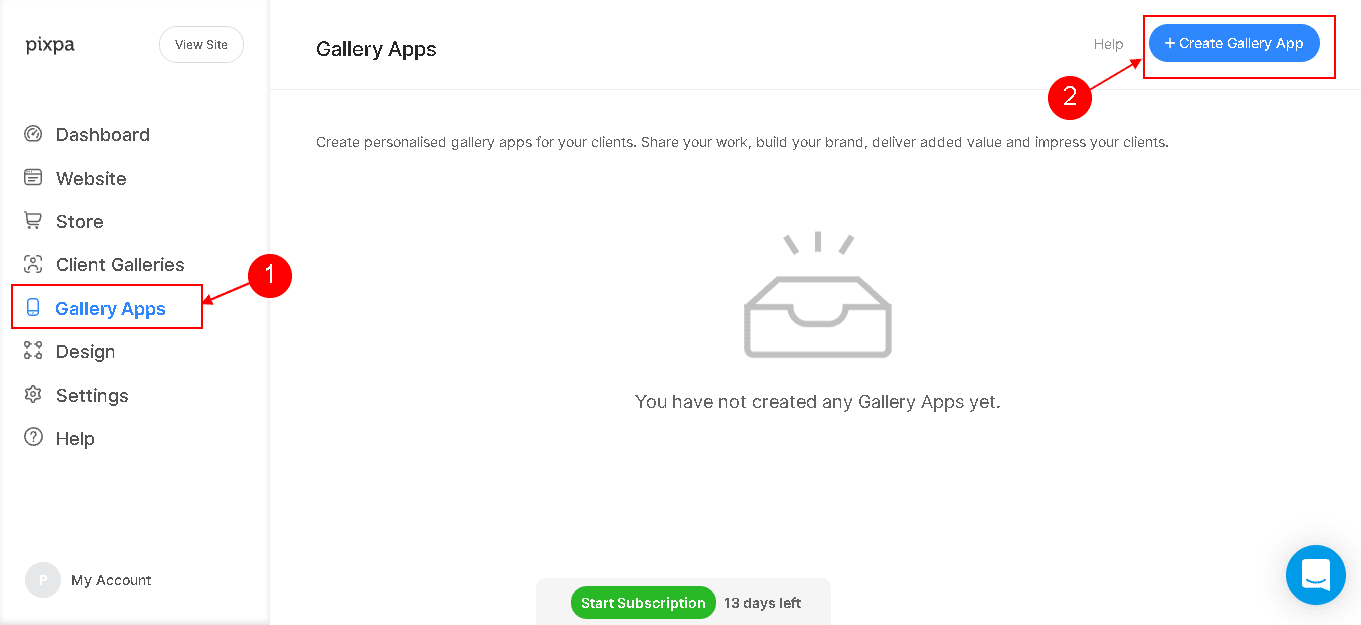 Gallery App gives you an option to share your gallery of images with your partners or friends in the form of an application. This helps in impressing your client and branding your company. 
Settings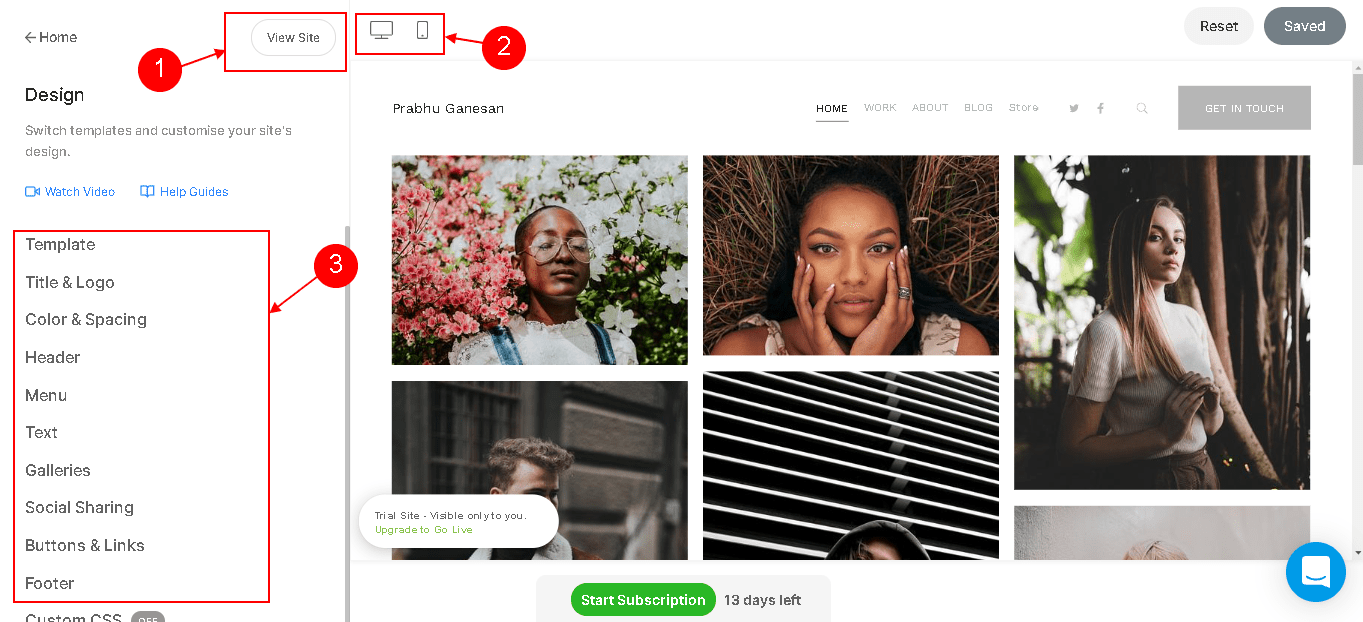 Settings page guide you in customizing the website based on the mobile or desktop layouts. The "View Site" option is to view the customized site.
Customer Support and Knowledge base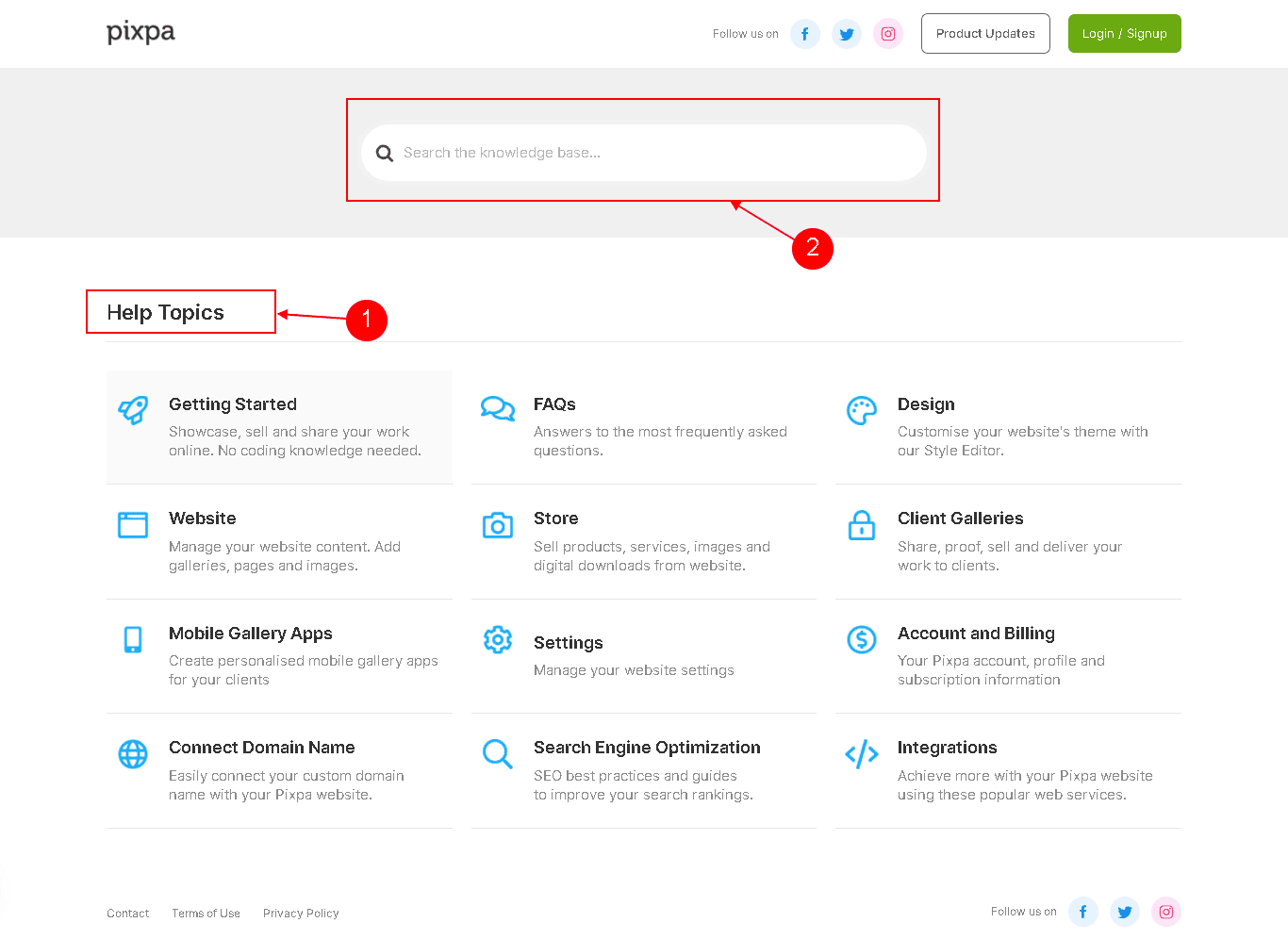 Customer support is the backbone of all the tools and applications that connect customers to the business. Here in Pixpa, the help icon is available on all pages and also has a separate page for help.
On the help page, you can easily categorize your issues and Pixpa will surely help you in solving the problems you raise.
Pixpa Review: conclusion
If you want a gallery option along with an e-commerce feature and want to create a blog, then Pixpa is the right choice. However, it is suitable for creating simple websites and especially for portfolio designers, photographers, artists, and creative businesses. Moreover, Pixpa looks more effective and you can create an attractive website with minimal effort.
On other hand, you can try an alternate tool called Wix Website builder.  
Hope you like our post, Pixpa review. You can follow us on Facebook and Twitter to get the latest updates.

Prabhu Ganesan provides his web development and WordPress services independently. He is the founder of WPBlogX. He is very much involved in WordPress as it becomes second nature for him. You can get in touch with him by visiting his website – WPBlogX.com and you can also find him on Twitter @gprabhucbe.