What is WordPress? WordPress is an open-source content management system (CMS). You can use WordPress to build a websites or blogs easily without touching a single line of code.
WordPress was introduced in 2003 to improve the typography of everyday writing. But now, WordPress used to build a blog or any website without using complex codes. WordPress is written using HTML, CSS, Javascript, PHP and MySQL and is licensed under GPLv2 (or later).
As per recent Wikipedia, June 2021 report says 41.7% of the top 10 million websites use WordPress, and more than 64 million websites are supported by WordPress. Because of these robust CMS features, people like to choose this software more than anyone.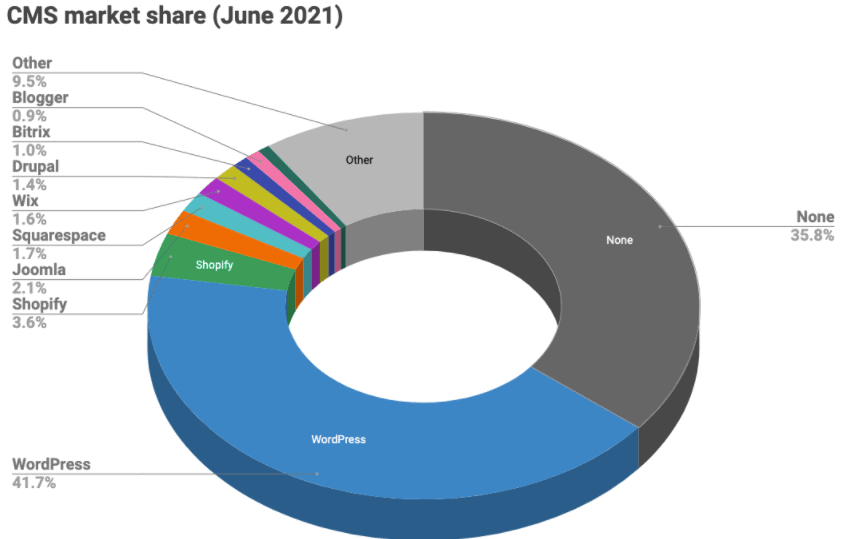 Difference Between WordPress.org and WordPress.com
WordPress.org
WordPress.org method is called self-hosted. You need to download and install WordPress latest update on your hosting provider. In this method, you need a domina name and a web hosting account. Most of the hosting providers offer one-click WordPress installation.
By using the WordPress.org method you can customize WordPress based on your requirement. WP repository has free 3000+ themes and 50,956 plugins. If you use the self-hosted method you have full control to customize anything on your website.
WordPress.com
Another service is called WordPress.Com. In this method, you can create the blog on the WordPress.Com subdomain. For example, it looks like a https://wpblogx.wordpress.com/. Another name is Hosted method.
WordPress.com also offers you premium service. By using WordPress.com premium service you can able to connect your domain to WordPress.com. After connecting you can see your website without a subdomain. For example – https://www.wpblogx.com.
But this method has several limitations, such as you can't install plugins, custom themes and you can't customize what you want on your website.
Why Should You Choose WordPress?
1. WordPress is open source software CMS, and you need not pay anyone license fees; it is free.
2. WP has the biggest community in the world. Therefore you need not worry about getting help from others. If you have any doubts about WordPress, please post your queries at the official WP forum; you will get a reply instantly.
3. It is SEO friendly CMS software; because of this, many small to enterprise-level companies uses the WordPress CMS. Companies want their content optimized for both users and search engines.
4. You have full control over your content. You spend a lot of time creating quality content for your visitors. But if you put your content on hosted services like Tumblr, WordPress.Com, Wix, then you may lose your content. Because they have full rights to shut down your site.
If you run your site on a self-hosted platform, you don't need to worry about this type of problem.
5. Sometimes, you need a custom design for your WP site. You can design it yourself or hire a freelancer easily. WP community have a biggest
At WPBlogX, we provide the latest WordPress tutorials for beginners.
6.  They offer you thousands of themes and plugins for free of cost. You can download it from the WordPress repository. You can use those items to extend your site functionality quickly.
7. Lastly, before WordPress, you must know HTML, CSS, and Javascript to design your site or hire someone to design and need someone helps to update content.
If you know basic things about how to use a computer? Then you can use WordPress without getting help from others.
Conclusion
WordPress is best suited for beginners or someone who doesn't like coding. WP has free themes and plugins. You can expand your functionality easily without using complex coding. Using WP CMS, you can build blogs or websites quickly.
I hope you enjoyed this post about What is WordPress? If you have any doubts, ask your questions by using the comment section.