Little confusing in choosing to the platform between Wix or WordPress to start your website. Stay calm, just go through this article to know about Wix Vs WordPress and decide which platform to choose.
Introduction
Thinking about launching or re-launching your website, and quite confusing to go with which platform whether it is Wix or WordPress. Just read this article, you will get an idea of which one to choose.
Content Management System(CMS)
Both Wix and WordPress are content management system. CMS allows the website developers, admins, and the owner to build, modify, write and extend their web content. There is no need to deal with coding to modify a page, add a product, publish a blog post, until unless you want to customize it from scratch.
Both allow you to perform a variety of things. Both are leading nowadays in website builder industry.  But each has its own pros and cons, identifying the best among them is the risky task. We will compare the features of both so as to make it easier for you to decide which one to choose.
Feature Comparison Between Wix Vs WordPress

Easy of use
Flexibility
Pricing
Design
E-commerce
SEO
Blog
Security
Support
1.Easy to use
Wix
Wix has a very clean, user interface and friendly design. It is one of the friendly environment to work with even for the beginners. You can just create an account in Wix and start working. Wix is built specially for non-developers to make use of it and work easily.
Using Wix you don't have to handle even a single piece of code. You can customize your website as you wish. Just by drag-and-drop, you will be able to add images, text, video, audio, effects etc. If you want to read more about Wix in-depth review.
Initially to get into CRM and all stuff you need to read the complete documentation about Wix. Only thing is you have certain limitations in customization based on the theme you choose.
WordPress
Moving to WordPress, even though WordPress is user-friendly but it is little down compared to Wix. You have to purchase a web hosting, domain name and then install the WordPress on your web server to set up WordPress.
You don't have any inbuilt drag and drop page builder in WordPress if you need, you can download builder plugin and use it. Everything has to set manually, and creating certain features requires you some knowledge to work with it. Only through code customization, you will be able to add the customized functionalities.
2.Flexibility
Wix
Wix is easy to set up, just create an account and start working. You don't have much customization options because everything is built-in. You can just edit the features which are in-built.
You have apps market in Wix nearly 250+ to add-on additional functionalities required for your website. This comes with free as well as premium. But cannot handle the complete control and customization.

WordPress
Since WordPress is free, anyone can access it without any limitation. If your programmers and want to develop a theme or plugins of your own, you can easily create it from scratch using WordPress.
Everything is under your control. There are nearly 54000+ plugins available in the WordPress repository for add-on features. Even numerous third-party plugins are available which comes with both free as well as premium. So based on flexibility WordPress is better compared to Wix.

3.Pricing
Pricing plays an important factor while building a website. Because you have to build a website and maintain it. If the pricing exceeds than your budget, it is very difficult to handle and maintain. So always go for a reasonable pricing with advanced features.
Wix
Wix is a freemium site builder. You can create and publish an ad-supported website with a free account and it will remain so until you decide to upgrade your site. However, with the basic plans, they don't provide necessary add-ons such as Favicons, eCommerce, Google Analytics etc.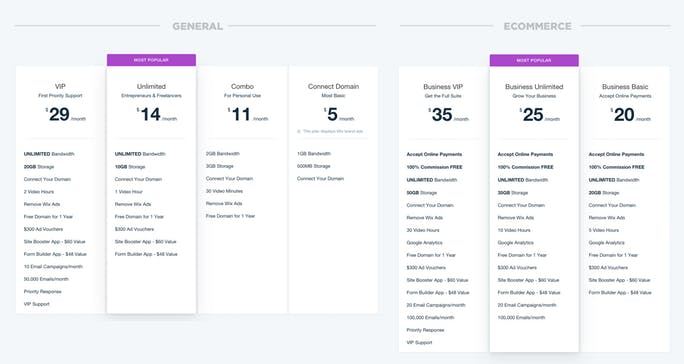 The Wix premium plans come with different storage and limitations. In Wix, you can choose a monthly or a yearly plan. Here is the Wix pricing:
General:
Connect Domain($5)
Combo($11)
Unlimited($14)
VIP($29)
Business & eCommerce:
Business Basic($20)
Business Unlimited($25)
Business VIP($35)
You can choose the plan based on your business requirement. This cost doesn't include any apps that if you want to purchase. Here is a cost estimate for your calculation.
General Website
Wix plans
Monthly
Yearly
Key Feature
Free
$0
$0
It's free
Connect Domain*
$7.50/month
$5/month
Ability to connect your domain name
Combo
$14.50/month
$11/month
Remove Wix branding & Ad free
Unlimited
$17.50/month
$14/month
UNLIMITED Bandwidth, reliable for most small businesses
VIP
$35.00
$29.00
Priority Support and Email Campaigns
Business and eCommerce
Wix plans
Monthly
Yearly
Key Feature
Business Basic
$25/month
$20/month
Sell online and get business apps like Wix Hotels or Wix Bookings
Business Unlimited
$30/month
$25/month
Basic plan plus email campaigns and extra storage
Business VIP
$40/month
$35/month
Most amount of features, storage, and VIP Support
* Plan is not available in all countries.
WordPress
WordPress software is free and anyone can download and use it. The important factor is you need a web hosting and domain name to install it. There are dozens of WordPress hosting providers with different plans.
You can choose them as per your requirements and budget. But compared to Wix, WordPress hosting providers give you a cheaper plan with lot more features. Even then for the additional functionalities, you have thousands of free themes and plugins to make use of it.

4.Design
Wix
In Wix, there are nearly 500+ in-built templates that you can choose for your website. All these templates are very responsive and it is written in HTML5. You can easily use the tools to design your site, rearrange the items, change the layout etc.
You can choose the templates based on your category such as e-commerce, business, personal, blog, hobby etc. , once a template is selected, you won't be able to change the template, you can just modify it.
WordPress  
WordPress with a wide range comes with thousands of free as well as paid themes to use. Free themes come with basic features, whereas if you go for a paid version you will be able to add additional features.
With the huge available themes, looking at the demo you can choose it as per your needs. Better advantage of WordPress theme is that you can even customize it by creating a child theme of your own.
You will be able to download the free theme in WordPress repository WordPress.org. Whereas you can purchase the paid themes from popular stores like colorlib, studio press, themify etc. Compared to design, WordPress has the highest range of design and flexibility compared to Wix.
5.E-commerce
Wix
Wix lets you create eCommerce store with their premium app Wix store. eCommerce options are available with their premium plans such as eCommerce and VIP. This states that users cannot run the free eCommerce store on Wix.
With the Wix store app, you will be able to accept payments only through PayPal or Authorize.net. You can purchase third-party apps, but they would cost more. However, in Wix eCommerce, you have only limited payment gateway and functionality.
WordPress
WordPress is a full-fledged eCommerce store by installing the WordPress eCommerce plugin. There are plenty of eCommerce plugins available in WordPress to make use for your website. With these plugins, you can sell digital and physical goods, events, subscriptions, service and many other.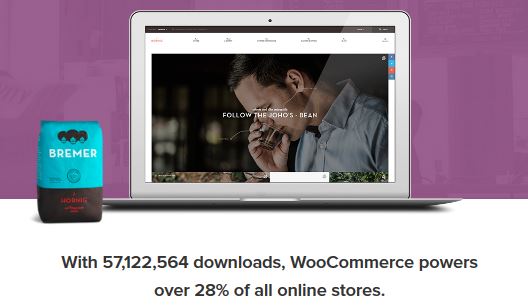 You can use WooCommerce plugin in WordPress, that is very powerful for your eCommerce store. Setting up a WooCommerce plugin is very easy, you can activate it with just a few clicks. WooCommerce plugin is available for free in WordPress repository. Comparatively based on eCommerce WordPress is best than Wix.
6.SEO
Wix
Wix offers you dozens of SEO tools for enhancing your website's visibility. You have the ability to change the page title, alt attributes, choice of headings, and much more. You can include basic SEO features such as heading tag, page meta tags, mobile optimization, image alt tags etc.
Wix gives you an SEO wizard that guides the entire process of SEO configuration and setup. It allows you to create your own SEO plan. This wizard is really worth and helpful for the beginners who don't even have an complete knowledge of SEO. You can purchase  SEO apps in the Wix app market.
WordPress
As everyone is aware WordPress is one of the most SEO friendly platforms. It helps you to configure your website as the way search engine expects. In WordPress by default, you can configure your website name, headings tag, tagline, image alt tags, URL structure etc.
But by installing Yoast SEO plugin, you can change SEO titles, social sharing content, meta descriptions etc. for all your posts and pages. Next Google analytics is important for enhancing your websites SEO. That helps to know how people use your website.

With WordPress, you can install the google analytics plugin like MonsterInsights to improve your SEO. In WordPress there are tons of SEO tools and plugins available, you can make use of them as required. Based on the comparison both Wix and WordPress seems to be equal, but WordPress has a little higher grade than Wix.
7.Blog
Wix
Wix has a good blogging environment and it is user-friendly. It lets you create tags, post scheduling, categories, and related posts. One notable feature is that you can give an alternate title for mobile readers.
The posting features in Wix are limited. You can add galleries, images, GIFs, videos, and for some other features, you need to use HTML which is quite difficult for beginners. Wix is not recommended for the hardcore bloggers.
WordPress
WordPress is mainly focused on the blogging platform and you features such as tags, RSS, categories etc. You have a wide range of features in WordPress. You can do all blog related tasks without any much effort because of its user interface. If blogging is your main purpose, then WordPress is the best choice. By comparing each other, WordPress is best in blogging than Wix.
8.Security
Wix
When comes to security, Wix plays out of the box. With Wix, users cannot edit the core functionality, so there are fewer security vulnerabilities. Wix will automatically update its latest version, so outdated version won't be a concern. You have a choose a strong password with two-factor authentication.
WordPress
When coming the WordPress, security is a bit complex because it's used worldwide many attackers try to hack the website. With WordPress you have to take care of everything right from the core updates, choosing correct hosting, theme updates, plugin updates etc.  A complete WordPress security guide that Protects Your Website from Hackers.
But WordPress itself is more secure. To make it more secure there are plenty of WordPress Security plugins available to tighten your website. Both Wix and WordPress are equal in security, however, WordPress is slight ahead than Wix.
9.Support
Wix
It has a support system both through phone and online. There are plenty of articles regarding Wix, where you can learn a lot and get tremendous support from the team. You will be satisfied with the support team.

WordPress
When it comes to WordPress, there is no official support to answer your queries. You have a knowledge base through the website where you can get as much stuff as possible. There are tons of articles to read and gain experience. Even if you post a technical question, it might be a delay in getting a reply from others. Compared to support Wix is a little ahead than WordPress.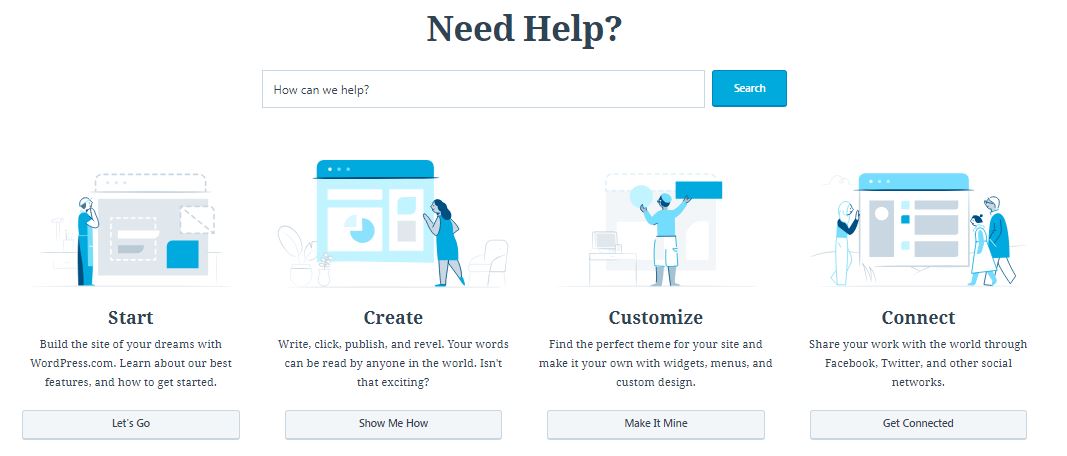 Advantages and disadvantages of Wix Vs WordPress
Wix
Advantages
All the process happens inside Wix.com, nothing goes outside to create a website
Doesn't require any technical knowledge and coding skills
You have a bundle of features inbuilt
Just drag-and-drop completely makes you work out of the box
You can get started with Wix in just a couple of minutes
There is a tremendous support team
Disadvantages
You don't have full control, at any time your website may slow down for no reason
There are less unique features
Only a few designs are SEO friendly
Customizations are limited
Only with the default features, you can customize
WordPress
Advantages
It is open source software so anyone can access it
Thousands of plugins and themes available
Most popular CMS compared with all other CMS
It has frequent updates and has a lively community
It is the best blogging platform
You can customize your website to any extend right from the scratch
Disadvantages
You have to purchase a domain name and hosting to work with WordPress
Configuring certain plugins and themes are quite tricky
For customization, you need to have technical knowledge
There is no official support
Conclusion
Overall we can conclude stating based on the performance WordPress is better than Wix. But at the same time, Wix has wonderful features and its extremely a good start for the beginners who don't know the develop a website, whereas WordPress is a powerful website builder that can be used for the long process.
Both the CMS has certain pros and cons. It's absolutely in your hand to pick up which is most suitable as per your website's requirement. Hope you got a clear mind reading about Wix Vs WordPress.
If you have any queries or suggestions, please feel free to comment to us. You can subscribe to us at Facebook and Twitter.