The tools you use for managing your website have equal importance in managing your website. Going for cheap or free tools may save you money or time but it won't help you in future. You may find it difficult to switch over to another tool in future. So, you should be more conscious while choosing the FTP tool in managing your website. 
This article might help you in finding the right FTP tool for managing your website effectively. 
FTP Client
Initially, you must know what FTP means, FTP means File Transfer Protocol to transfer the files over the internet. It looks very comfortable for many website owners and developers to transfer files from their local system to the hosting server. For example, If you had a version of a website in your local system then you can easily send the website directly to the server for publishing. This process could be possible by using the FTP client tools. If you are a WordPress user then you can use the FTP client tool to upload themes and plugins to your website. 
FTP client is nothing but an application that helps in sending the files from a local computer to a server through FTP. An FTP client helps in downloading or uploading the files from or to the server. Some of the FTP clients like Google Drive or OneDrive would help you in editing the files without downloading. 
In reality, you could see many FTP client applications around you but selecting the right one based on your requirement looks more difficult. You don't need to get panicked or confused, this article will help you in selecting the right FTP client application you need.
Best 11 FTP clients for Windows and  MAC WordPress Users
1. FileZilla

FileZilla is the most popular FTP client application used by many developers to handle their websites. FileZilla is available for free and you can download it from its official website. FileZilla doesn't look hard to understand, its functionality looks simple and easily adaptable for beginners. FileZilla is made up of a two-pane display where the left side pane shows the local system files and on the right side, it shows the server files. FileZilla is capable of handling the file size up to 4 GB. It also has a forum where users can post and get their answers to their questions. FileZilla is free, but FileZilla Pro comes up with additional features and costs up to $19.99.
Operating System 
Mostly the FileZilla FTP client application is being used by the Windows user, hence it is workable in all types of operating systems.  
Features
It holds a bookmark feature where you can easily come back and start from where you saved your spot.

You can easily transfer large files, it supports files larger than 4 GB.

It offers a remote file editing option so that you don't need to wait in your host account.

This application supports additional protocols like FTP, SFTP and FTPS.

The side-by-side display increases the value of the application and enables you to track the files where it resides. 
2. WS_FTP Professional
This FTP application has 40 million users and the reason for the reach is because it provides encryption, admin tools and is well customized. Each and every file transferred will be secured by using this WS_FTP Professional application. It ensures multiple encryption processes to secure all the files being transferred.

Besides the encryption, the application provides another facility called backup. Before transferring the file, everything will be backed up based on a schedule. In addition, you can easily compress those backup files and they will be synced automatically. Overall, you don't have to worry about file loss. WS_FTP Professional is available in the Windows operating system. 
Pricing
WS_FTP Professional provides a free trial for 30 days, you will be charged after the trial period. WS_FTP provides three different pricing plans.
WS_FTP Professional Client – $49.95 (Single User, 30 days Warranty)

WS_FTP Professional with support – $89.95 (Single User, 1 year support)

WS_FTP Professional, Multiple Users – $390 (5 Licenses)
Features
It provides higher security in uploading and downloading your files between the server and local hosts.

It protects files using 256 bits AES, FIPS 140-2.

It uses SFTP for authentication purposes.

 It has a customizable display where you can drag and drop your files, it saves more time.
3. Cyberduck

Cyberduck from the name you were able to know that this tool provides security while uploading and downloading the files. This tool looks modern when compared with other FTP client tools in the market because it links your website to external links like Google Drive and Dropbox. The main benefit of this tool, it uses the concept 'Cryptomator' which adds extra security to your file while transferring. Also, you can enjoy cloud functionality and can share your files just using a quick web URL. Cyberduck is available in both the operating system Windows and Mac OS.
Pricing
While analyzing the pricing structure for this tool, actually everything is free. 
Feature
You can easily open or copy your file through the corresponding HTTP URLs of a selected file in your web browser. 

Your files can be easily distributed through the cloud network.

Browse and move your files easily through the browser with cache enabled.

It gives the option to copy the files between the servers directly also you can drop and drag files to transfer. 
4. Free FTP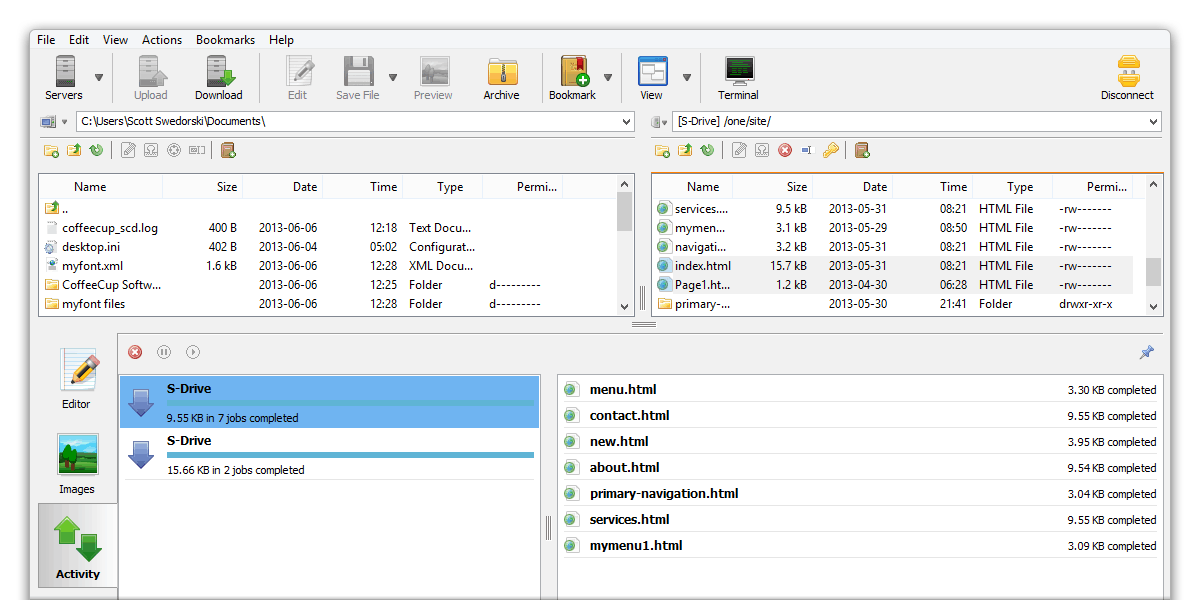 Free FTP from the name you may get, this tool makes you feel free to use. It is termed as one of the best FTP clients in case of simplicity and ease in usage. It looks super fast and effective in file transferring, it indirectly eliminates the need of using a pro. Free FTP is a free cFTP client and can be used only in Windows Operating System.
Pricing
Free FTP is absolutely free for all users. If you need an advanced FTP client then you need to go with 'Direct FTP' and it costs $39.
Features
Free FTP supports secure file transfer and it uses SFTP over SSH, TLS over HTTPS.

You can easily set permission for files and folders on your server. 

You drag and drop whatever you need.

In Direct FTP, it has a snippet Library and built-in preview in addition.
5. Transmit
Transit tool is one of the most preferred FTP client tools for Mac Users. The transit tool is full of advanced controls which can be easily handled and managed. The features of Transit look smart and sophisticated. The following are tools like Google Drive, MS Azure, Dropbox, etc. are supported by the current version of the Transit. This feature gives you an option to sync your files with local and remote. Transmit tools support only the Mac Operating System.
Pricing
The Transmit tool offers only a 7 days trial period, if you like to continue then you need to pay $45. 
Features
You can connect with 11 cloud servers easily at a time.

It has a dual-pane view, you can easily locate the files.

Bookmarks are available to jump to your favourite folders.

Ability to create and manage secure keys without leaving the FTP client.
6.WinSCP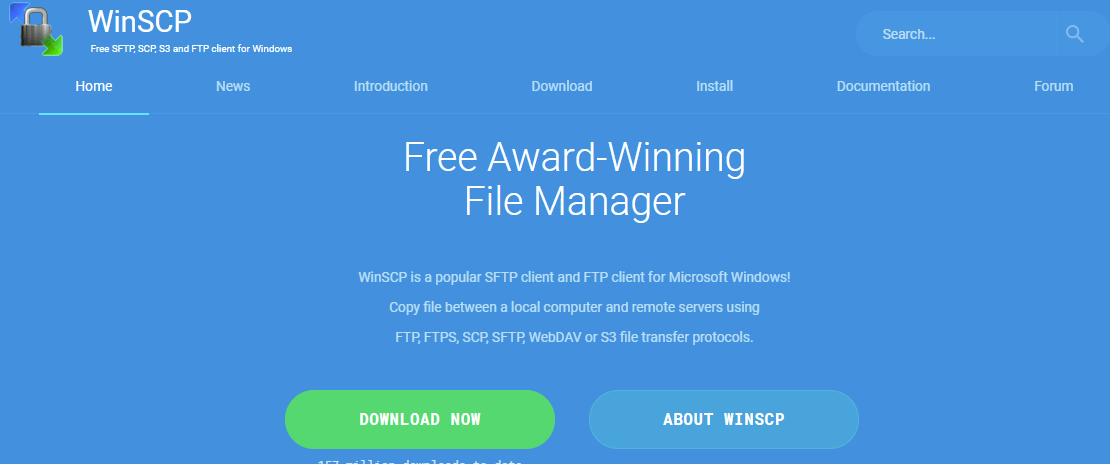 WinSCP from the name, you can determine that this tool is specially created for the Windows Operating system. The interface looks more comfortable for the Windows user and it is more popular in using FTP, SFTP and FTPS clients, allowing it to copy files between local and remote sites. The following are WinSCP supports the following protocols like WebDAV, FTP and FTPS. The interface looks simple and sure you will love it. 
Pricing
WinSCP is available for free for all windows users.
Features
It provides directory caching to make the program more efficient and allows the file to transfer faster. 

Encrypts all the files which are placed on the server.

You can integrate with other windows applications like PuTTY, FileZilla, etc.

You can use a single or multiple passwords to secure the decryption process from malicious software attack.

Since it is a graphics-based interface that makes browsing to be easier.

It holds admin restrictions that protect users from modifying the files.
7. CuteFTP

CuteFTP software is owned by 'Globalscape' and it is available only for Windows users. In advance of other FTP client tools, it provides a tool called 'Tappln tool', which allows transferring the file between iPads and phones. This tool supports most of the file transfer protocols and provides higher encryption for security. 
Pricing
CuteFTP is available for $59.99 and if you are going for an upgrade, it costs $29.99. Another option, CuteFTP provides 1-year of maintenance & support for $89.99 and you can upgrade it for $59.99.
Features
You can easily drag and drop 100 files at a time.

Easy backup and sync all your site files.

Managing audio files looks easy and it gives the option to generate RSS feeds for podcasts.

You can work with several remote sites at one time.

It provides encryption through OpenPGP.
8. Commander One pro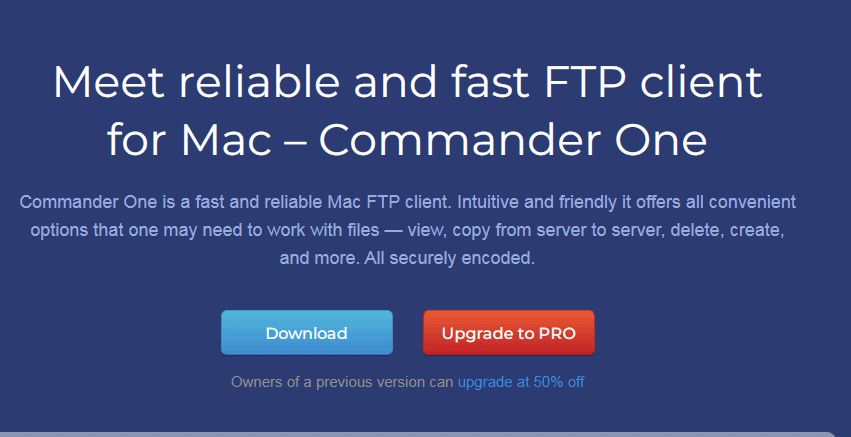 Commander One Pro looks valuable because of its features. So, the tool is not available for free and its costs look affordable. Same like other FTP clients, the commander One Pro uses FTP, SFTP and FTPS for speed file transfer between server to server. Multiple connections are possible through this tool and tabbed browsing makes your work easier. It also provides cloud sync opportunities such as Amazon S3, Box cloud, etc.
Pricing
Commander One Pro gives two price plans. They are,
Personal Licence (1 Mac) – $29.99

Team Licence (5 Macs) – $ 99.99
With additional VAT charges applicable for some countries.
Features
Command One Pro supports many languages like Spanish, French, etc.

It supports a wide range of colour themes.

The encryption is done on all the files which are done between local, cloud and remote servers.

It is used to mount to an Android device for file management. 

It provides a file viewer option to see the media items in your files.
9. ForkLift
ForkLift is a system file manager which is specially designed for macOS. It is great to use for its dual-pane feature for viewing and managing files. The dual-pane increases the user experience and allows drag and drop options. Forklift is specially designed for IoS and you can see it in all the aspects of the tool. It has a folder synchronization feature that compares the files in two different folders.
Pricing
The below is the price plan for this tool.
Single-user License – $29.95

Family License – $49.95

Small Business License – $99.95
Features
Forklift offers reasonable prices for its users for a lifetime and also offers discounts for students and teachers.

It has a dual-pane interface that splits your files into two separate windows.

Also, offers drag and drop facilities.

You can rename many files at a time.
10. Core FTP LE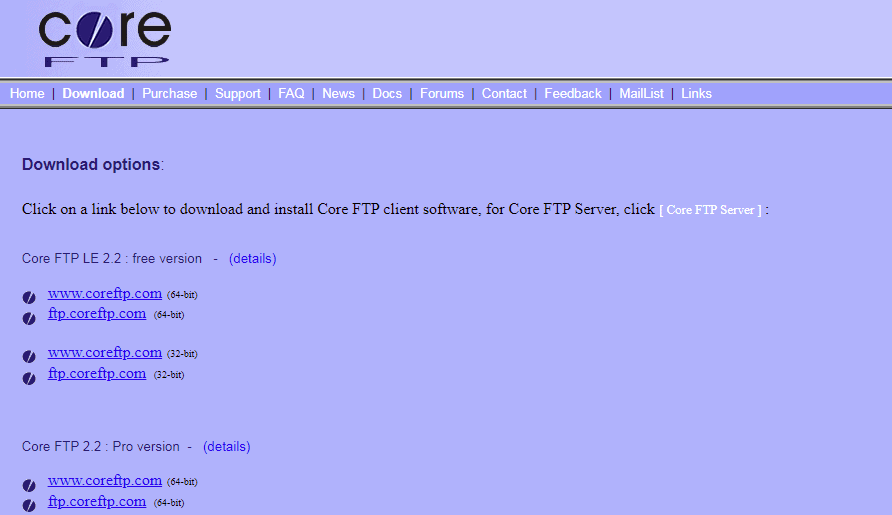 Core FTP LE provides two different versions of FTP clients for their users. One is the Pro version and the other one is the LE version. The main difference between the PRO and LE version is that the LE version has its basic interface and has the same interface as FileZilla. Core FTP is mainly dedicated to Windows users. Like other FTP client tools, the Core FTP LE also has a drag and drop option. Major works can be done in the same window and you may not have to switch between the windows. 
Pricing
Core FTP LE version is absolutely free and you need to pay for the Pro version $24.95.
Features
It holds some unique features but the interface looks like FileZilla.

Core FTP LE is available for free and you download it from anywhere.

The free version of this tool supports the following protocols FTPS, SSL, TLS, etc.

Z compression is used for improving the speed of transferring the files between two locations.
11. SolarWind Serv-U Managed file transfer server

SolarWind Serv-U gives the possibility of transferring the files with a size of more than 3GB. It gives it by providing the drag and drop option. It has a dashboard with central controls with automation abilities and activity logs. The tools provide additional security features like authentication, active directory integration with protocols like FTP, SFTP and FTPS. It can be used only in Windows Operating System.

Price
The tools will be available for free on a 14 days trial version. After that, you need to spend $3192 per server. If you need to use additional servers, your price plan gets varied.
Feature
It gives you help through a 150000 member online community.

You can get help through a customer portal through a ticket.

It ensures that you register complaints through the regulations like PCI, DSS and HIPSS.
You can select the above FTP client software based on your operating system and features.
Hope you like this post about the 11 Best FTP Clients for Mac and Windows WordPress Users. You can follow us on Facebook and Twitter to get the latest updates.