Building customers trust is very important for any organization. You will be wondering how to make your WordPress more interactive to communication with your customers?. Nothing to wonder, WordPress gives you n number of features to make your website more interactive, with that voice message plugins comes in the top list.
With voice message plugins, you can communicate your customers, visitors, without sending a text and emoji. Because conveying through a message we may not be sure how well customer grabs the point. Instead, when you convey it through a voice message, your emotions are directly reflected and they may understand your point easily.
In order to make you and your customer friendly as well as to increase your business standard, voice message plugin comes into existence. But there are dozens of voice message plugins for WordPress, and finding out the best plugin will be really a difficult task for you. We are here to help you, in this post, we have made an expert pick collection of best voice message plugins for WordPress.
Best voice message plugins for WordPress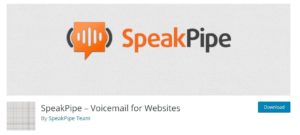 SpeakPipe is one of the best voice message plugins for your WordPress website. It lets your user send the voice message directly through your website. In order to use this plugin, you need to create a SpeakPipe account, but users of your website don't have to. Visitors have to just click a button and record their voice and send it.
Visitors can listen to their recording before sending it to you. This plugin comes with free as well as premium version. The free plugin gives you the basic features, if you want to add extra functionalities, then you must opt for a premium version. This plugin comes with a great feature that it does not require any login, that means anyone visiting your website can send a voice message.
Using this plugin is very easy and it just takes a few minutes to activate on your website. This plugin allows the site owners to coordinate their Speakpipe code into their WordPress website without changing any source code. All the voice messages send by the visitors are automatically stores in your SpeakPipe account.
You can access the SpeakPipe mailbox from any computer or mobile devices. You can download the voice message as MP3 from the mailbox so that you can put in your website or insert into the podcast. This is commonly used by podcasters and video hosts for gathering audience questions.  
It allows you to allow actual consumer query in a podcast. It comes with a 100% money back guarantee within 30 days of purchase. It comes with three pricing plans Bronze of $6.4/month, Gold of $12/month, and Premium of $36/month which is paid annually.

The joy of Text is one of the most powerful free WordPress plugin to send text and voice messages. In short, it can be called as JOT. It helps you to connect with your blog subscribers, customers, visitors etc.  In order to use this plugin, you need a Twilio account. In case if you don't have an account, you can just sign up with a free trial account.
While in the JOT settings you have entered the Twilio Account SID and Twilio Auth Token you will receive it when you create a Twilio account. You can send the voice message to a group of persons or to individuals. At any time you can add or remove the members. You can even send text-to-voice messages.
There is a language friendly software so that it easily converts your message into their own language. You can customize the voice message using the tags for the customer name, their number etc. It comes with free as well as paid version. The paid version comes with features such as more custom tags, threaded conversations, MMS support, integrations and much more.
This plugin enables the administrator to erase, include, and refresh the person from the group and also makes a membership frame, enabling the guest users to purchase from your website through SMS refreshes. Checks that the phone number entered is valid and has a number of extensions. The JOT lite plugin has extensions for WooCommerce, message scheduling, post and comment notifier, BuddyPress etc.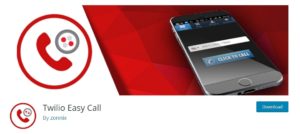 Twilio is another popular WordPress voice message plugin. It's just a simple task to insert this plugin on your website. You can display a click-to-call button on your website, and the customer can make a call to you by clicking the button. For that, they need to add their number on a form, and then Twilio will connect your agent to the customer automatically.
You can easily manage calls with the help of this plugin. This plugin is free and also comes with a paid version. The paid version includes additional features such as blacklist the spammers, sends welcome messages, callback feature for registered users, limiting the number of calls from the users, and much more.
It easily integrates with WooCommerce and lets the customers call directly from the product page while there are purchasing from your website. This plugin is very easy to setup and use. It directly allows you to connect with the buyers through a voice message.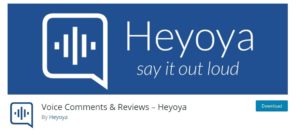 Heyoya is yet another most required and powerful voice comments and reviews plugin. This plugin does wonders to your website. It allows the visitors to drop a voice message in your blog comments that is really amazing where no other plugins give you this feature. With this plugin, you can also display plenty of voice comments on your website.
With the comments, it helps to increase the SEO for your blog post and also user engagement. You can easily support voice, video, and text messages. With the help of this plugin, you can even share the customers voice comments and reviews directly to social media that make your website popular.
It provides you with customizable tools where you can manage the comments and display the best voice comments on your blog. This plugin has a very good interface and it is easy to use. It has features such as integrated text area, upload video, and images to the comment, buttons for recording, and much more.
It even filters the spammers and injurious substance with email confirmation with each analyst. Notable features of this plugin are that built-in notification system, social sharing compatibility, comprehensive report, and analytical data, friendly and customizing dashboard, and image and GIF attachment. The support team is available 24/7. If you talk with them for any issue, immediately they will rectify and solve it for you.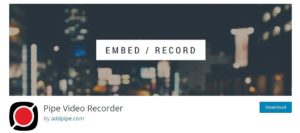 A pipe is the most common WordPress plugin for video and audio recording. This plugin works fine will all the WordPress themes. Technically is not actually a voice message plugin, but its a video messaging. Visitors will be able to send the video snippets that works just like the voice message.
You can easily manage the video and voice messages in your WordPress dashboard and supports formats like MP3, MP4, FLV, MOV etc. This plugin is paid but comes with a 2-week trial plan. This plugin integrates with the contact form and Gravity form plugins. You can easily embed the video and audio messages on any web page or post on your website.
It even works effectively while recording via mobile phones and can record different video file formats. It helps you to capture the user-generated video content including the video feedback, video submissions, video testimonials directly from your website. You can even transform your blog as VLOG using the backend video recording option.
It allows you to safely accept the video resumes for e-recruiting from any of the post or page on your website. It helps to save your money and time as there is no need to add any additional media servers since everything is in-built. You can easily add the crowdsourced videos directly to your website and can see the immediate results.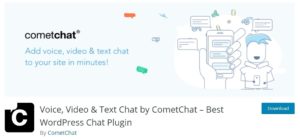 CometChat is one of the user-friendly WordPress voice message plugins. It helps to connect users on your website through text, voice chat, and video chat. This plugin is a paid version but comes with a free trial account. It gives you a WordPress plugin to connect your website with their servers.
It has notable features such as file sharing, stickers, screen sharing, real-time text messages, real-time translation, group chat, emojis, and much more. Provides you with a custom app that helps to manage your customer's message, voice notes, and calls. You can easily embed the notes to a WordPress page or can show it in the docked mode across your website.  
It is an All in one task arrangement which is intended to coordinate with your website and its highlights enable you to adapt your website effortlessly.  Comes with a wonderful chat solution that enables you to integrate with your website. It has a clean admin panel that helps you to manage all the messages.
It has additional features like role-based access control. Credit-based billing, and advertisements to monetize your WordPress website. This plugin comes with different pricing such as basic, professional, premium, and platinum of costs $49, $129, $249, and $499.
Conclusion
For any WooCommerce store interaction with the customers plays an important factor because that builds the trust on you and on your business. Just through the way you communicate your business grows.
So it's effective to have a video message plugin on your WordPress website. Hope you came to know about the 6 best WordPress voice message plugins for WordPress. If you have queries or if you find some other best plugins please comment to us.
Here We had picked a few Articles:
So that it will be helpful for the upcoming ready. Please provide us your suggestions to improve our article. You can subscribe to us at Facebook and Twitter.