If you are looking for a beautiful and professional blog theme, look no further than the best WordPress blog themes. We have all kinds of themes for various types of blogs, like business blogs, personal blogs, eCommerce, travel blogs, food blogs, fashion blogs, and much more.
You have landed at the right place as we have handpicked some of the best WordPress blog themes for you. This list is very handy in terms of what you should choose in order to make your blog look unique and professional.
WordPress Blog Themes
A blog is one of the most important elements of any online business. The best blog gives its readers a lot of information, helps them learn more, and also encourages them to visit your website again and again.
The WordPress Blog themes have been specially designed for WordPress users who want to create blogs on their websites. Since it is an open-source platform that allows you to easily create blogs. With these themes, you can build a blog or site in minutes.
Why WordPress blog themes?
One of the biggest mistakes new bloggers make is not having a blog theme. They go ahead and start posting their blogs, but then get frustrated with their lack of traffic or readership. They never figure out why. A blog theme is what tells your reader what you want them to see.
You need a good blogging theme.  For example, they are like the difference between a good pair of jeans and a bad pair of jeans. Your blog theme is the foundation of your blogging experience. If you are starting a blog today, don't be one of the millions of people who got stuck in the past because they didn't have a theme. Buy a theme today.
Criteria to consider for selecting the best WordPress blog themes
It's important to look into the following criteria before choosing the WordPress blog themes
Pricing
There are hundreds of free WordPress themes out there in the marketplace. And not all of them are as good as they claim to be. But you don't have to spend money to get a great-looking website. You have to choose a theme that is good and affordable at the same time.
Quality
If you want a unique and professional appearance for your blog, you should pick the best WordPress themes based on quality and functionality. So it's a must-look-in for its Speed, best user reviews, integration with high-quality plugins, well-written documentation, continuous updates, and SEO friendly.
Easy to use
The next notable feature is that any WordPress theme must be easy to use and user-friendly, and easy to install. The user's experience is aesthetic for any website. All the features must be as easy to use as like drag and drop features. Even beginners have to handle the theme.
Responsive
It's mandatory to provide a seamless user experience across all devices. It should work with any device that has a web browser, including smartphones and tablets. Also, mobile-first, means that they're designed from the ground up to look great on a smartphone screen. This ensures your content always looks good no matter what screen size you're viewing it on.
Customer support
Customer support is another criterion to look for. The team should be ready and available 24/7 to support you. If you face any problems regarding installation or customized websites, the team should support you in every aspect.
In this post, let's see the 20 best WordPress blog themes in 2022.
Best WordPress blog themes
Astra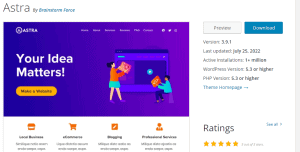 Astra is a WordPress blog theme that is suitable for a variety of blogs including personal, business, and news. The theme was designed by AstraThemes. It is used for free on WordPress.org.  It is simple and quick to use but gives you complete control over every aspect of your site, including customizing pages and choosing the colors and fonts on each page.
With Astra, you can easily manage all of your posts and comments. It is built for a large number of screen resolutions from small to big. Astra is a flexible responsive theme. You can choose from different colors for your blog and you can change the look of your blog by changing the header and footer.
It allows you to write articles and display them on the home page or category pages. Astra comes with a full-featured admin panel for managing content and settings. It has a clean and modern look and is highly customizable. It is one of the most popular WordPress themes available. Astra theme comes top in the list because of its amazing features and functionality. Compartively one of the best WordPress theme in the market. 
Divi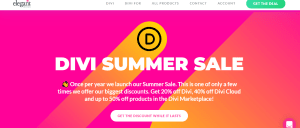 Divi WordPress theme is one of the most popular WordPress themes with over 600 000 monthly downloads on Envato Market. It lets you build websites with a completely drag-and-drop interface. It's clean, simple, and fast. It's an amazing premium theme with many unique features. 
It comes with lots of useful page elements like featured images, sticky sidebar, grid system, and many more. Divi comes with more than 30 pre-built page layouts, from basic blog pages to fully functional eCommerce sites and landing pages.
You can also easily build your own unique designs by using the visual drag-and-drop feature.  Divi has several different layouts, such as horizontal and vertical layouts, which allow you to make your website match your style and fit all of your needs. Divi comes next in the list due to its vast number of downloads and functionality. 
OceanWP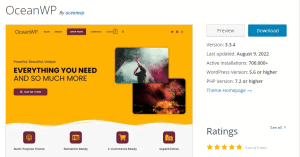 OceanWP is a beautiful, modern WordPress theme for bloggers. It is fully responsive and optimized for performance, speed, and usability. OceanWP is easy to use and install, making it perfect for bloggers looking for a clean, & unique website. 
You can easily find some cool features in this theme like social icons, sidebars, custom widgets, etc. The OceanWP theme has a lot of features that make writing posts and managing pages a breeze.  OceanWP has excellent support for mobile devices, offers the ability to post on Facebook from your site, and makes it easy to customize every page. It also has a lot of plugins which means that there are a lot of ways to add additional functionality to your website.  
You can easily customize the look of the theme by changing the color, font, and images. OceanWP comes with its own set of features, including a built-in theme options panel, shortcode support, and a custom post type. It has a cool slider on the left side that displays a slideshow of recent posts. OceanWP comes with a set of pre-designed layouts for different types of blogs.
GeneratePress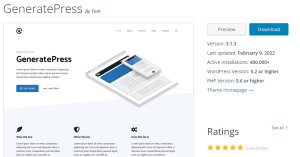 GeneratePress is an easy-to-use, free WordPress theme generator that allows you to customize your themes with a simple interface and drag-and-drop system. It's perfect for creating WordPress themes in no time and with minimal effort. It's perfect for small businesses or individuals who want to start their own website. The best part is, it only takes 5 minutes to install! 
This template is very flexible, but also extremely responsive, optimized for performance.  In one page, you can build an eCommerce store, a portfolio website, or even a magazine website. The theme allows you to create a WordPress website from scratch. It includes all of the features you need to build a beautiful website and gives you a powerful website builder for creating pages and posts.
It has hundreds of free and premium plugins for all kinds of things like SEO, eCommerce, social media integration, and much more. This theme includes more than 200 components that are ready to use. It also includes several pre-designed pages that you can use for your blog posts. The theme has a modern look with a flat design that is suitable for mobile devices.
Neve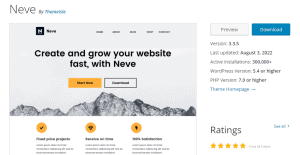 Neve is a free, clean, and minimal WordPress blog theme. This theme looks beautiful and is easy to use. It has a simple look that makes it ideal for small businesses looking for an easy-to-manage platform. With Neve, you have no need to edit or modify the code to achieve a unique look or style. You just select what you like and Neve does the rest.
It has been specially designed for bloggers to give them an easy way to edit their posts. Neve features various useful elements, such as navigation menus and a powerful search feature.  It has a dark blue header that gives it a classy look. You can also change the colors by editing the CSS.
This theme comes with a lot of widgets that you can use to add posts or links to pages. It also has a page builder that allows you to create complex layouts with a few clicks. It has a beautiful interface and an intuitive editing experience. You can edit your posts from any device, whether it's a laptop, tablet, or smartphone.
ColorMag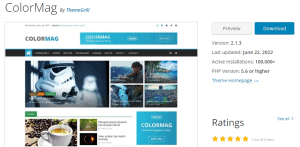 ColorMag is the best WordPress blog theme for webmasters who want a simple yet professional look. The ColorMag WordPress blog theme is the best way to quickly and easily set up a high-quality website. The theme is designed to be responsive and can be used to create web, magazine, or newspaper sites. You can customize all of its appearance, including color schemes, headers, and more. 
The theme comes with 15 different colors, 5 font sizes, and 3 slider images. You can also change the width of all text on any page through CSS. This helps you customize the look of your site as you wish. ColorMag has many interesting features like an option to change colors for the text, the background, the buttons, etc. So, by changing the color of the text you can change the entire look of the page.
It includes several color schemes that can be used in combination to create unique web themes. The template comes with several shortcodes and custom widgets. It includes several features like custom menus, blogroll, social links, post formats, custom background images, and many more.
Hestia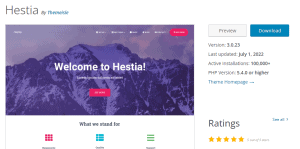 Hestia is a free WordPress theme built for bloggers who care about creating beautiful blogs. It is simple, clean, and very professional. It has many features and is easy to use. This theme supports a lot of different page types and layouts.  It comes with all the features of a basic theme but is enhanced with a unique set of features that allows users to create their own websites with it. 
It is based on the responsive WordPress theme framework, and it features a modern layout, a powerful front-end editor, an awesome selection of ready-to-use templates, a home page slider, an image gallery, a contact form, custom widgets, and many more useful features that will help you create any type of blogging website.
 You can have unlimited categories and tags for your posts and pages. You can also have unlimited sub-categories for each category and create as many custom templates as you like.
Blocksy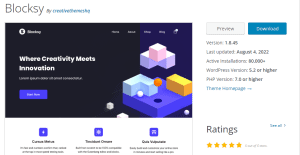 A blocksy WordPress blog theme is a free, open-source theme. It has a sleek design and a clean layout. It's a great theme for a beginner who wants to start blogging. You can use blocksy to create an amazing website in just minutes. It is different from other themes because of the blocks in the design.  It is made from a set of blocks that can be used for various purposes, like text, video, photo, gallery, etc.
You can easily change the look of the website by changing the blocks on your website. It is pretty cool because it has blocks on the left side of the screen. You can click on them and they will open up so that you can write a new post or view the most recent posts. It is a simple and clean WordPress blogging theme with no frills, just pure functionality. 
The Blocksy theme has a different color scheme for each of its pages. It uses different colors for its headline, subheadline, image, text, and sidebar. You don't need any programming skills or knowledge to use it. The theme comes with tons of shortcodes and includes many options to make your site look unique.
Kalium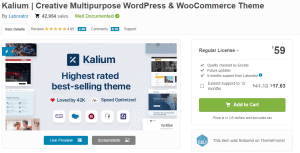 Kalium is a beautiful WordPress theme that comes with different styles of homepage designs, color options, and custom widgets. It is an easy-to-use and highly flexible WordPress theme for an online magazine, newspaper, or blog. This theme makes your website look professional and elegant at the same time.
This theme is designed to provide a unique experience to the user through the use of innovative and modern web technologies. It's built on the latest version of WordPress with lots of amazing features. The theme includes a beautiful header image, a navigation menu on the top of the page, and two main sections at the bottom of the page. 
Kalium comes with several ready-to-use page templates, useful shortcodes, and a drag&drop page builder to help you build your pages easily. Kalium comes with a lot of features, like a fullscreen slider, a custom-made admin panel, built-in shortcodes, WooCommerce integration, and more. 
Soledad

 
Soledad WordPress blog theme is a very creative and modern theme for your personal or business blog. It's fully responsive and easy to use. The main purpose of this theme is to give you the best blogging experience. The Soledad WordPress blog theme is a premium theme for WordPress websites. We have made it easy for you to create a beautiful website at an affordable price.
The idea behind this blog theme is to have a clean, simple blog. It's very easy to use and has an unlimited number of colors. It comes with a beautiful interface that gives users a lot of opportunities to present their content in an artistic way. The theme is built using powerful and unique features like a widgetized homepage, responsive theme framework, shortcodes, short-form posts, user-friendly theme options, and much more.
Hemingway 

Hemingway is a beautiful WordPress blog theme. It has an elegant look and lots of features. You can use it for creating a professional-looking blog. It has been designed to help authors to build their author pages in an organized way. It's clean, easy to use, and very responsive.
The theme with a dark blue and white color scheme. It has all the necessary features that you would expect from a modern blog theme. The navigation menu is located on the left, the widgets are organized by categories, and there is a custom post navigation menu.
The theme comes with lots of features like custom widgets, social media sharing buttons, SEO optimization, and more. The theme comes with many templates for the blog's main content area. All you have to do is fill out the template with the information you want on your site.
Jevelin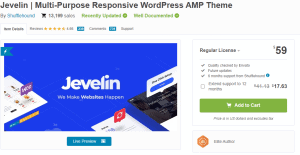 A Jevelin WordPress theme is a free theme that is designed for your WordPress blog or website. You can choose between several different color skins for your website. The most important features are built-in SEO optimization for both desktop and mobile browsers. 
This is a very cool WordPress theme. It has a lot of features such as slide-down menus, sliders, testimonials, create custom menus and post types, custom widgets, custom shortcodes, and more. You can also add your own pictures, texts, and links using the template editor.
You can also create custom sidebars using the built-in sidebar widget and layout options. It is also compatible with all the popular plugins. This theme is fully responsive and retina ready. It comes with unlimited color schemes and customizations. 
Lovecraft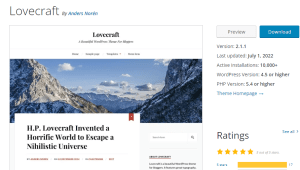 Lovecraft WordPress theme is a free theme for WordPress. It is very useful for bloggers who want to have a blog about the horror stories of H. P. Lovecraft. The theme is built on top of the WordPress platform and includes all of the features that you need to get started right away.
It has the dark and spooky background and a nice layout for horror and dark fiction blogs. It's designed to look creepy and spooky. The author used some basic HTML code and CSS to make a beautiful theme.  has a lot of cool features like the ability to have different background images on each post, and different colors for each type of text. And even more cool features. 
CheerUp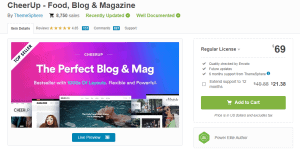 The CheerUp WordPress theme makes it easy to create blogs and websites that are more engaging, interactive, and visually appealing than ever before. CheerUp theme is the most responsive WordPress blog theme available on the market. You can change anything about the look and feel of your website using our visual editor.
 It includes a lot of features that you normally find in premium themes and it's very easy to use. It's a nice theme, and it comes with many different options. You can use it on your WordPress blog or create another page by choosing a template from the dropdown menu.
It has three layouts (homepage, category list, and post) with built-in support for custom page templates.   It is designed to be easy to use and to create a beautiful website. This theme has many features such as a full-page background image, a contact form, full-width images, a blog page, etc. It features a powerful admin panel to manage your website from a single place. This WordPress theme also comes with different color skins.
BuzzBlog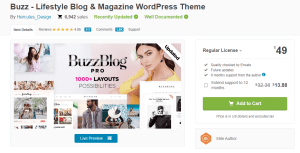 The buzzblog WordPress theme gives you a professional-looking WordPress blog. It is a responsive, modern, clean, and flexible theme. It is very easy to install, customize, and use. This theme gives you a modern layout with the following features: a 5-column layout, 2 color theme, red or blue, 2 column layout for the comments section, a lightbox effect, and social networking integration (like Facebook, Twitter, etc.)
 It is an easy-to-use blog template that makes a great way to share your ideas online. It's an ideal choice for any content website, such as a travel guide, a food website, or even a business website. It also has features like automatic RSS feeds, page counters, social media buttons, search engine optimization, and many more.
Malina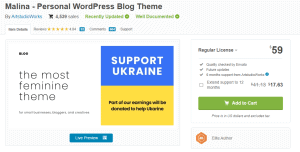 Malina WordPress Blog Theme is a powerful and fully responsive blog template with multiple layouts and customizable homepage templates which help you to create a modern, elegant and clean blog site. This is a premium theme and it is best suitable for blogs that are on topics like fashion, beauty, and lifestyle. 
It has a powerful customization feature that allows you to create an unlimited number of homepage styles. You can use a variety of tools to add images to your posts and make formatting easier. For example, you can change the font style and size. It has a lot of great features like an easy-to-use drag-and-drop homepage builder, a responsive design for any kind of device, a very flexible layout, a powerful theme options panel, and many more. 
Gillion

 
Gillion is an elegant, responsive WordPress theme with the latest coding standards. It is a perfect choice for bloggers who want to create their own blog or website. It includes an awesome set of shortcodes that will help you add more interactive features to your posts, pages, or any other section on your site, social media integration, contact form 7, custom widgets, custom sidebars, and much more. 
It's a very easy-to-use theme that is fully responsive, meaning it looks great on all devices, from phones to tablets to laptops. You can choose from six different blog layouts and two home page designs. You can change the background color of the page by clicking on a button. Also, you can add extra buttons to the menu, so that visitors can click on them and do different things.
Contentberg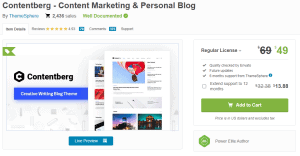 The Contentberg is a modern and responsive WordPress theme for bloggers and news websites.  It is a completely responsive theme, which provides a clean and minimalist design with a modern and elegant look. Contentberg is a very fast WordPress blog theme. The theme comes with an elegant and clean interface that lets users create posts, pages, categories, tags, and a few other things.
It has a unique design and features such as typography, icons, and layout are optimized for SEO. The Contentberg is a perfect theme for your business site or blog! Contentberg has a clean layout with beautiful images, smooth animations, a horizontal scrolling home page slider, a featured post widget, a categories widget, a tags widget, an image gallery, and a full-screen slider.
With Contentberg, you can easily customize the look of your website by using any available plug-in. It includes all the core features that you may need, such as a blog or a single-page site. The layout can be easily modified using drag & drop features. You can choose between two styles of blog content – with or without featured images.
TinySalt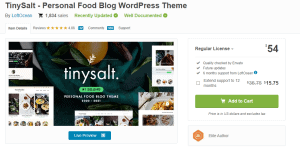 The TinySalt WordPress theme is a premium theme designed for bloggers. It's designed for a blog site, which has an attractive layout. It has a small, and clean template. This is a really simple WordPress theme that you can use for your blog. It comes with a lot of great features like a built-in search engine optimization page and a contact form. It's a great way to start blogging.
There are three colors available: white, pink, and blue. It is a light theme that will load very fast and easily. The blogger only needs a few clicks to start their blog. A TinySalt blog theme allows you to add some content like posts and categories. You also get a dashboard and a search engine optimization page. You can add photos to each post and a comments section.
Blog Prime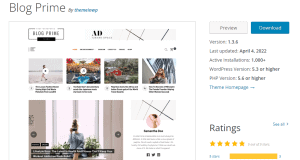 A blog prime is a very simple free blog theme to use on your website. It is a professional WordPress theme that is specially designed for blogging. It has one page, header, and footer. You can use this theme for your personal or professional use.
It has many advanced features, such as the most popular plugins, a beautiful homepage slider, the latest comments plugin, social icons, custom widgets, custom shortcodes, featured image display, comments, categories, tags, SEO, 404, and more.
You can choose from a lot of different colors and fonts. In addition, you can also upload images and create posts. The admin panel of this theme is very easy to use. You just have to go into the back end and start editing. 
Conclusion
Blogging has never been easier. With so many WordPress themes available, there are endless possibilities for what you can do with a WordPress blog. But which theme is right for you? Which theme is best for your business or niche? 
The listed best WordPress blog themes with advanced features help you to build a professional blog website and also help you to publish the latest content. You can choose a theme as per your requirements. Hope you got an idea about the 20 best WordPress blog themes. If you have any queries or suggestions please feel free to comment.