Comments are a great way to engage your audience and build a strong community. An active comment always leads to increased traffic. It is very important to stay active and respond to all comments you receive. They serve as a bridge between you and your audience to share their views and convey about your overall. Through their comments alone, you can improve your blog posts and increase your traffic. Even if you receive negative comments on your post, you need to take them positively to improve your blog post. The default comments section of WordPress is good, but it is plain and has only basic features. But do not worry, there are a variety of WordPress comment plugins that will meet all your needs and give you the best comment section. In this post, we have listed the 9 best WordPress comment plugins. Am sure this post will be useful and help you to create a great comment section.
List of the Best WordPress Comment Plugins
JetPack is the most popular WordPress plugin that is widely used all over the world. This plugin has more than 5 million active installs. The plugin team works 24/7 to support you and is updated with the latest WordPress version. JetPack is called an all-in-one plugin that has tremendous features. You can manage many features with this single plugin. This plugin is available for free as well as premium, the comment section is free. The installation of this plugin is very easy and once it is completed, it turns off the default comment section for all your blog posts. When you use the plugin, the comment section will work instantly without any configuration. The Jetpack comment module integrates with social networks and makes commenting easy. That is, visitors can log in to their social media account and reply directly to your blog instead of filling in the details in the comment section. Commenters can receive reply notifications to their comment individually. Jetpack also encourages other visitors to like the comments and encourages the commenters to subscribe to your blog so that your blog will reach many people. It is compatible with wordpress.com, Google, Twitter, and Facebook. You can choose to have an email notification for any follow-up comments. This multipurpose plugin has many features and shows you the commenting functions. 
Features
Integrates with WordPress themes and plugins

Supports gravatar, markdown

Outbound email delivery

Automatic author subscriptions

Very responsive and auto-adapting templates

It offers tools like social sharing, security, design, etc

Customizable color scheme

Reduces the amount of spam and much more
Pricing
Core plugin—-> Free
Premium Addons—> starts from $4.77 /month, billed yearly

Akismet is one of the top-rated and most popular WordPress plugins. This plugin has more than 5 million active installs with recent updates. Akismet is a special plugin because it was developed by the founder of WordPress. The team is very active and works 24/7 and Akismet is tested and updated with the latest WordPress version. It is the best comment spam protection plugin on the WordPress market. This plugin not only protects you from spam comments but also reduces disk space and boosts your website performance and SEO. The plugin is very easy to use and provides a good user experience. The alternative name for anti-spam in the WordPress world is Akismet. This plugin checks every single comment on your site and compares it to the universal spam collection. Once it has been checked and removed a comment, you can classify it as malicious. This plugin has a built-in algorithm that learns from its mistakes and the particular actions of other websites. That is, when other websites start reporting particular spam, Akismet learns from it and reports when the same threat occurs in the future.
Features
The comment section is clean and safe

Own spam filtering algorithm

Easy to set up and implement

Scans your blogs, comments, and contact form

 Displays URL in the comment body to find the malicious link

Allows you to set a status history for every comment to find whether it is created by Akismet or the moderator

Allows moderators to configure spam parameters such as links, keywords, etc
Pricing
        Core plugin—-> Free
         Premium Addons Bundle(Yearly plan)
                      Personal use—> Pay as you can
                      Plus—>$8.33/month, billed yearly
                      Enterprise—>$41.67/month, billed yearly
                      Enterprise Plus—>208.33/month, billed yearly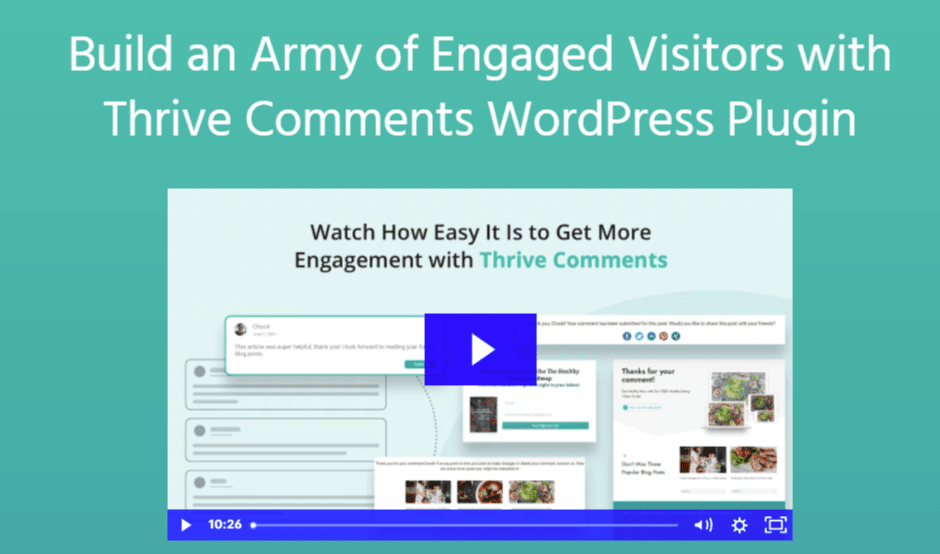 Thrive is one of the leading companies that offer WordPress themes and plugins. In this case, it has a plugin for comments called Thrive Comments. Thrive comment is part of the Thrive suite, a premium plugin that comes with many more features. It is worth spending money on this comment plugin. This plugin is much more appealing and gives your an attractive comment section. This plugin assigns similar badges to the comments depending on their quality and allows them to be shared on social media. Thrive plugin has a unique commenting system solution that allows commenters to comment on your website using a voting system. The commenters can also upvote and downvote the rest of the comments. It has a comment button at the top and bottom of the comment section, so commenters do not have to scroll up or down to leave a comment on your post. The plugin is user-friendly and allows you to place comment sections anywhere on your site. One super cool feature is that it redirects first-time commenters to a welcome page with a coupon code for your Woocommerce site. This plugin has several shortcuts that help you manage comments in no time. It also allows your team to manage the comments. There is a special moderation panel that helps you sort the comments. You can turn on and off all the important features. There are five reports available on the report page: Comments Graph, Vote Engagements, Most active commenters, Most popular posts, and Most upvoted comments. Thrive Comment has a variety of features that you could list.
 Some of them are
Features
Supports social login, lazy load, and real-time comments

Detailed reports for better data-driven decisions

Lets you configure comments in different ways

Has a clean and trendy design

Allows you to give immediate incentives for commenting on your post

Auto-generate visitor information

Allows you to turn comments into conversation

Comments can be categorized as un replied, pending my reply, pending, featured, and spam

Analytics in the comment section

Implements gamification feature
Pricing
This premium plugin is categorized into three license packs:
1 License Pack: $19 for a single website
5 License Pack: $47 for five websites
15 License Pack: $97 for fifteen websites

WpDiscuz is one of the top WordPress commenting plugins with over 90,000+ active installs. The plugin team keeps it updated and also tests it with the latest WordPress version. It gives your comment section an extremely attractive look. The WpDiscuz plugin works by embedding shortcodes between posts. This plugin is free, and if you need addons for your comment, you can upgrade to the premium plugin. This plugin provides the best user experience by allowing the user to comment the fastest due to its boosted core. With this plugin, you can customize a number of attributes related to the design and look of your comment section. You can also integrate this plugin with other plugins like MyCred, Ultimate Member, BuddyPress, PeepSo, Users Ultra, User Pro, and so on. You have the option to choose whether you want to display the newest, oldest or most frequently posted comments in the comments section. In this plugin, you have the option to set up a live update feature and you can also set a time interval in which new comments are automatically retrieved. The biggest advantage of this plugin is the new inline comment and feedback features. Users can rate your post without leaving a comment. It has dedicated buttons like the Read More button for long comments and the Show Reply button for comment threads. The plugin is handy and very easy to install. The plugin includes other features like
Features
Built-in anti-spam

Social sharing

Lazy loading

Content author notification

Ajax commenting

 The super-advanced sorting system

Multi-level comment threads

Like & Dislike button

Multiple line breaks

Integration with post Matic
Pricing
Core plugin—-> Free
Premium Addons Bundle—>$ 99(Yearly license and comes with 16 addons feature)

Disqus is one of the most popular and widely used WordPress comment plugins. It is a hosted commenting platform that works externally to WordPress, meaning that comments are first sent to the Disqus server and then published to your blog. So you can work with other systems and sites like Squarespace, Tumblr, Bloggers, etc. The plugin has also been tested with the latest WordPress version and is up to date. This plugin has more than 100,000 active installs which is a good sign. With the interactive comment section, you can easily engage with your readers, build a good relationship with the readers and also retain the readers. Disqus plugin can be installed with one click, which means you need not have any programming knowledge. It is very easy to install and use. With this plugin, you can sort the comments by new, old or best. The Disqus plugin helps your visitors to reply to the responses via email and share with other users. Also, your visitors can add emojis, images, videos, etc to comments. The plugin has cool features like
Features
Social sharing buttons

Social media login

Shadow banning

Automatic spam moderation

Banned and trusted list

User reputation

Media commenting

Works on any device

Comment voting system with cookie tracking and so on
Pricing
Core plugin—-> Free
Premium Addons Bundle 
Comes with a monthly and yearly subscription
                   $10 Plus-max 50,000 daily views 
                   $99 Pro-max 150,000 daily views 
                    $108 Plus-max 50,000 daily views 
                    $1068 Pro-max 150,000 daily views s plugin

The Disable Comments plugin is one of the best plugins for WordPress comments. The plugin team is super fast and always active. They update their plugin on a regular basis. This plugin has more than 1 million active installs and is tested with the latest WordPress version. As the name suggests, this plugin does exactly its job. This plugin helps you to completely disable comments on your website. You can also disable comments from specific posts, pages, custom post types, media, etc. You can also remove comment forms and disable existing comments from showing. This plugin is mainly used to stop spammers for your website and gives you complete control over access to it. It is important that you have to delete the previous comments before installing this plugin because depending on your theme, there is a possibility that your previous comments will be shown to your visitors. The plugin is user-friendly and you can hide all the activities with just one click.
Features
Disable comments via XML-RPC and REST-API

Turn off outgoing pingbacks

Disable comments RSS feed

Disable comment related widgets

Removes X-Pingback HTTP Header

Multi-site network supported
Pricing
This plugin is completely free.

Super socializer is another great WordPress comment plugin with more than 50,000 active installs. The plugin is well maintained and updated with the latest WordPress versions. As the name suggests, this plugin is very social-friendly and you can use over 100 social networks. This plugin helps you to integrate social media into your comment box. This plugin fulfills all the social requirements needed for websites like Social Login, Social Share, and Social Comments. When a visitor logs in to your website, all their details are stored in your database and you can communicate with the visitors as and when required. The configuration of the plugin is very simple and you need not create an account on a third-party website to use this plugin. The loading time and social sharing icons are optimal compared to all other plugins. It comes with new trendy icon themes for social login and social sharing. This plugin is responsive and has eye-catching icons.
Features
Multisite compatible

Enable Sharing at WooCommerce products

Compatible with AMP

Customizable target URL for sharing

Enable URL shortening to use in sharing

Social login from 24 social networks

Compatible with PHP8, myCRED, Gutenberg editor, BuddyPress,bbPress, and WooCommerce

Supports HTTPS enabled websites and much more
Pricing
This plugin is completely free to use tremendous features.

The Yoast plugin is one of the most popular WordPress plugins and is used by people all over the world. Thus, Yoast Comment Hacks are also becoming more and more popular. The term hacks come from the fact that it uses the native WordPress comment section and adds some extra features to it. With this plugin, managing comments becomes easier. One neat feature is that it adds a button to your WordPress toolbar and lets you email all commenters in a single post. Another great feature is that this plugin redirects your first-time commenters to a thank you page where they can sign up for your email list. This plugin prevents spam by disallowing comments over a certain length.
Features
Clear comment notification emails

Disallow comments that are too long or too short

To change the comment parent ID there is an input field on the comment section

There will be a link in the comment section that allows the admin to email the commenters individually

Comment routing option and much more
 Pricing
This plugin is completely free.

Social(Facebook) is one of the best WordPress commenting plugins. This plugin has more than 20,000+ active installs with ongoing updates. The plugin team is active 24/7 and is also updated with the latest WordPress version. This is a wonderful tool to show FB comments to your website visitors. It also helps you to increase traffic to your website. This plugin is easy to set up and works seamlessly with Facebook and WordPress. The plugin is also very easy to use, you just need to create the Facebook App ID. With this plugin, you have the ability to add animation effects to your Facebook comment box. Works very well with other WordPress plugins and themes. Helps you customize elements like font color, background, fonts, and much more. WpDevArt Facebook Core plugin is free and premium for additional features. It has extensive features like
Features
Option to set language

Option to set ordering and number to display

Can set box title

Option to set position, width, color scheme

39 animation effects and a lot  more
Pricing
Core plugin—-> Free
Premium Addons Bundle(Yearly plan)
                       Personal—> $10 
                      Business—>$21
                       Developmental—>$31
Conclusion
As mentioned earlier, commenting plays an important role in engaging visitors to your blog post. It helps to increase your website traffic and build a good bridge between your website and the commenters. The comments section must be user-friendly and engaging so that visitors can share their views with you. They can even let off steam there with their words, images, videos, emojis, etc. So, it is very important to have a clean, neat comment section. That's why we have compiled a list of the 6 best WordPress comment plugins that you can use. The plugins listed above are easy to use and have many more features. The list is small and manageable with 6 plugins, but surely these plugins will meet your needs. You can choose one of them depending on your website requirements. Hope you got an idea of the 6 best WordPress comment plugins. If you have any queries, please feel free to share with us as it is very important for our post as well. 
Hope you like our post, Best WordPress Comment Plugins. You can follow us on Facebook and Twitter to get the latest updates.

Prabhu Ganesan provides his web development and WordPress services independently. He is the founder of WPBlogX. He is very much involved in WordPress as it becomes second nature for him. You can get in touch with him by visiting his website – WPBlogX.com and you can also find him on Twitter @gprabhucbe.