Looking for the best WordPress two-factor authentication plugin for your website. Stay connected with us to check out the best WordPress two-factor authentication plugins. Two-factor authentication can also be stated as 2FA. It is actually second-layer security where you can add it to your WordPress website to build additional security. You have to add this additional level of security on the user login page.
The 2FA is used by popular and largest online platforms like Google. It is important to make sure that your website is not been interrupted by third-party attacks to steal your data. Always people should trust your website, that how you can grow your business website. Hackers can attack any website easily, but you need to build a website where even hackers find it difficult to break.
So to create a secure website all you need to do is find the right tools and two-factor authentication plugins. There are plenty of WordPress 2FA plugins available in the market. But finding the best one will be a tedious task. In order to reduce your burden, we have an ultimate collection of the best WordPress two-factor authentications plugins.
You can choose anyone from the list as per your requirements. You can easily install any one of these plugins which allows you to provide your user's account with additional layers of protection. You have just installed and activate any one of these plugins and the plugin will take care of the rest.
Two-Factor Authentication
If you protect your website just with a password, it can be easily broken mainly by brute force attacks. But by adding 2FA it will add another layer of second not just the simple password. What exactly 2FA is that it requires to enter a captcha or required to enter an additional PIN number to log in.
It is like users have to confirm their identity apart from passwords. The code will be sent to your mobile number or any other devices where a hacker accesses the website without knowing the additional code. It is like a One Time Password for security reasons.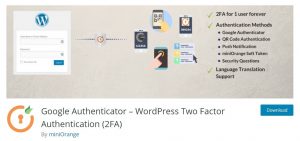 Google Authenticator is the leading WordPress two-factor authentication plugin widely used all over the world. The plugin has nearly 20,000+ active installs. It helps you to add an extra layer to the login page of your WordPress website. It helps you with 6 kinds of 2FA such as SMS verification, Soft tokens, Push notification, QR code authentication, Email verification, and Phone call verification.
In case if you are using a desktop for the authentication they have to give email verification. For the other methods a smartphone is required and hence for the phone call verification landline is required. The soft tokens, QR codes, and push notifications are given by the mini orange authenticator app. It is possible to download this app on both Android and iPhones.
This plugin can be used for device notification as well as for the WooCommerce websites. It provides you with multiple backup solutions where there are severe attacks. Using this plugin both the users and admins can activate the 2FA service and set up their connection, and they can connect to the WordPress website using username+password+2FA or username+2FA.
This plugin will not support WordPress multisite and the authentication is done through a phone call and YubiKey. Though the attackers break your password they won't be able to login to your website. When you try to log in, a code will be sent to your app. You have to use that code to log in. This app service has nearly 5+ million active installs.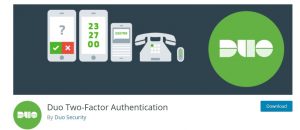 Duo two-factor authentication plugin is one of the leading WordPress plugin. It is very easy to set up this plugin. You have to just install this plugin and sign up for the services, then you can start logging in without a password. It is completely a cloud-based security provider which gives you 2FA as a service to protect your account from attackers. You can use this plugin on your smartphone itself to protect your website.
It intimates the user to enter their id by using their smartphone or a hardware token. In order to obtain the security keys, you have to download and install the Duos plugin and app and have to create an account on the Duo Security website. In order to integrate this plugin into your website, you need an integration key, API hostname, and secret key. If the keys are verified you can set the control over which user roles can opt for Duos two-factor authentication and the other user roles can just go with passwords.
This plugin comes with multiple methods of authentication such as one-time password using Duos mobile app, OTP via SMS, one-tap, phone call, short-codes to integrate 2FA features into a page or widget, OATH-compliant hardware token devices such as SolidPass, Yubikey, etc. You don't require any additional software and hardware to run this plugin.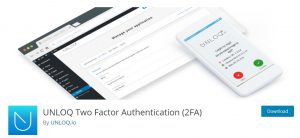 UNLOQ is also one of the best WordPress two-factor authentication plugin widely used. This plugins setup process is completely easy and simple, supports short-codes, custom login URL. This plugin allows you to install an identity authentication system to your website that doesn't require a password. UNLOQ plugin gives you three methods of verification such as email login, TOTP, OoB through push notifications.
The push notification option is widely used. This method will work through the plugins mobile app, the users will receive a message that they have to approve or decline by verifying whether their real users or not to log in to the account. The rest two methods are complementary where users don't have an internet connection or they are not near their phones during the attempt.
You can even choose the type of login attempt such as only password, only UNLOQ, or using password and UNLOQ for additional security. By choosing only UNLOQ they provide you the time-based password, push notification, or email to your phone as an authentication. The app is available for both Android and iPhone users with fingerprint scan authentication.
In order to link your website, you have to scan the QR code with your smartphone. In case your mobile is been lost, you can immediately deactivate your device to protect the information.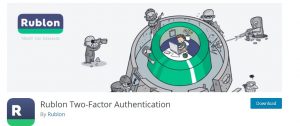 Rublon is one of the leading WordPress two-factor authentication plugins. It is a one-click download and one-click activation plugin. It just requires a little configuration and you don't have to add anything. This plugin is free to use for one website and if you want it to add to your business website then you have to switch to the paid version.
Activating this plugin you have to just confirm your identity by clicking the link that is sent to your email during the login and you have to input your WordPress password on the next logins. In case if you want additional security on your phone you can install the mobile app and you have to confirm your identity by scanning a rublon code that is given to you.
This plugin has its own dashboard for you to configure. But you will be able to protect only one user per account and it comes with multiple options. It is considered as one of the best-reputed security providers which secure the login page.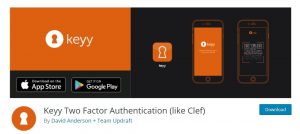 Keyy is an excellent WordPress two-factor authentication plugins that increase the security of your website's login page by adding additional security verification. To log in to your website you have to scan the code with your mobile phone. It will replace your default login page with the custom login page where you have to select the QR code and a key wave to log in.
Another method is you have to install this plugin on your WordPress website. Then you have to enter the username, password, and one-time password, or other 2FA tokens. The plugin will replace your passwords with the sophisticated RSA public-key cryptography where the same technology SSL websites use for secure data transfer. It uses a 2048 bit RSA digital key which will be stored on the user's mobile phone.
It doesn't maintain any database of user profiles and login credentials. The digital key will be secured in the android keystroke or apple Keystore, that can be accessed through users mobile phone protected by a fingerprint scan or a 6 digit PIN. So that the data will be safe even the phone is lost.
Just with one click, you will be able to access all your websites using this plugin. It has the ability for the admin to impose scan or password policies on users. Even if your mobile is lost, you can disable the plugin through your web hosting account.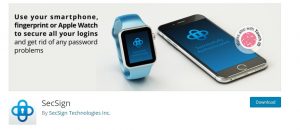 SecSign is an effective WordPress two-factor authentication plugin. It will replace your default WordPress login page and lets you log in to your website with your smartphone or even an apple watch. It states that you don't have to enter your password to log in to your website. In order to use it on your mobile, you have to install the SecSign app. You can get this app on both Android and iPhone.
Then you can choose the PIN or biometric identification. SecSign comes with the art of encryption methods to ensure brute force protection. The private keys generated by this plugin are not connected to any external server. Instead, all the keys are generated directly from the mobile app and you can only view it. This plugin uses its personal id platform: SecSign ID.
You will never be using the WordPress credentials. It also has verification methods like fingerprints for Apple users and intricate techniques like custom image selection. The plugin is easy to use single sign-on with 2048 bit security. Using this you don't have to enter long cryptical passwords, time-consuming retyping of codes from SMS, or reading of QR codes. It gives you high security and has strong cryptography on all levels.
Conclusion
In this current world, running a secure website is really a tedious job. Each and every day you push into a situation to worry about your information on the website. But having a highly secured website you can be out of pressure and relax. To secure your website two-factor authentication plays an important role. Running a WordPress platform made your task easy.
Since there are dozens of WordPress two-factor authentication plugins available, we have made the best choice for you to choose from. All the plugins mentioned in this are good and they help you to improve the security of your WordPress login page. The mentioned plugins are reliable and flexible for you to make use of. Setting up the two-factor authentication is a pre-emptive measure to protect your website from attackers.
It's just to keep your website safe and secure. The listed plugins are wonderful WordPress two-factor authentication plugins that will never let you down even if your password is broken. You will be able to handle everything through spammers try to attack. The plugins will definitely satisfy you and even build trust in the users that your website most secured.
Hope you got an idea about the best WordPress two-factor authentication plugins. If you have any queries, or if you come across some other best plugin that is not on the list, please feel free to share with us. You can subscribe to us on Facebook and Twitter.