Convertful gives you a complete solution to easily convert the visitors into leads. It lets you create subscription forms in minutes using a compatible drag and drop builder. It doesn't require single lines of code. Convertful is a tool to engage and convert site visitors into subscribers using behavior-based opt-in forms.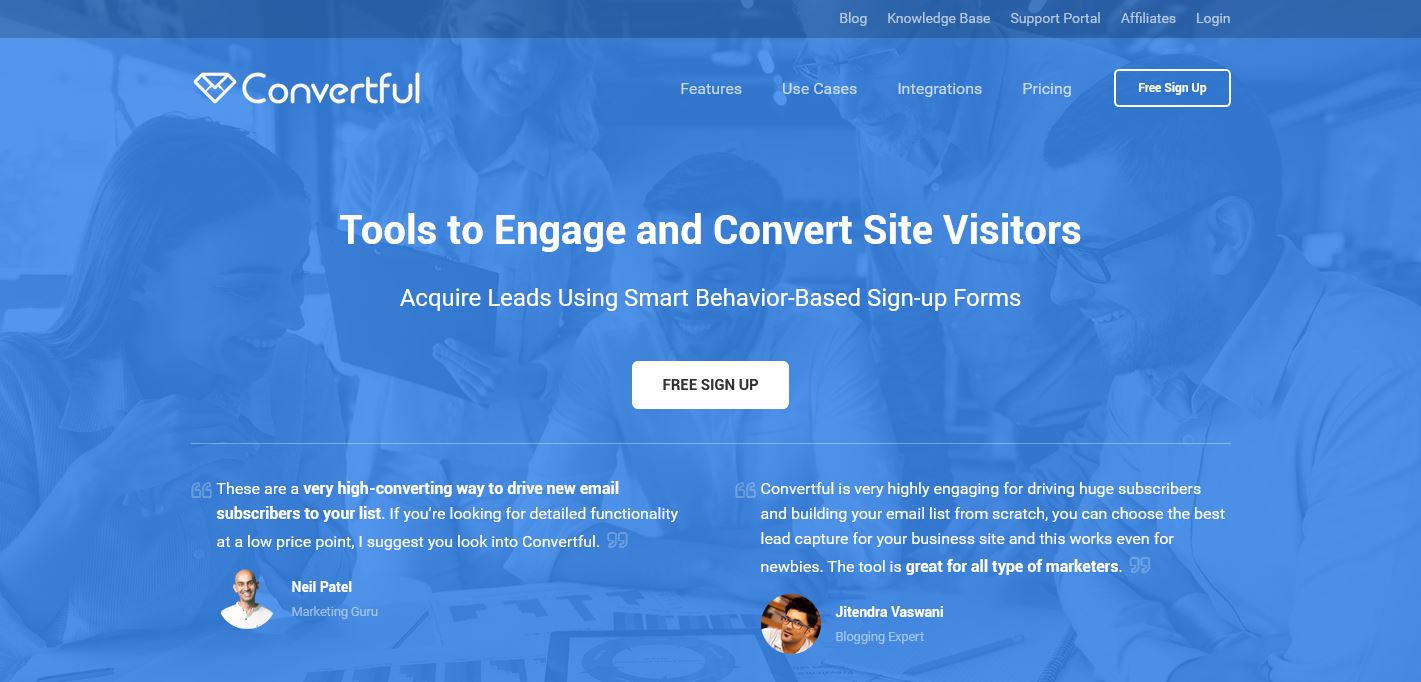 This plugin is an ideal solution for bloggers, e-commerce sites, businesses, marketing, agencies, professionals, and sales that let to grow your business without taking much effort. It is a great tool for all type of marketers. This plugin works effectively in all major e-commerce platforms and email marketing software.
Converful is composed of 50 amazing signup form templates that are optimized to work conveniently for mobile displays. It includes features such as A/B split testing functionality, drag, and drop form creator, exit intent triggers, all modern sign up form types, leads recovery, behavioral targeting etc.
Note:  Convertful provide 14 Days Money Back Guarantee, if you are not satisfied with this product.
These simplified features help users to engage and convert site visitors. With this plugin, you will be able to customize styles, layout, elements, colors, sizes, shapes, fonts, etc. This plugin lets you create any form as you ever wish. Convertful provides visitors the best user experience with gentle display triggers.
It gives an automatic relevant lead magnet for all the future posts in a category. Convertful gives you a chance to appreciate exact focusing by giving you a chance to set the definitions and tenets of your structures, similar to when they show up and to whom they ought to show up to. Annoying-free forms with full control of triggers and conditions defining if the form should appear.
Advanced targeting conditions including time on site, page URL and URL get parameter, session start/end URL, date, interaction with other forms, referrer, number of visits, specific cookies, browsing device, screen width, and more.
This plugin helps you to see whether the lead data reached the email list or not. If the data doesn't reach, then it informs you and stores your new leads to re-submit automatically once the issues are solved.
Tools Integrated With: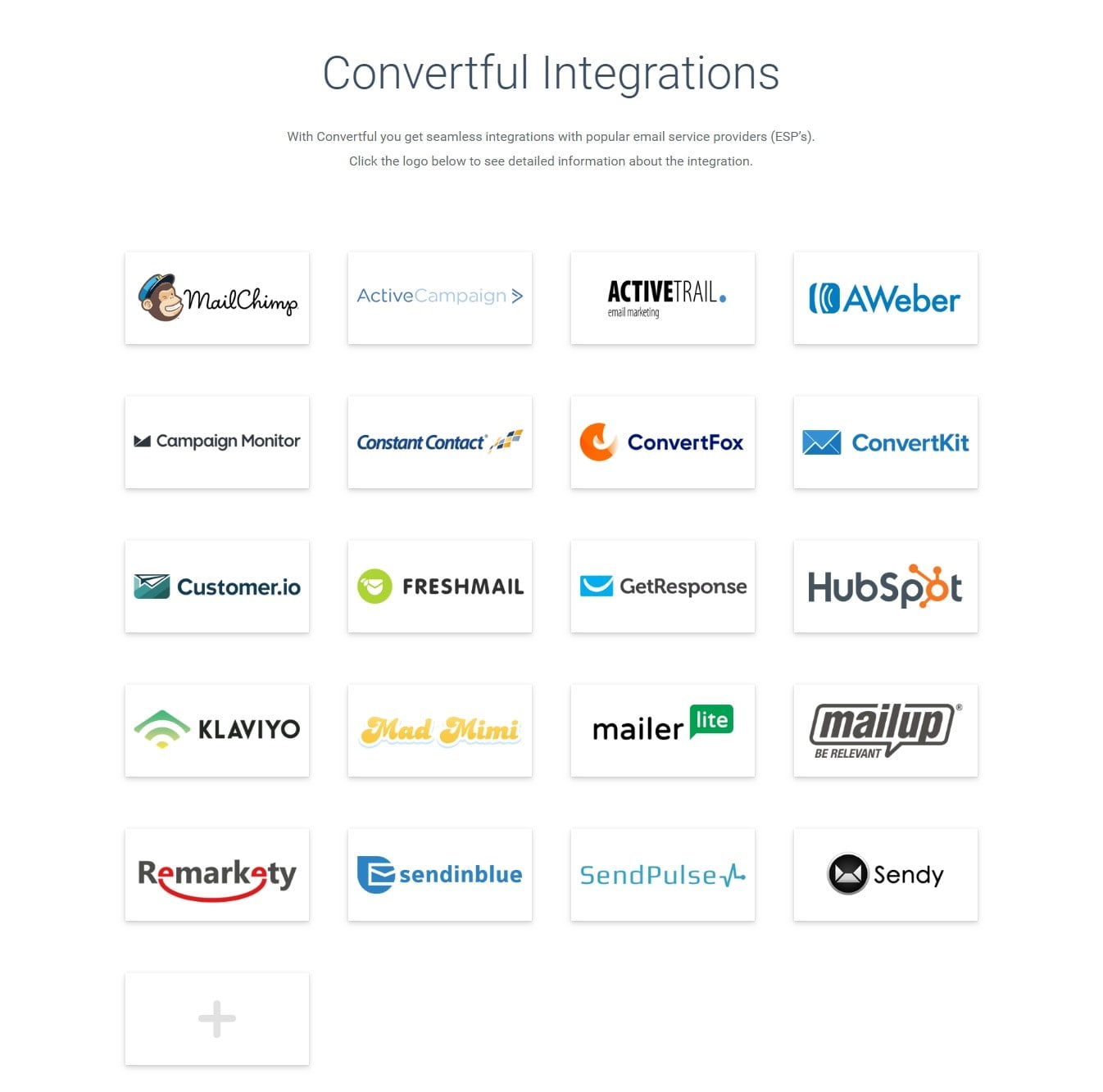 MailChimp.
ActiveCampaign.
ActiveTrail.
AWeber.
Campaign Monitor.
Constant Contact.
CovertFox.
CovertKit.
Customer.io.
FreshMail.
Getresponse.
HubSpot.
Klaviyo.
Mad Mini.
Mailer lite.
Mailup.
Remarkety.
Sendinblue.
Send Pulse.
Sendy.
Key Features of Convertful:
50 unique form templates.
Evergreen countdown timers.
Mobile friendly forms.
Remarkable display animations.
Customizable layouts, fields, positioning, etc.
Social signups.
Powerful display rules and targeting functionality.
A/B split testing.
All modern form types.
Shows yes/no forms.
Tracking pixels for conversion events.
Send data to multiple marketing software.
Add hidden data fields.
Offer welcome discounts.
Communication notifications and much more.
To Install and Activate Converful:
Move to WordPress Plugins>Add new, in the search bar type in 'Converful'.
Now install and activate the plugin, this plugin contains the name Converful MailChimp forms.
Once you activate this plugin, you will find a button 'Connect to Converful'. Click on the button.
Once you connect, you have created an account. Here you will find an account creation window.
After filling the details, click 'Create an account and Connect' button.
That's it, the account is connected to your WordPress website.
Now you can start using it, by pressing the 'Create New Optin' button.
These are the steps to connect converful for a new account. In case if you already have an account, then follow the below steps:
Login to your existing converful account, and then move back to your WordPress website
Once the plugin is activated, you will find a connection window, in that window click 'Connect to Converful' button.
Now this plugin will automatically recognize your account, and to connect, it just insists you press the 'Approve' button.
That's it, your account is connected, and you can start using this plugin by just clicking 'Create New Optin' button.
Note: The above steps can be used if you are a WordPress user. For other website users, you can just add the converful HTML tag and start working with the widgets of converful. You need not to install the converful plugin when you add the <HTML> code.
Widget Creation:
It contains features such as widget types, customization, display rules, success actions, and embedding inline widgets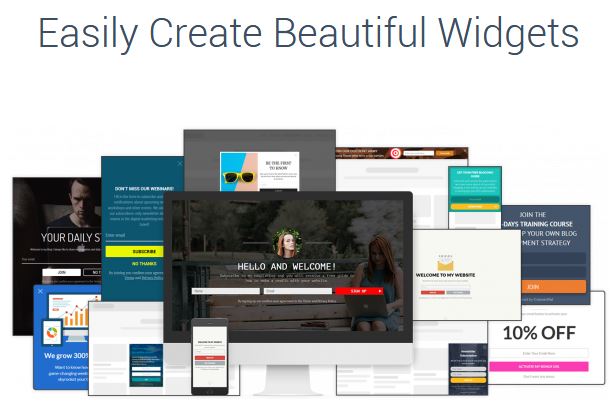 Widget types:
There are 5 widget types that you can use with converful. They are:
Popup
Scroll box
Floating bar
Welcome screen
Inline

Customization:
Convertful plugin allows you to easily customize the layout, colors, content, shapes, positioning, etc. In order to customize it, open the widgets Design tab. Here you have options such as:
General appearance
Desktop and Mobile preview
Layout and Columns
Widget elements
Form Field settings→ It consists of default and custom input fields, mandatory fields, drop-down fields and radio buttons, hidden fields, and agreement fields
Cropping, resizing and rotating of images
There is also a possibility to create multi-step widgets by adding 'Callout' and 'Thank You'
Note: Callout (Yes/No Forms):
Callout screen allows you to get a preliminary consent of the visitor with the offered value, by replacing form fields and submit button with 'Yes' and 'No' buttons.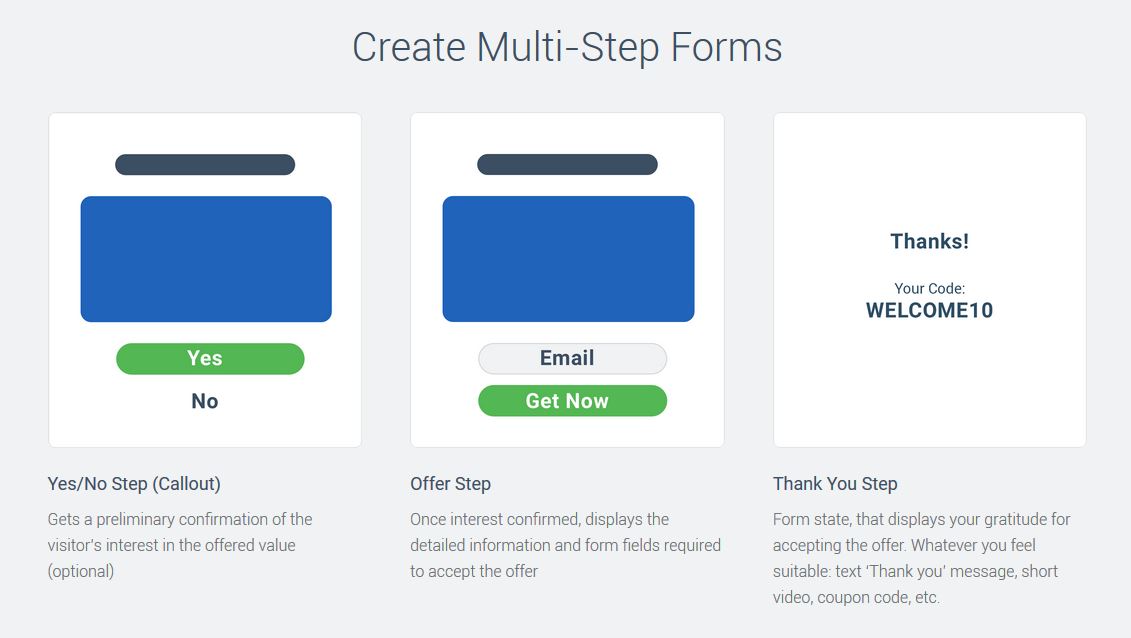 Thank You:
This option allows you to show your gratitude to the visitor for subscribing. You can also use it to provide offered value, which should be available after subscription, such as coupon codes, links to related articles or webinars, etc.
Using own HTML.
Using own CSS→ if you are using CSS styling, then you have to add '!important' rule.
Widget ID Selector.
Display Rules:
It contain options such as
Display triggers.
Targeting.
Show only if.
Multiple targeting conditions.
Person parameter.
WordPress specific targeting.
Don't show if.
Tracking pixel code.
Success Actions:
It contains a set of available actions, that perform when the visitor submits your widget. Here you have options such as

Integrations.
Email notifications.
Redirect URL.
Names of post variables(This is optional).
Conversion pixel code
Embedding Inline widget:
In order to define inline widget to your website, you have to set up Place the Widget option from the Display rules tab. Then depends on your website connection type, you can choose the following anyone to embed the widgets:
Via custom elements.
Via the embed code.
Based on the shortcode( This can be done only through plugins).
After the post content(This can also be done only through plugins).
These are the main options to play with the widgets. Once done you can move to your WordPress website to see the changes.
Problems that Converful is able to solve:
Converful is able to solve issues like losing subscribers, forms spamming, and non-responsive/ non-mobile friendly forms.
Losing subscribers:
Many of the e-marketers are not aware of losing their subscribers. Form creation software simply ignores the API issues and those, who subscribed during the issue period, will never reach the contact list.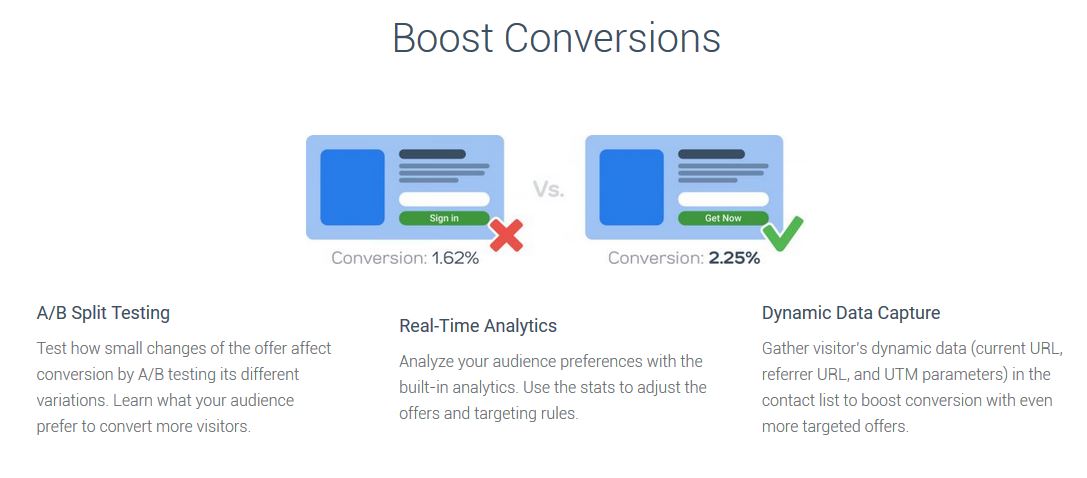 But converful plugin helps the subscriber to see if the lead data has reached the list. If not, this plugin stores the data during the issue period and sends you a notification about the issue and then it automatically sends them back to the list once the connection to the list is restored.
Forms spamming:
There is an annoying issue that the same offer appears in different popups on your website, inside boxes, bars, etc. That popup on top of each other. That forms will be displayed on all the pages, and that keeps appearing for visitors who have already closed the form.
This spam is annoying for visitors. But converful tool will help you in these cases to target the forms based on URL, behavior, and interaction with these forms. With this, you can create the relevant offers that only the right people see at the right time and place.
Non-responsive/ non-mobile friendly forms:
For many different services, the mobile version of the forms is a complete mess. It badly affects the layout, styling and covers the most part of the mobile screen. Google expects that any website should be mobile friendly and depends on that they provide you the ranking score.
If the website is not responsive, then it might lead to poor ranking. In order to overcome that, convertful has a responsive design for the forms, hiding excess data that overlays too much content on mobile screens. Thus, each Convertful form template has mobile version meeting requirements of the Google Mobile-Friendly Rules.
Convertful pricing plans:
Convertful offers the accompanying venture evaluating plans for clients to browse. Give the points of interest a look, and select the best arrangement for your business.
Convertful Update Plans:
Full Widgets Localization —  DONE
Right now our flexible builder allows translating most of the widgets' parts. And when we implement the full localization, you'll be able to translate even small details like error messages and so.
New Fields Types: Date and Textarea —  DONE
Two new fields types that you can use for your forms.
Deeper Integrations with Popular ESPs — In progress
Additional options for adding new subscribers to the popular ESPs. Additional automation like "add a tag to the contact" and so.
Survey Widgets  — In progress
Ability to create single-question survey widgets (without asking for email).
Multi-State Forms — In progress
Ability to add unlimited screens to your widgets and build more complex logic for them. For example, you can offer different lead magnets based on the survey from the intro screen.
Targeting by ESP's tags and lists
Ability to target widgets based on visitors' parameters in the connected ESPs.
Intercom Integration
Ability to use Intercom as data-destination for the submitted forms. This will allow qualifying Intercom leads based on the Convertful data.
Zapier Integration
The ability to connect Zapier as another data destination for the submitted forms.
Team Invites / Shared Widgets / Sub-Accounts
Ability to share widgets for other team members. Please note: this will be available as a separate plan option.
Scheduled Email Reporting
We'll send weekly reports about the widgets' performance.
Whitelabel Dashboard
Ability to use own domain and branding. (Only for the holders of Whitelabel Agency plans).
Gamification Widgets
Ability to use "Spin-the-wheel" and, probably, some other gamified widgets behaviors.
Survey Widgets and Gamification Widgets will provide you with completely NEW outstanding tools and strategies. Team Invites / Shared Widgets / Sub-Accounts and Whitelabel Dashboard features that are essential for Digital Agencies.
More Feature to Come:
Improved Widgets Templates
Convertful evolved greatly since the previous templates were created. Now we can offer much greater flexibility and cover more use cases.
Downloadable Reports
You'll be able to download reports about widgets' performance as a single file.
Native Shopify Plugin
Right now you can connect your Shopify store by embedding the Convertful JavaScript code. The native plugin will make this even simpler and will allow targeting by some additional parameters, like the cost of items in the cart and others.
Landing Pages
We'll split this into smaller feature requests.
Simpler Integration with Google Analytics
Right now you can track widget shows and subscribes using custom JavaScript fields. When we implement this feature, Convertful will notify GA about these events automatically, when GA exists on the page.
Conclusion:
When you make a decision and decide to buy this tool, it is not only enough to check out the reviews from the experts, but it is also important to see if the common people who are using it are really satisfied with this product.
In order to find out, we have created a behavior-based Customer Satisfaction Algorithm™ that gathers customer reviews, comments and Convertful reviews across a wide range of social media sites. This helps to gather information about the positives and negatives of this tool.
With all this information, you can decide whether to buy this tool or not. Hope you liked this convertful tool review. If you have any queries please feel free to comment on us. You can subscribe to us on Facebook and Twitter.
Convertful Review
Pricing

Features and Flexibility

User-Friendly

Customer Support

Get More Subscribers

Responsive Sign-up
Summary
Convertful converts visitors into subscribers using behavior-based opt-in forms, it helps in acquiring more leads for your website without coding knowledge. Convertful provides multiple sign-up form types to gather leads. It has lots of integrations with popular email service providers. Convertful supports all CMS and multiple eCommerce platforms. It has 50+ Beautiful responsive Templates so you can work with it a lot.