There are many page builder plugins available on the market but Gutenberg is a new WordPress editor which actually replaces the current TinyMCE editor. Currently, Gutenberg can be installed in your WordPress as a plugin and see the features of it. In WordPress 5.0, this editor will be inbuilt within the WordPress core. The main aim of this editor is to use WordPress in a simple and effective way.
Gutenberg is a good initiative editor, which will be very useful for the WordPress beginners. There is no fault with the tradition editor, but traditional editor lacks in certain functionality as compared to this modern editor. Gutenberg gives you completely a new editing experience, by focusing on the block of contents.
Block of contents is that it represents the buttons, images, video embeds, widgets, tables, regular text, paragraphs, shortcodes etc. with this editor, you can customize your own layout and it can be saved as a reusable block as well.
Gutenberg supports 34 embeds and if you want to embed something, just type the URL, Gutenberg will do the rest of the works.
The developers wish to replace the use of shortcodes adding the rich feature to posts and pages. If you have any doubt working with this, you can access the Gutenberg demo from the WordPress dashboard. In order to use this editor, you will find two options like New Post and Demo.
You can click either option to start working with it.
This editor is currently in beta testing. You can bring it to live only in WordPress 5.0. But the release of WordPress 5.0 is not yet announced. So keep waiting for the new launch and am sure you will enjoy working with this editor.
Gutenberg for @WordPress now has 420k active sites and we've tracked 213k posts written with it the past few weeks, only counting @Jetpack sites. Will have some block stats here in future! The original before-5.0 goal was 100k sites and 250k posts: https://t.co/S5Oju7cMRP

September 20, 2018
Reasons for Gutenberg
In the current TinyMCE editor, you can add links, pictures, text, include headings etc. But it is too complex to include these because you need to do this by including shortcodes. Moreover, you need to know about HTML and CSS to give a complete layout of your website.

If not, you have to search for the apt plugins to satisfy your needs to give the exact layout of what you require. Doing is not so difficult task, because WordPress CMS is just meant for its simplicity. But for the future purpose, when WordPress need to compete with other CMS, then obviously WordPress should increase its standard of editing.
In order to face the future world challenges, Gutenberg editor is inbuilt with WordPress 5.0. With this editor, you will be able to create splendorous pages and posts as you wish your website should appear to the public. Many users wish to have drag and drop options, to create their website.
In TinyMCE editor, you can include third party drag and drop option to create the content. But in Gutenberg WordPress editor drag and drop option is builtin and you need not go for the third party plugins. This seems to very user-friendly and simple to use.  This editor is compatible with all the devices.
But it is currently used as a plugin. By installing and activating this plugin, you can experience its features, and later you can make it live with WordPress 5.0. The following steps are to install and activate WordPress Gutenberg.
Steps to Install Gutenberg
Gutenberg is a new plugin available in the WordPress plugin repository. This plugin so far has 400,000+ active installs. You cannot gain the full features of the Gutenberg editor. You can just install it as a plugin and gain the basic features and helps to know how well it works.
Move to Plugins  > Add New
In the search bar type, Gutenberg and then click install now button

Once the plugin is installed, click on activate button
That's it, the plugin is activated and you can start working with this plugin, by moving to Posts  > All New. Now you feel the new experience working with the editor.
There are many new features in this editor, just try to install it and gain its advantages.
Gutenberg Editor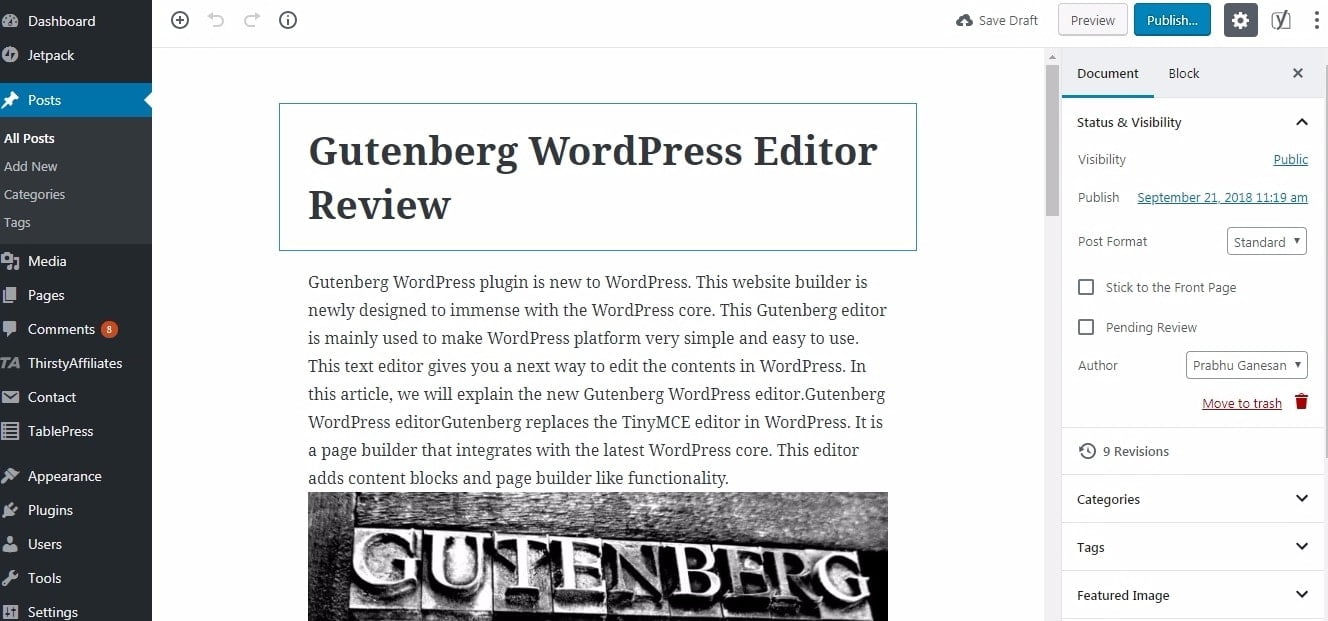 Gutenberg Blocks

Insert Gutenberg Block

Gutenberg Image Block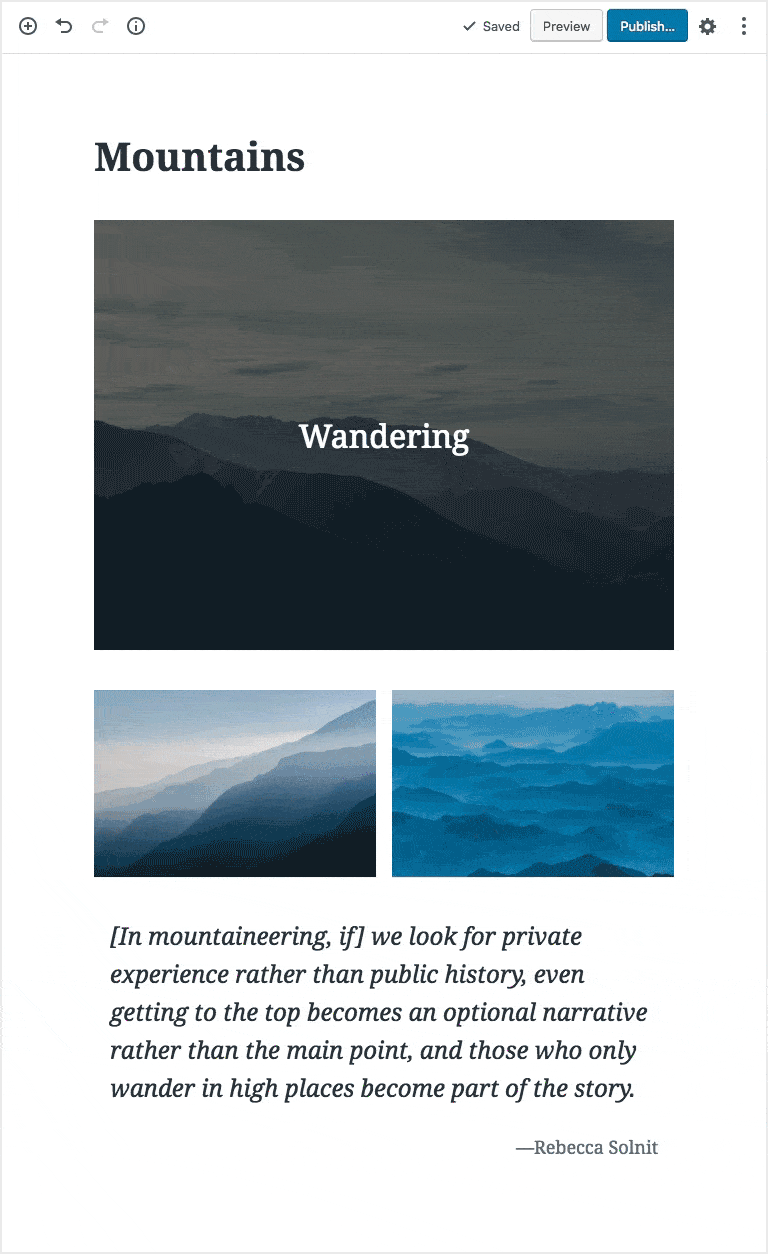 Pros
This editor is designed to follow an easy way to build content blocks

Gutenberg gives you more writing space and a clean interface

This is very simple even for the non-technical users and WordPress beginners

Gutenberg is a great aid for the users who wish to switch themes

This editor works great on all the devices

Helps you to build a complex layout with little technical knowledge

With this editor, the developers of themes and plugins can create customize blocks without much effort

This editor gives a high resolution, beautiful layout, and responsive design
Cons
This editor is incompatible with some popular plugins

It is not yet ready for the live websites

This editor comes with only partial support for meta boxes

Though this editor gives you very responsive design, it doesn't support responsive columns

This editor is really a challenge for the plugin developers
Conclusion
Gutenberg is currently a WordPress plugin and you can download it from the WordPress plugin directory. This editor for no doubt will make the WordPress move to the next level. It is compatible and works effectively on all the devices. Gutenberg gives you a clean focus and helps to increase your business productivity.
This editor is in beta phase testing and at any time you can expect its launch. Once it's launched, it does wonders for your website. The main aim of Gutenberg developers is to give you a simple editor when you can play with it and bring an amazing website to the world. Since this editor is under construction, there are possibilities to over the mentioned drawbacks too.
Gutenberg will definitely meet the future issues effortlessly. Hope you got an idea on WordPress Gutenberg editor. As soon as its launched make use of this editor and increase your website standard. If you have any queries please feel free to comment to us. Your comments may help us to improve our content. If you want to know more about Gutenberg and its features you can check our
WPBlogX. 
You may also like this article
You can follow us on
Facebook
and
Twitter
. And also if you have any thoughts about this article please comment us below.