Wondering about the best WordPress web push notification plugins? You are at the right place, in this article we will share you the collection of best WordPress web push notification plugins for WordPress website. Push notifications are like click messages that will be displayed on the user's browser, desktop or any website.
Current research states that push notifications engage people a lot compared to email marketing, messaging or any other strategies. The success of your blog or website depends on the number of traffic. You have always keep your visitors engaged with your website and often make them involved. In order to do this, you have to make sure you have pretty good content that always runs in the user's mind and comes back to your website again and again.
Push notifications are a new way of engaging people to your website by sending them the notifications whenever you publish new content on your website, the subscribers will automatically get the notification reading that. This helps the users to know what's the latest happening on your website and pushes them to visit your website. When a new user visits your website, a popup menu will appear stating allow/block.
If users click "Allow" then they will get the push notifications regarding their happenings. If you are running an E-commerce website, then push notifications are one of the important tools to increase your sales. Using WordPress as a platform, installing push notifications are very easy. There are dozens of WordPress web push notification plugins available on the official repository.
You have to choose the best one and install on your WordPress website. But on the other hands picking up the best plugin will be a tedious job for you. In order to save your time and effort, we have made a handpicked collection of best WordPress web/browser push notification plugins for your website/blog.
What is Push Notifications?
A push notification is the latest technology that lets the app developers and website owners communicate with their users. It is like an alert message. It actually appears like a small popup box on your devices. This plugin is used to send the real-time activity of your website.
Push notifications were first used only by android and iPhones, later the technology increased and currently being supported by all modern web browsers. It is an effective marketing strategy that helps people engage with your website always. You can send them your latest updates if they have subscribed it. These notifications will be around the people and help you to boost your website by engaging more traffic.
How WordPress Push Notifications Work?
Using WordPress as a platform, push notifications are very easy to implement and follow a simple mechanism. You have to just install the best push notification plugin on your website, sign up with a push service provider, and add notification provider API key to your website. It will be delivered to the users as a message and once they click on to it, it will automatically direct to your website.
Benefits
Increase traffic

Click Through Rate(CTR) value increases

Easy and quick setup

Boost sales

Deep analytic

High cost-effective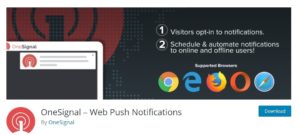 The OneSignal is one of the popular free push notification plugins for WordPress website. With the help of this plugin, you can automatically send notifications to the users whenever new content is posted on your website. This plugin supports Chrome, Safari, Microsoft Edge, Opera, and Firefox. The plugin is very easy to use and need not to take effort in setting up and using the plugin.
Once you set up the plugins, then that's if you don't have to anything. The plugin will take care and works silently. If your user subscribes the notifications, then automatically the notification messages will be sent to be a subscriber. This plugin also has an option to send out reminder notification. Based on your geography, you can also have custom notifications sent out at a custom timing.
OneSignal plugin also has an option to send the push notification even you update your old content. This plugin allows you to carry A/B testing for your notification which is a wonderful feature to know what kind of messages are getting more traction. This plugin offers you two options such as you can choose when users get the opt-in message or you can target the segments.
It includes features such as real-time analysis, unlimited push notifications, opt-in customizations, reminders to readers if they haven't visited your site for a long time, set up scheduled and automatic notifications for both the online and offline users.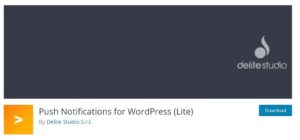 Push notification for WordPress(Lite) is the latest plugin that lets you create a beautiful and unique app, without developing your own server-side back-end. All the content for the app is automatically taken from your WordPress website. You don't have to put much effort to maintain it. This plugin will immediately let your users know about your latest content and tempt them to visit your website.
It allows push notifications for the Android and iOS directly from your website. This plugin is free and very easy to install and setup. Push notification for WordPress(Lite) plugin itself has an inbuilt hub, so it doesn't involve any third party servers to send the push notifications.
This plugin supports Apple Push Notification Service and Firebase Cloud Messaging. It includes features such as instant notifications, powerful APIs, allow users to receive notifications of their own choice, localization ready for English and Italian, and much more. This plugin is for the mobile devices.

PushCrew is yet another powerful and most popular WordPress push notification plugin for your website. You work with this plugin initially, you have to log in to PushCrew account and then the services will start working perfectly. This plugin gives you complete customization to your message. This plugin is free as far as you have subscribers within 500 people. If it exceeds then you have to take the premium plan.
PushCrew does the job by connecting you with your subscribers by sending the notifications on their web browser. The notification will reach the subscriber though they are not available live on the website. This plugin is very straightforward and it is very easy to install and configure. There is step by step instruction that you can follow while configuring this plugin.
This plugin works effectively with Chrome(desktop and Android) and Firebox(desktop). PushCrew includes additional features such as CTA buttons, segment creator, expiry notifications, scheduling, RSS support etc. This plugin has a wonderful return on communication as the opt-in and clicks rates will increase. It will definitely increase your economy of an E-commerce website. It comes with a pricing plan for $25, and $75 for business.

PushEngage is an impressive web push notification for your WordPress blog. This plugin will send the notification to the subscriber every time after posting new content to your WordPress blog. It is one of the simplest plugins to handle and uses an API key to notify your audience about your new post.
This plugin works effectively with all the latest browsers. PushEngage works effectively in both the HTTP and HTTPS websites and you can generate the notification in less than five minutes. This plugin is translation ready so you can use this plugin in any language. The plugin works in both desktop and mobiles without any issues. This plugin supports browsers such as Chrome, firefox, safari.
The PushEngage plugin offers a dedicated WordPress plugin that allows adding push notification functionality to WordPress. This plugin is free for up to 2500 subscribers and 120 notifications per month. If you want to exceed then you have to go for the premium plan starting from $29.
With one PushEngage account, you can access multiple sites. It offers additional features such as custom segments, automatic notification by RSS feed, call to action buttons, geotargeting, automatic responders, and much more.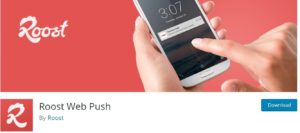 Roost Web Push is another WordPress push notification plugin that comes in our list. This plugin allows you to set up notifications for Chrome, Firefox, and Safari. It is very easy to set up and configure this plugin on your website. This plugin lets you set the subscription notification as per your requirement, the look and even the timing of the notification.
It allows subscribers to receive the latest updated content of your website by sending notifications. This plugin is clean for sending notifications and it is a feature rich plugin with high customization. In this plugin, you can rearrange the audience, filter categories, auto-notification etc. It allows you to send notifications for all new posts or for posts for a specific category, you can decide and send a notification when updating a post.
The visitors can even share the notifications on social media. Roost plugin can even control the number and type of messages they receive. It includes features such as notification prompt controls, content triggers, notification headlines can be customized, real-time analytics, scheduling, bbPress subscriptions, offers bell which is on site notifications, and much more.
Conclusion
Web push notifications are engaging tools for any website. When it comes to WordPress it is very easy to implement because it has dozens of push notification plugins which makes your task simpler. You don't have to take much effort to send notifications, you can just install and activate one of the above plugins to your website and automatically the plugin will take care of its job.
In order to boost your productivity, one of the important factors is sending push notifications to the users. Hope you got an idea about the 5 best WordPress web push notification plugins for your website. If you have any queries or if you find some other best push notification plugins that are not on the list please feel free to share with us. Because it will be helpful for upcoming readers. You can subscribe to us at Facebook and Twitter.