Are you looking for something that will help make your website stand out from the crowd? Video backgrounds have now grabbed the most attention and can make a huge impression on your website visitors. 
Although the free image on your site can make your website attractive, themes with video backgrounds can make a huge difference.
Videos have always been an effective way to boost sales and increase customer engagement, and one report states that landing pages with video themes perform 80% better than those without them. 
Nevertheless, if the theme you are using doesn't have the option to create videos in the background, perhaps you are at the right place. Now, you have several video background plugins for WordPress to choose from. It will let you display stunning advertisements and create beautiful video backgrounds and other video content for your website. 
So, read on to know more about the best video background WordPress plugins that you may use.
Best WordPress Video Plugins
 

WP Video Lightbox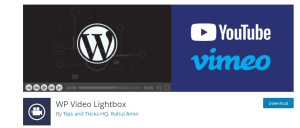 The WP Video Lightbox is an easy-to-use video plugin for WordPress. This tool lets you easily embed the video from other sources like Vimeo or YouTube.
All you have to do is insert the correct shortcode that helps create the video background easily. 
You can also use it for displaying the images in the lightbox overlay to create attractive background effects. Using this plugin, you may also create stunning backgrounds to display the video content on every device in a striking manner. 
Video Player & Fullscreen Video Background- WP Plugin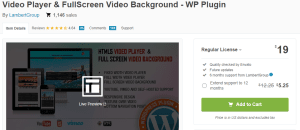 Another top plugin on this list includes the Video Player and Fullscreen Video Background.
Using this plugin, you may embed the videos from Vimeo and YouTube. It is also possible for you to use the self-hosted videos if you want a clean background without any video player interface. 
Additionally, using this premium plugin, you can use the regular video embeds. You can either expand the full width or have a fixed screen width.
Regardless of your option, this player will be responsive in every case, mainly because this is one such tool that can adapt to any screen size or device.  
Slider Revolution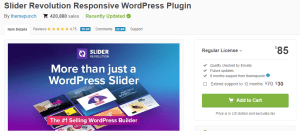 The next popular plugin that enables you to create professional and beautiful website headers with carousels and slideshows is the Slider Revolution. You can also use this plugin to create landing pages and hero sections with video backgrounds. 
The most commendable features of this plugin include its ease of use and versatility. Using this plugin tool, not only can you create websites with video backgrounds but also create professional and stunning sliders with cool video effects. 
It also has a user-friendly visual editor that lets you create landing pages and hero sections. You can also use the drag and drop feature to craft exceptional video backgrounds and designs effortlessly.
Master Slider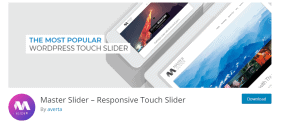 Master Slider is among the most efficient ways to easily incorporate the full appeal of video assets into the website. This plugin is a flexible and cross-mobile compatible video slider WordPress plugin with hundreds of handy features and settings.
It's simple to use and install to any WordPress-hosted website or blog.
Creating stunning slideshows to greet visitors to your website has never been easier. You will experience the flawless pixel presence of the intended video content throughout your profile with only a few basic adjustments and configuration controls. 
From SEO optimization to a simple user interface, autoplay timing choices, HD video backdrop support, and a gorgeous parallax effect with scrolling, this plugin has a lot to offer. 
Because Master Slider is cross-browser tested and supported, it will display your video slider most accurately across all types of old and new browsers.
YouTube Gallery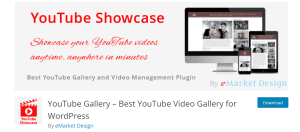 As the name suggests, this plugin is designed for the YouTube platform and provides some basic yet strong features. It works with various SEO plugins and lets you perform several things that will be useful if you have your own YouTube channel and want to integrate it into your WordPress site.
This plugin uses shortcodes when embedding videos into pages or posts, like the previous one. When showing your YouTube videos, it fully adjusts to various displays and provides various interface options.
Advanced WordPress Backgrounds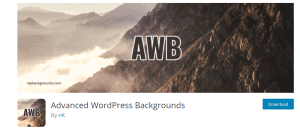 Advanced WordPress Backgrounds is a fantastic plugin for adding videos to your site's backdrop, and its Gutenberg compatibility is one element that sets it apart. As a result, you'll be able to use video backgrounds in your posts and pages.
In addition to movies, AWB may be utilized for simple backdrop colors and graphics. You can use either self-hosted videos or a YouTube or Vimeo embed. If you enable the parallax option, you may additionally customize the scrolling effects.
Advanced WordPress Backgrounds also offers colorful overlays, stretch resizing, a quick code generator, and custom start/end times for your films if you want additional customization options.
Fullscreen Video Background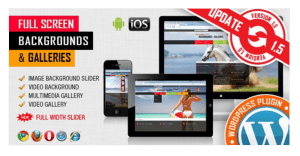 This plugin is ideal if you only want to add a video backdrop to your website and nothing else. Fullscreen Video Background is a plugin that accomplishes exactly what its name suggests, and you may use it to make your website pages have a video backdrop.
With the plugin, you can use a short code to add a video backdrop to any page or post on your WordPress website. It's a simple procedure and has video instructions to show you how to accomplish it.
This plugin works with self-hosted and third-party videos like those from YouTube and Vimeo.
Soliloquy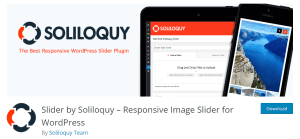 Soliloquy is a popular WordPress plugin among both professional and inexperienced users. The strong structure that can be managed with easy steps and interventions to result in the overall video-packed design of your site you desire is what makes this theme so popular.
Drag and drop functionality powers this plugin, which is fast in performance, readable in look, and user-friendly. It means you won't have to worry about deciphering web coding to add photos or videos to your homepage slider.
If you're searching for a high-performance slider that saves the viewer's time while being precisely shown across all common platforms like Facebook ads in WordPress and mobile devices, Soliloquy will more than meet your expectations.
Furthermore, this plugin works in tandem with other plugins and add-ons to increase the productivity and functionality of your online workload or shop. These are commercial plugins for creating product slider movies and promoting your item.
Conclusion
With the changing trend, modernizing your website has become an important aspect. Modern and trendy websites can make visitors stay on them for longer. 
Videos in the website's background look great and add a touch of modernism. So start using the plugin tools mentioned above to create such backgrounds and attract more visits to your WordPress site.