Best WordPress Banner Plugins in 2022 are the most popular WordPress banner plugins that have been added by our site visitors on our website. The WordPress community is always looking for new ideas to enhance their websites. Here are some of the best WordPress banner plugins from the past 6 months.
WordPress Banner Plugins
Banners are one of the most important tools for building a strong brand presence online. They are used to build a strong link from your website to other sites, which in turn increases your traffic. And in today's digital world, every penny counts so it pays to be clever about what you spend it on. But building a banner is often a costly and time-consuming process.
WordPress banner plugins are designed to maximize the visual impact of your WordPress website. It is a powerful and easy-to-use WordPress plugin that generates stunning animated banners or static images. These plugins let you create a wide variety of attractive banners including video, audio, slideshow, lightbox, carousel, modal, pop-up, contact form, gallery, testimonial and so much more.
There are lots of banner plugins available to make your banner creation process easier. The best WordPress banner plugins are a great way to display your company's brand across the web. But finding the right one can be difficult. This article gives you some tips on choosing a good WordPress banner plugin.
Things to keep in mind choosing WordPress Banner Plugin
When choosing a WordPress banner plugin, keep in mind that there are lots of them out there. The best way to narrow down the choices is to compare them to one another. You can do this by looking at which ones have reviews.
When choosing a banner plugin for your site, remember to keep the design and layout in mind. Choose something that fits your brand and your site. You want it to be eye-catching and interesting.
One thing to look out for when finding the perfect WordPress banner plugin for your business is whether or not it comes with the necessary customization options. Make sure you're able to make changes to things like colors, images, etc.
Installing a plugin is an easy process. If you have any queries please refer to our article How to install WordPress Plugins
Best WordPress Banner Plugins
OptinMonster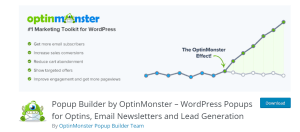 OptinMonster is an effective WordPress plugin for lead generation. It comes with multiple lead forms and various landing pages and email opt-in forms. There are also several options available like lead capture forms, lead generation forms, and many more. OptinMonster is a powerful WordPress plugin to create beautiful, fully customizable opt-in forms on your WordPress site. OptinMonster allows you to easily add custom banners for your opt-in forms.
This plugin is used to add banner images on posts and pages. It's easy to set up and really helps us increase our traffic. You can use it to create high-converting banners for a variety of different websites and blogs. The plugin also provides a variety of options for controlling the appearance of the banner.
OptinMonster banner is a banner with a call-to-action. With OptinMonster banner, you can choose your own banners, banners for specific websites, or no banner at all. Also, you can customize every single part of the banner including the background image, position, and color. The banner can also be customized in a variety of ways, such as displaying only on certain pages and using different colors, sizes, and styles.
Advance Ads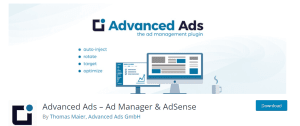 Advanced Ads is a plugin for WordPress that allows you to add advanced ads to your website. This Plugin is a free and easy-to-use WordPress plugin for creating advanced ads. With the advance ads plugin, you can easily add your banner ads to any blog/website by simply uploading your banner ads and selecting the theme of your choice. 
Advanced Ads supports different ad types like image ads, flash ads, video ads, and more. With advanced ads, you can create different ad sizes and position them on your page, as well as specify the color of the banner and the link that leads to your website. The plugin comes with an intuitive admin panel that lets you set up all the ads you want in minutes. 
With this Plugin, you can easily add banner ads to any page of your website or blog. It has many advanced features that you can use to customize your ads, such as an unlimited number of ads per page, automatic rotation of ads, customizing ad size, ad rotation, and much more.
The advance ads WordPress banner plugin automatically generates high-quality, responsive, clickable ads for your WordPress website and other websites. All you have to do is paste some text into the ad-block area, and the ads will be generated and displayed as beautiful banners. You can even include links in your ads and earn extra money.
This banner is very attractive and adds more functionality than any other ads you have ever seen on any of your pages.
WPFront Notification Bar

The WPFront Notification Bar is a plugin that lets you add a notification bar to your website. It is not a widget, but rather a plugin. You can use it to promote a blog or web page, or you can use it as a simple notification bar. You can customize the text and background color of the notification bar.
It works with any theme and makes it very simple to create a notification bar that shows up at the top of your page or post. When you add a new banner to WPfront, it will automatically display on the right side of every page on your website. You can customize the size, color, position, and background of the banner, and set it as sticky or fixed.
It's a simple tool, but it can be extremely powerful if you know how to use it. You can also use it to create great landing page experiences. It's a free WordPress plugin. Just install it in one click and start showing beautiful images and cool banners on your website.  You can use this plugin for example to show advertisements on your site or anything else you want.
AdSanity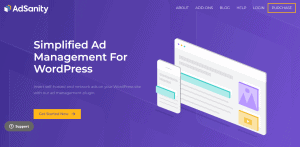 AdSanity is a WordPress banner plugin that lets you create awesome, responsive WordPress ad units that look like banners but are more powerful than most of the out-of-the-box banner ad systems available.
It generates automatically beautiful WordPress banner ads and they can be used on your website in the right way. The plugin is very simple and easy to use. It takes less than 5 minutes to install, configure and activate it. You can also create as many banners as you like and change their appearance easily. 
You can also change the colors of the banners yourself. The banner you create will be inserted on your blog. You can choose any image from your computer or upload an image. The banner will include text and be displayed on all pages of your blog. You can also choose the size of the banner, the colors you want to use, and more. It supports all browsers. It supports all Google Adsense formats, including HTML5, Flash, and Javascript.
You can have multiple banners, even one for every page on the site. This plugin includes banner creation (banner type, size, placement), ad types (static or click-through, full screen, overlay, pop-up), ad rotation (how many times a day an ad shows), and analytics.
WooCommerce Banner Management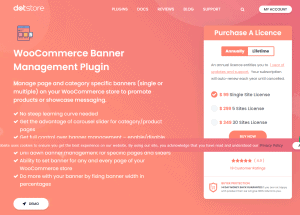 The WooCommerce Banner Management plugin is used to manage WooCommerce banner advertising. This Plugin allows you to create banners for your website. WooCommerce Banner Management allows you to set up and customize your WooCommerce banner images.  
This plugin lets you manage all your banners for each website. So, you can set up different banner images for each website and change them whenever you want. It is a fully responsive banner management plugin for WooCommerce and it helps you to manage and upload banners for WooCommerce. You can manage all your banners through this plugin with a few clicks.
It enables them to manage their banners from the admin panel. This plugin lets you manage banners for products, categories, tags, etc. It has an easy-to-use interface. You can set the size of the banner, the number of rows, the color of the text and background, as well as the position of the banner. 
Admin can also set a daily limit for the number of allowed visitors on a banner. It is used by any advertiser, which means anyone can buy ad space on your site. The plugin includes a banner manager, which is where advertisers add banner advertisements. 
It includes a set of functions that help advertisers add, edit, and delete banners. You can also add text or images to banners and change the settings for each banner. This plugin works with WordPress version 4.4.0 and higher.  It also has a lot of features that can help you manage your banners better. 
AdRotate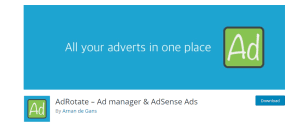 AdRotate Banner is a free WordPress ad-rotator plugin. It can be used for showing banner ads on your site. You can rotate the ads automatically or manually with this plugin. This plugin can be used as an ad-rotator or as an image gallery. It's perfect if you sell a number of different products and want each one to be shown at different times. 
This plugin will help you to display several different banner ads on your blog at the same time. The user can click on any of the banners and see the full details of that ad on a separate page. The AdRotate Banner plugin rotates banner ads on a page. You can use this to display a different banner for every page of a site, or just one banner for every 50 pages or so. 
Banner rotation is the process of displaying a number of ads on a website, one after the other. It is usually done so that the advertisers get more impressions by having more space in which to advertise. When a person visits the site, they see an ad on the side of the screen (banner). After a while, the ad changes (rotates) every 10 minutes. When people visit the website, they are seeing different ads.
Each banner ad contains links to your website or to your online store. You can also choose different banners for each day of the week. It allows you to select from a list of predefined banners or create your own customized ad. It is easy to use and configure. You can choose the position of the ad (at the top, bottom, or inside). This plugin automatically places banner ads on the pages of your site every time someone visits your site.
Bulletin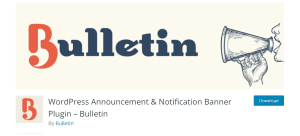 A bulletin banner is a simple way to display messages on a web page. This is the banner that pops up on a page when you visit a website. It is a tool that makes a webpage look more professional and attractive. The bulletin banner plugin displays a banner on top of your website with a link to another page. 
This allows you to keep your main website clean and easy to navigate while still being able to point users to other pages. The banner tells visitors what the page is about and provides some information about the publisher. This plugin is used to highlight specific news or information. This plugin allows users to use images to create these banners on their site.
When you create a new page on our website, we insert a "bulletin banner" to display an ad or any other content on our site. A bulletin banner is a special kind of page, that looks like an advertisement. This plugin makes it easy for you to add a banner to your website using a simple interface. You can also set up banners for different pages. It is also possible to manage a banner using a menu.
Ad Inserter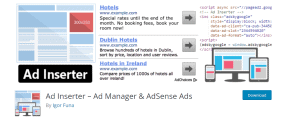 The AdInserter plugin is a little script we put on our site to display the ads on our site. The AdInserter plugin is the same as a normal WordPress plugin, except it is written in JavaScript. When you install this plugin, WordPress will automatically convert it into a PHP function call.
The AdInserter plugin makes it easy for anyone to add an advertisement to a page or post. There are several types of advertisements you can add to your pages or posts. You can add text ads, banner ads, image ads, and YouTube videos.
 It automatically finds an appropriate advertisement in a specified category (like "Products") and adds the ad to the page. You can also specify a custom advertisement for a specific page. This way you can easily add a banner advertisement on every page of your site. You can also use it to display ads from other websites. For example, you can install it on your website and display the ads from Google AdSense.
Simple Banner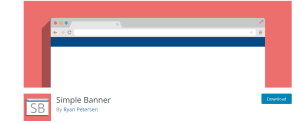 Simple Banner is a plugin that helps WordPress users add banners to their blog posts for free. You can create an unlimited number of banners, and all you need is an image that contains the text (you can use Google fonts) and a link, then click "Create Banner".
 You can create banners on your site and choose different styles like rectangle, square, circle, etc. And you can use them on your site. The Simple Banner plugin displays a banner ad on top of your page. You can choose which size to display the banner on top of your page.
 If you click on the banner, you'll be directed to another page on your site where you can place a text link to promote your site. It helps you in adding banner ads, Facebook ads, Twitter ads, and Google Adsense ads. You can easily choose any type of ad that suits your website's theme. You can change the image size, font size, and color of your ads. It is very easy to add banner ads.
Random Banner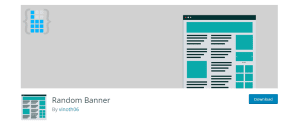 It's the free plugin to create random banner ads and add them anywhere on your site. You specify the width of each ad, the size of the images used, the number of banner ads per page, and the type of ads. The plugin automatically generates all banner codes (images, CSS, JS) for you. It allows you to insert random text into a banner or any other part of your site, and it is also compatible with lightboxes.
You specify the width of each ad, the size of the images used, the number of banner ads per page, and the type of ads. The plugin automatically generates all banner codes (images, CSS, JS) for you. The most important thing about this plugin is that you need to create an account on the site and install the plugin. After that, you will see a menu from where you can add your banner to the page.
The banner will appear randomly at a set frequency, either every hour or every day. You have the choice of setting different sizes for each banner and you can also choose to display the banner for specific pages or posts.
Meks Easy Ads Widget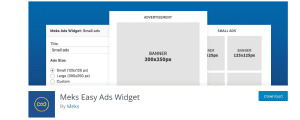 Meks Easy Ads Widget plugin is a free widget to display Google ads. It supports Google AdSense, Google AdMob, Yahoo, and Microsoft ad formats. It has a very simple UI, and it's very easy to add. Meks Easy Ads Widget plugin enables you to display Ads at the top or bottom of your pages. 
Just select where you want your ad to appear (Top, Bottom, Left or Right) and add it to any page. This plugin makes it easy to display advertising on your blog posts. It's very simple to use and you only need to enter one line of code for each page you want to display ads. 
This is an easy way to bring more visitors to your website if you use WordPress themes such as XHTML 1.0 Transitional, Thesis 2, Genesis ChildTheme, and many others. The Meks Easy Ads Widget plugin allows you to embed an advertisement on your site and display it to your visitors in a very simple way. The widget allows you to insert your own code to display the advertisement in any place on your website.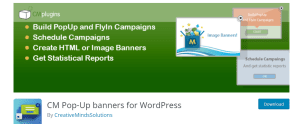 A CM pop-up is a pop-up ad on a webpage. It is usually used to advertise a business' products or services. The CM Pop-Up banner plugin creates a small popup on top of the page with a clickable link. The popup window displays some useful information or offers a service such as adding a contact form or requesting a quote.
The CM Pop-Up adds a pop-up to any page, blog, or post (WP). When you add the widget on the page or post you are editing, the popup appears with the clickable link.
The ad will display when the user clicks on a button or image. The pop-up works for all browsers. The link opens in a new browser window/tab. It's perfect for links, such as download links, contact forms, and subscription forms.
The pop-up banner does not block any information from the site, and only appears when you are near the edge of the screen.
This is a pop-up banner that appears on every page of your website when someone clicks on the link to the banner. It's a way to promote a special offer or a sale of your products.
Hero Banner Ultimate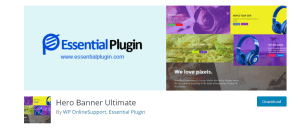 Hero Ultimate Banner Plugin lets you create banners and adheres to WordPress's native structure. It's a fast, easy-to-use, flexible, and powerful plugin for WordPress. You just need to enter the headline, image, and text, and then select the background color and size of the banner. 
It's designed to work with any WordPress theme that supports the Visual Composer plugin, including the newly released Bootstrap 4 integration. You can create a hero banner by dragging and dropping some of the images from your website into the image box. You can also use CSS to change the size of the background image and create different sizes for different pages. 
It allows you to set up different banner sizes and different display rules (the order of the banners on the page). In the back-end, the plugin also allows you to add a Google Adsense ad code to each banner to earn money when visitors click on the ads. A hero banner is a great way to attract people to a website. The Hero Ultimate Banner plugin allows you to display any HTML content in a banner box at the top of a WordPress page or post. 
This plugin lets you create any type of banner for your hero slider plugin. It has a bunch of different features and customizations and you can create an unlimited amount of banners.
Conclusion
The most important part of your website's appearance is the banner at the top of the page. A well-designed and attractive banner can not only be used as an advertising tool but also as a way to build trust with visitors. The problem with a lot of websites today is they are not attractive enough for users. This includes the banners on their pages. 
You need to make sure your banners stand out and that they are visually appealing. There are many WordPress banner plugins available. Some of them are free and others cost money. The right banner plugin for your business needs will depend on what you are looking for. 
To get the most out of banner plugins you'll need to find out what they can do for you. Each banner plugin has unique features and options. In order to reduce your burden, we have picked up the 13 best WordPress banner plugins. You can make use of it as per your needs. 
Hope you got an idea about the best WordPress banner plugins. If you have any queries or suggestions please feel free to comment.