WordPress is excellent blogging software, but when you have too many posts you may find yourself having trouble organizing them into categories or making them look nice.
One of the finest features of WordPress is that it has an inbuilt schedule post option. You can schedule the date and time for your blog posts. Based on the schedule even if you're not logged in your posts will go live. If you're a single author this process is easy, but when it comes to multi-author for your blog and if you need to edit and post, it is really time-consuming. 
If you are looking for an easy way to schedule bulk posts in WordPress, you have come to the right place. With Bulk Schedule Posts, you can schedule as many posts as you want without having to spend hours on each post individually.
Why Bulk Schedule posts in WordPress?
If you are the only author for your website, then the default WordPress scheduler is more than enough. However, if your website has multiple authors, then scheduling each post is a tedious process. Instead of loading each and every post individually and then scheduling them, you can schedule multiple posts from multiple orders all in one place. In order to perform these bulk schedules, there are a few plugins, among them, Auto Post Scheduler is the best.
Auto-Post Scheduler is a plugin that will allow you to auto-post on your WordPress blog on any date that you want. This means that you can schedule posts to appear at the same time every week, month, or year.
It works with any WordPress blog. You don't need to have any kind of web hosting service. This plugin helps you manage all of your social media accounts, including Facebook, Twitter, Google+, LinkedIn, Tumblr, Blogger, Pinterest, and more. It also allows you to schedule posts automatically to be posted at a future date and time.
This plugin allows you to schedule your posts in bulk and manage your posts from one single interface. It lets you set up the posts in advance and then post them at a time of your choice. 
You can use this plugin to schedule content like text, images, audio, video, or links. It also includes a built-in link shortening service so your links are shorter, and it has the ability to show images on your posts and in the sidebar. Auto Post Scheduler Plugin is a very easy-to-use plugin that allows you to schedule posts on your WordPress website.
The plugin can automatically generate thumbnails for your images. It's a great feature that can save you a lot of time. It's easy to use, it has a great interface, and it is fully responsive, meaning that the design is optimized for all devices and screen sizes.
The plugin also has a scheduler where you can schedule posts on different days of the week. You can also schedule posts in advance. It has a built-in scheduler that lets you add posts to a particular day or a date range. It also has a scheduler that lets you schedule posts on different days of the week.
You can use it for things like news, links, polls, and just about anything else you can think of. This plugin will help you schedule posts at regular intervals. It is very useful for bloggers who want to keep their blogs updated regularly.
Features:
* Auto-post scheduler with more than 15 categories.
* It has Automatic posting frequency: Weekly, monthly, yearly
* You can choose to post articles on the homepage of your blog or anywhere you want.
* Can also use categories as post frequency and assign posts to specific categories.
* Supports all kinds of post types: Pages, Posts, CPTs, Custom Post Types, and Categories.
* Can set a specific time for automatic posting to start and stop.
* You can set a specific date for automatic posting to start and stop.
* Can set a custom time for posting.
* You can set a custom date for posting.
* You can set multiple categories for the same post.
* Can choose to include or exclude the date and time from the post title.
* You can specify whether to use the last date or the first date in the selection.
* You can specify whether to show the time or not.
How to Configure Auto Post Scheduler Plugin
Step1
First of all, install and activate the Auto Scheduler plugin on your WordPress website.

Step2
Once activated, go to Settings>>Auto Post Scheduler to set up the bulk scheduling. Then click on "Enable Auto Post Scheduler" to run the default options.

Step3
Then you have to set the Auto Post Scheduler, the time range between each post to be published.

Note: The default time range is 24hrs. If you don't want to change, then the post will be published every day.
Step4
Then there is an option "Restart on Publish "if you click the checkbox, then the scheduler check time will be reset, whenever the post is published manually. Also, there is another option "Start Scheduling Delay " that you can set the time delay to publish your post. 

Note: The default set time is 0 seconds. This means that your first scheduled post will be immediately published after the scheduler is enabled.
Step5
Next, there is an option to limit check the post types and categories. By default, "Posts" will be selected in the limit check post types.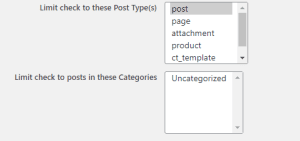 Then you can select the category and author for the limit check category for scheduled posts.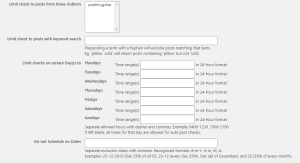 There is also an option to limit check the posts with the keyword search and certain days in the time range. Besides you can also choose the days which you don't want to schedule the posts.
Step6
Once done, you can click the eligible post statuses for scheduled posting.

Step7
Then there is an option to recycle or repost your old posts as well. These options are pretty useful if you want to update your old posts and republish with the new dates.
Step8
Once everything is done, click on the "Update option" button to save the changes.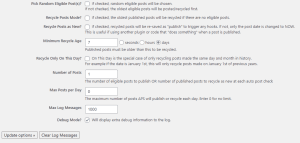 Step9
At last scroll to the top of the page and click "Enable Auto Post Scheduler" to enable the bulk schedule posts to your WordPress website.
Conclusion
The reason for creating a bulk schedule post in WordPress is so you can schedule posts to be posted in a particular time period automatically. Using a schedule in WordPress is one of the most effective ways to increase engagement and generate leads. 
The first and most important thing to know when scheduling posts is the "best time to post" is not at night. It's during the morning or midday hours. This is the time when most people are awake, and most likely to be online. 
The only exception is during the weekend or if you're having a contest or giveaway. Then you can schedule posts at any time. When planning out the days of the week (i.e. Wednesdays or Thursdays), take into consideration any events that may occur on those days. 
Maybe there's a big holiday or event planned. Or maybe there's an issue at the office. These events can make or break the plans that you have for scheduling posts.
Take a look at the date(s) of the day(s) that you wish to post. This could be a Tuesday, Wednesday, or Thursday. It depends on when you feel you're most likely to get the best results. You may choose to schedule a bulk of your posts on the same day. 
That's fine, too. Just remember to give each post time to run through the channels that you're using. Sometimes your post may not get picked up by your preferred channels in time. 
Hope you got an idea about Bulk Schedule Posts in WordPress. If you have any queries or suggestions please feel free to comment.