You would have definitely heard that WordPress is inherently SEO-friendly.
This USP essentially flows from the code generated by the platform, which is in line with most SEO best practices. Its built-in features function effectively to take a search engine crawler through the various posts, pages, and categories so your site can ultimately be included in its database.
The result: high-ranking content across WordPress-based websites. Per reports, 2.28 billion WordPress-related search results find a place in Google's Search Engine Result Pages (SERPs). This is high competition, indeed, for every other term or keyword!
Considering over 90% of online experiences originate in a search engine query, WordPress SEO assumes a lot of importance, whether you're running an eCommerce site or a publishing platform. 
Why Optimize Your WordPress Site?
Did you know that several WordPress plugins help improve site speed, enhance user experience and reduce bounce rate? Or, that the themes build in accessibility on mobile devices? So, you can easily leverage this most popular CMS platform for a blog or other website and rank high for search queries. 
While SEO is assured with WordPress, there are a number of things you need to pay heed to completely optimize your WordPress-based website. These will help your website draw constant and significant traffic for your varied conversion goals.
In this blog, we'll take a look at 7 steps you can take to optimize your WordPress website based on its inherent capabilities. These will ensure your content's visibility for search engines and push your pages up the rankings in Google Search Engine Result Pages (SERPs).

These tips to optimize your WordPress site should also help you offer authentic and value-added content to cater to and delight your audience. What's more, they can contribute to creating a standout overall user experience and draw more leads into the sales funnel. 
7 Steps for Comprehensive SEO of Your WordPress Site
While SEO can appear technical, complex, and often a daunting task (especially if you're just starting out), these 7 steps can be actioned with the platform's built-in features itself. 
Get the index settings right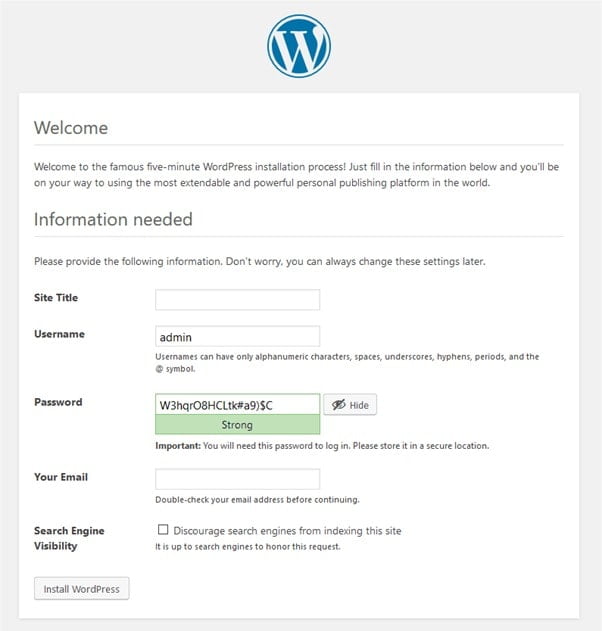 Source: WordPress.org

The first step to SEO and ranking for search queries is to make your site visible — to users and search engines. WordPress' built-in option will hide your site so you can work on it while you're just starting out and before launching. 
If you're noticing that your site is not turning up in page results, firstly, make sure this option hasn't been checked accidentally and your site is visible to crawlers. 
You can simply log in to the admin area of your site and navigate to the 'Reading page' in the settings. You then need to focus on the 'Search Engine Visibility' section; ensure the checkbox of 'Discourage search engines from indexing this site' is unselected, and save the changes.
Identify a trustworthy hosting provider
WordPress SEO can be assured with the unflagging reliability and security of your site, which mostly stems from the hosting provider you opt for. Whether you're setting up a blog or an eCommerce store, there is a good choice of hosting providers.
 Some potential features to look out for to help you identify the optimal hosting provider are:

Meeting of WordPress server requirements, which are updated semi-regularly.

Assurance of uptime, which refers to the capacity to ensure your website is online for a higher amount of time.

Capacity for customer support to answer any and all queries you might have while setting up your site.

Unlimited storage, which is a particular need of WordPress sites that see a high average disk space usage.

Higher bandwidth to build in an enhanced site speed and more dynamic site features and content. Also helps to deliver content optimally and reduce the bounce rate.



You should also factor in the number of sites and email accounts offered, the free transferability of the domain, and the security and encryption features. Ultimately, choose a cost-effective provider and plan after a comprehensive comparison. This will help you avoid all hassles in switching hosting providers later to meet your needs.
Rope in SEO-friendly plugins
As we mentioned at the beginning of this blog, WordPress is SEO-friendly 'out of the box.' Though there are thousands of the platform's themes and plugins working towards this, you can get the job done just as easily with a few essential ones. 
From XML site map functionality to page analysis, there is a plugin for every aspect of SEO.  While they may not always guarantee higher SERP rankings, they will definitely anchor the extent of SEO success you see. A number of the plugins have an intuitive interface and don't need much technical expertise or fiddling around to input the right settings.
While plugins like Yoast SEO and All In One SEO Pack lead the lists with their amazing suite of solutions, you can also consider the more niche ones developed for link checking, analytics, etc. There are also comprehensive solutions for site audits, including to gauge and course-correct for your WordPress site authority.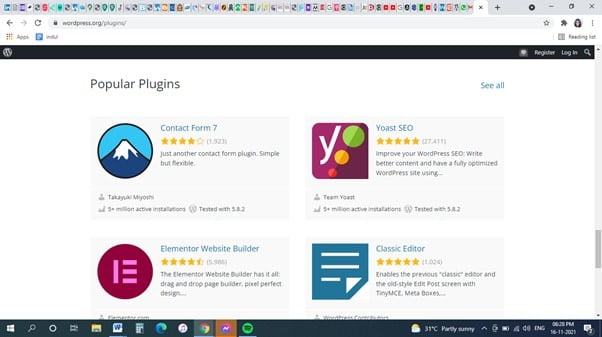 Source: WordPress.org
A key element of SEO strategy in this regard would be the need for internal links and backlinks. These would be particularly relevant for blogs and related content forms. Apart from the fact that it never hurts to promote your archived content, they also enhance your site visibility and trust for search engines. 
To hit the ground running with a basic set of plugins, you can't go wrong by depending on reviews. 
Initiate keyword research and mapping
Every page of your site must be created to be aligned with current search trends. This way, you will not only know what your target audience is thinking and looking for, but you can also tweak your products and services on the go. All of this ties into optimizing your content and other offerings to stay current and relevant, regardless of your specific conversion goal.
This is where keyword seeding comes in, which also ensures an elevated user experience. The process starts with keyword research and mapping. This involves identifying the words or phrases that users most often search with on Google and deciding how to use them to optimize your site. 
(While there are other search engines, the relevance and established authority of Google makes WordPress SEO geared for it by default.)
While executing your keyword research, make sure you're focussing on your competition. You must also account for localization and negative keywords to ensure your selected primary, secondary, and longtail keywords are completely relevant. 
There are a number of well-rounded tools that can help you with generating comprehensive keyword ideas, the most popular being the completely-free Google Keyword Planner. You can also access a couple of other helpful tools offering more nuanced SEO metrics, such as Ahrefs' Keywords Explorer. Some keyword tools offer limited free uses per day.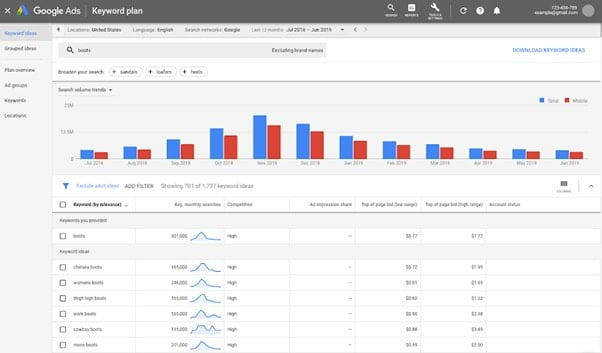 Source: Google.com
Focus on keywords throughout
Now that you have identified your relevant keywords, what should you be doing next? 
Remember, keywords are as essential to meet search engine parameters as they are to satisfy users' queries. To ensure your content is perceived as relevant and precisely indexed by web crawlers, keyword seeding has to be an element of your on-page SEO efforts, too.
To do this, identify and include your strongest or a primary keyword in your site's title and tagline if the context and your WordPress theme allow for it. The same rule would apply to your page headers and subheaders. 
There's another point of site or page structure that's often ignored for keyword seeding, and that is your image alt text. This element supports incorrectly loading pages and accessibility needs.  
Lastly, apart from your main pages, all your posts too have to be keyword-focussed. This would involve strategically placing only highly relevant keywords throughout your posts and product/service descriptions. Remember, you will have to do this without sounding fake or indulging in keyword stuffing.

An effective way to implement an SEO-friendly content structure for your posts and pages is by effecting advanced SEO methods. These would include LSI (Latent Semantic Indexing, or including semantically/lexically related words and phrases) and LDA (Latent Dirichlet Allocation, which involves modeling related topics and integrating characteristic words within descriptions). 
These will enhance your content's relevance and reach. What's more, they will make your site seem more trustworthy for search engine indexing.
An important element of WordPress SEO and ensuring your WordPress site stand out is the framing of relevant and unique HTML tags or meta tags. This helps organize your content as well as the overall page.
Meta tags essentially mark the most significant bits of your content and enhance their relevance for search engine rankings. Apart from generally improving your site structure and the ease of navigation. Some meta tags also help communicate with search engines on the importance of particular pages.
Title tags, meta description tags, header tags and image alt tags (which we covered before) are some of the tags that you should be focusing on. Most of these can be accessed through your WordPress dashboard, the post settings or with an HTML or visual editor and can be easily fixed without manually entering code. 
You should also check whether all your pages have unique meta tags. Last but not least, do not forget canonical tags for duplicate web pages to eliminate cannibalization of content.
On WordPress, it is best to change the standard URL or Permalinks assigned in the 'Permalinks' setting for every page or post to a custom URL. 
While fixing customized URLs, it's important to focus on a descriptive structure. This structure typically aligns with the 'Post Name' option in the settings, which ensures the generated URL is short and easy to remember.
You can also integrate the details of the day and month for when the URL was published. Every time you create a new page or post, you can access an 'edit' option next to the default URL assigned by WordPress. Any additional settings you specify will be automatically saved.
So, the most commonly used and most versatile 'pretty permalinks' look like:

http://example.com/2021/post-name/
or
http://example.com/2021/12/30/post-name
In general, it is advisable to use the page title as the URL. As you must have ideally integrated the primary keyword in it. You also have to keep the URL concise and simple and punctuate it with small letters and hyphens. Most importantly, avoid changing or optimizing your URL after the post or page is published; if you do, aid the search engines and users by setting up a 301 redirect.
Implementing these tips should ultimately not only enhance your SEO results but also help with user experience and recall.
One final takeaway—whatever the SEO strategy you're trying to implement for your WordPress site, always leverage the platform's inbuilt features.
Wrapping up
The WordPress SEO strategies and steps described in this post should definitely help you see better results with your Google SERP positions. Ultimately, an SEO-aligned WordPress site will help draw organic traffic, especially if you're looking to maximize conversions. 
This is particularly relevant if you're looking to monetize your offerings or run and grow a publishing platform with WordPress.
Hope you like our post, WordPress SEO checklist. You can follow us on Facebook and Twitter to get the latest updates.
Author: Lucy is a creative content writer and strategist at Marketing Digest. She specializes in writing about digital marketing, technology, entrepreneurship, and education. When she is not writing or editing, she spends time reading books, cooking, and traveling.