Digitalization has brought tremendous development in all fields and has brought the whole world into our hands. Among them, payment management is also becoming easier than ever as there are many gateways to transfer money from one account to another instantly. There are many applications and software that allow their customers to manage their cash digitally.
In WordPress, there are many payment gateways, but there is still the need to find the right plugin.
Now coming to the point, this article discusses a wonderful plugin "RazorPay". In the following section, you will get to know the features and detailed functionality of the Razorpay payment button plugin in all aspects.
Razorpay gives us a payment solution that is converged for all business types that accepts, processes and delivers online payments for all sellers and employers around the globe.
Razorpay's main process is to accept payments from customers and process and disburse these payments to vendors and employers.
This plugin allows new product sellers to enable and set up recurring payments and make offers with free EMI and Pay Later options.
Enabling the payment button helps you accept payments quickly and flags risky transactions for secure payments. Even unregistered businesses like freelancers can benefit from this plugin.
Features
Accept Payments
The Razorpay plugin accepts both payments and withdrawals on all product areas. It has the features to add offers and features in identifying the risk in the customer order.

It integrates the payment gateway with your website.

It does not require any coding for integration and also has automated payment receipts.

You can use a payment link for sharing via mail, SMS and messenger.

It has the ability to generate and send GST invoices to the customers.

Accepts payment through UPI ids including other payment methods like IMPS, RTGS and NEFT.
Instant Refund
It provides its customers with instant refund features that enhance customer experience and trust.
Make Payouts
The route is the technology to split incoming payments into individual mentioned payments. This feature helps in splitting the payment to vendors. To enable this use should use RazorpayX.
Risk & Fraud
Razorpay uses the third watch technology which helps in reducing the RTO issue. It uses AI-driven technologies allowing you to make GO or No-Go decisions.
Pricing
At present, Razorpay is available only for Indian businesses. So, the pricing details will be shown only in the Indian rupee. There are two plans available. They are
Standard Plan
The standard plan is mainly designed for startup and medium-sized companies. They charge 2% + GST charges as their platform fee. Other than that there are no charges for a one-time setup fee, Annual Maintenance fee. In addition, credit card payments will be charged at 3%.
For the standard plan, the following features will be included like email, chat and call used for support. You will have paperless activation. For this subscription, you will get Mobile SDK, Developer API, checkout Js, international payments, dashboard for payment gateway, international payments. Also, the upcoming features.
Enterprise plan
Enterprise plan is mainly designed for large volume companies, but the charges for enterprise plan will be based on the business needs. It is custom pricing.
For the enterprise plan, you will get 24*7 support, activation within 24 hours, and the features given for standard plan.
Demonstration
Business side 
Pre-made Templates
You can easily add some buttons which are already available. The buttons can be easily added to your website.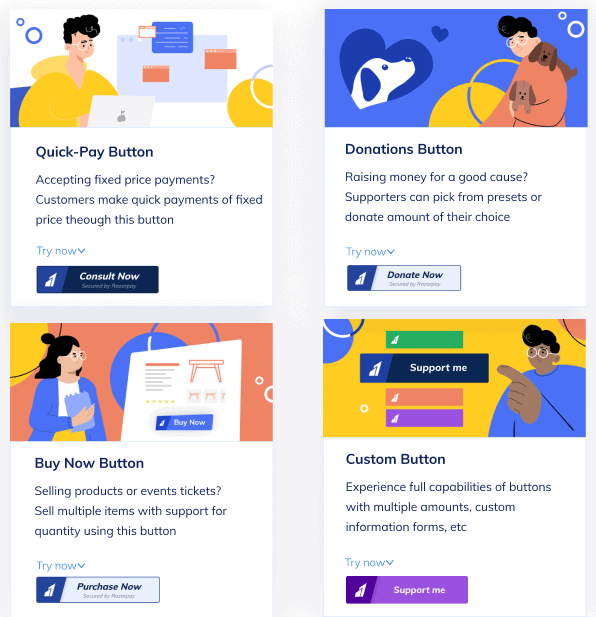 Dashboard
Razorpay provides you with a powerful dashboard where you can see and access everything you need. It shows the details like the number of payments, the payment volume, refunds, etc. The payment details can be checked on a daily, monthly and weekly basis.
Collect Customer information
Razorpay collects pre-payment information from the user which helps in tracking in future.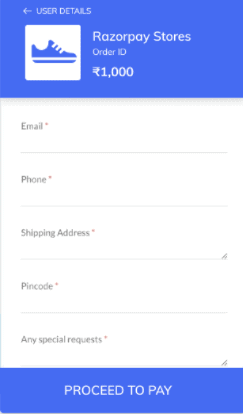 Payment Receipt settings
Customers have the option to choose receipt settings. Manual receipts are also available which helps in adding the reference ID manually. Also, users can choose the option to display 80G details in their receipt. Otherwise, you can opt for an automatic receipt.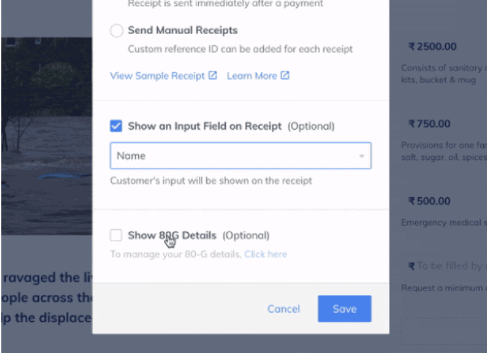 Customer side
Different Payment ways
Razorpay customers can pay using a variety of payment methods. The Razorpay payment button offers customers the option to pay by card, UPI, QR code, Net Banking, Wallet and EMI.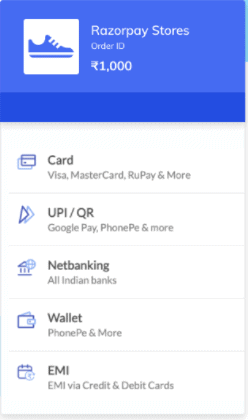 Fixed or customer choice
Razorpay gives customers the option to pay a fixed amount or customers can choose the amount to pay.
In addition, Razorpay accepts international payments and users can pay from any other country in any currency type.
Final Thought
From my viewpoint, Razorpay looks very genuine in design and functionality. It gives everything to their customer and for the business side. From both points of view, you can get everything you need and you will feel more comfortable. So, I always recommend you to apply Razorpay for your e-commerce websites.
Hope you like our post, Razorpay Payment Button Plugin Review. You can follow us on Facebook and Twitter to get the latest updates.
Related Articles

Prabhu Ganesan provides his web development and WordPress services independently. He is the founder of WPBlogX. He is very much involved in WordPress as it becomes second nature for him. You can get in touch with him by visiting his website – WPBlogX.com and you can also find him on Twitter @gprabhucbe.